Kathryn F. Staley, author of The Finer Art of Short Selling, warns investors of stocks that have seen prices shoot way up, but sales and earnings that have not followed suit. One such stock is Valhi Inc (NYSE:VHI). As of the close of the markets on Friday July 22nd, 2011, VHI was trading at $60.87, 87 times earnings, and 3.83 times sales. Since then, the stock has fallen to $54.74, but probably has much more room to fall.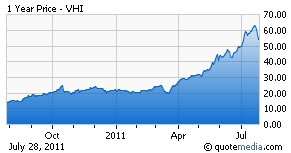 This company was valued by the author two different ways. The first was using a holistic approach, the second was through in-depth analysis of its key financial documents. The holistic analysis was performed by breaking the company into pieces so that each piece could be looked at and potential catalysts for growth could be identified. The in-depth analysis of sales and cash from operations was performed using a two step process in which sales were analyzed for the past three years, and then cash from RECURRING operations were added to 2008 and 2009 sales on a per-share basis to arrive at a fair estimated share price for the second half of 2011.
After breaking the company down into its parts, it is evident that Valhi is a holding company that owns all or considerable portions of five companies; three public and two private. The three publicly traded companies are Kronos Worldwide (NYSE:KRO), NL Industries (NYSE:NL), CompX International (NYSEMKT:CIX), and TIMET. The two private companies are Waste Control Specialists and Basic Management/Landwell.
Kronos is a chemical company that specializes in making titanium pigments. This business is heavily dependent on the overall economy, and positive correlation can be found between GDP and increases in sales. Sales along with GDP are not expected to increase more than 2.5% in 2011.

NL Industries is a shell company that was purchased because it owned Kronos Inc and 50% of TIMET. After restructuring, it now holds CompX, a company that specializes in making ball-bearings and installing them in office furniture, security equipment, and marine equipment components. This company is heavily dependent on business to business sales and is not expected to dramatically increase sales until companies start making increased purchases in P, P, and E.

TIMET is a Titanium production company. Sales of titanium products, such as titanium sponge and titanium ingots, are closely related to GDP and overall economic growth.

Waste Control Specialists is a company that specializes in disposal of low-level radioactive waste and toxic waste remediation. The only catalyst for growth of this business is the development of a site that will store low-level radioactive materials in the future (post 2011).

Basic Management/Landwell provides utilities to one of TIMET's production facilities and it also developed and built the facility. No growth is expected from these two segments in 2011 because they do not make a product.
Through all of these subsidiaries, VHI does not have any significant catalysts for growth except for Waste Control's future plans to operate a waste disposal site; however, the site will not be on-line for several years.
The second part of this analysis involves comparing sales and income to determine if they are in line with the current price of the stock. The net sales of VHI were 1.485B in 2008 and 1.272B in 2009 and the stock was trading between $15 and $31.24. The net sales of VHI in 2010 were 1.592B. Net income increased from 4.9 million in 2008 to 63.8 million in 2010. This increase in net income (prior to income tax) equates to 72 cents per share in added equity, and puts a fair valuation of the stock price at $33.00. VHI claims that increases in net income between 2009 and 2010 are attributable to the following:
Operating income from chemical and Component Products segments as well as non-cash deferred income tax benefits (21 cents)

Litigation settlements gains (3 cents)

Higher insurance recoveries in 2010 when compared to 2009 (contribution to EPS not given in the 2010 annual report)

A gain on the sale of a business (contribution to EPS not provided in the 2010 annual report)
It should also be noted here that 57.2 million dollars of the increase in sales and net income is attributable to an increase in accounts receivable. Most conservative investors recommend that increases in accounts receivable be subtracted out of net income and sales, so that year-to-year comparisons can be made more accurately. This leaves an increase in net income that has cash flow of 6.6 million. Taking these effects into account, along with 20 cents of one-time charges to EPS, ongoing EPS from sales-accounts receivable should have been approximately a 12 cent per share loss for 2010.
With few catalysts for growth and EPS from recurring business (minus the increase in accounts receivable) at -12 cents per share this stock should be trading at the levels predicted by EPS, net income and net sales; $31.25. Seth Shaw also concluded that the stock should be priced in the same range when he performed a valuation analysis of VHI's components on June 26th, 2011 for Seeking Alpha in his article "Is Kronos Enriching Its Chairman at the Expense of Minority Shareholders".
Disclosure: I have no positions in any stocks mentioned, and no plans to initiate any positions within the next 72 hours.