L-3 Communications Holdings Inc. (NYSE:LLL) reported second quarter 2011 diluted earnings per share of $2.26, comfortably surpassing the Zacks Consensus Estimate of $2.11 and year-ago quarterly earnings of $1.95 per share. The results include a tax benefit of 11 cents per diluted share primarily related to income tax refunds.
See the full earnings call transcript
Operating Statistics
Quarterly net sales fell by 5% year over year to $3.8 billion, and also missed the Zacks Consensus Estimate by $73 million.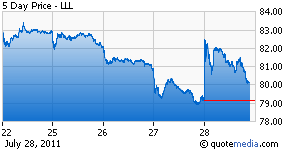 Declining sales were an offshoot of the loss of the Special Operations Forces Support Activity ('SOFSA') and Afghanistan Ministry of Defense (MoD) support contracts in 2010, continued lower pass-through volume related to the U.S. Army's systems and software engineering and sustainment services ('SSES') contract due to a change in contract vehicles that occurred in 2009, and a delay in the 2011 order for the Joint Cargo Aircraft ('JCA').
In the reported quarter, funded orders decreased to $3.8 billion compared with $4.1 billion in the prior-year period.
Operating income for the reported quarter decreased by 9% year over year to $404 million. Operating margin contracted 40 basis points to 10.7%. Lower operating margins in the Command, Control, Communications and Intelligence, Surveillance, and Reconnaissance ('C3ISR'), Government Services and Electronic Systems segments were partially offset by higher operating margins in the Aircraft Modernization and Maintenance ('AM&M') segment. Net income increased $15 million year over year to $243 million.
Segmental Performance
C3ISR: The segment recorded net sales of $844.4 million, up 6% year over year driven by increased demand and new business for networked communication systems for manned and unmanned platforms from the U.S. Department of Defense ('DoD').
Segmental operating income slipped 5% year over year to $95.5 million due to sales mix and a favorable contract performance in the second quarter of 2010 for networked communication systems that did not recur in the reported quarter.
Government Services: The Government Services unit generated net sales of $938.3 million, down 6% year over year.
The results reflect the loss of an Afghanistan MoD support contract, reduced pass-through subcontractor sales volume for task order renewals related to SSES, lower information technology support services for the U.S. Special Operations Command, and much reduced sales from completed contracts primarily for U.S. Army sustainment, training and logistics support services and the SBInet program for the U.S. Department of Homeland Security.
These setbacks were partially offset by increased demand for intelligence and information technology support services for the U.S. Government agencies. Segment operating income decreased by 17% to $70.4 million in the quarter under review.
AM&M: Net sales at the AM&M segment declined 20% year over year to $609.8 million due to the SOFSA contract loss, the timing of orders for JCA, and reduced level of effort on the Canadian Maritime Helicopter Program. However, these decreases were partially offset by increased demand for system field support services for a U.S. Army C-12 contract. Segment operating income decreased 3% year over year to $56 million.
Electronic Systems Segment: Electronic Systems generated net sales of $1.4 billion in the reported quarter, down 3% year over year. The downside reflects lower sales volume for warrior systems, microwave products and combat propulsion systems.
It also reflects lower sales volume for simulation & training devices due to declining production volumes on the F-22 and Aviation Combined Arms Tactical Trainer programs and the delay of a foreign maritime simulation project. Partially offsetting factors include sales from acquired businesses and higher demand for EO/IR products. The segment generated operating income of $182.4 million, down 8% year over year.
Segment Spin-Off
Following a comprehensive strategic review of its business units, L-3 Communications Holdings has planned to spin off 100% of a new, independent, publicly traded government services company, named Engility, to L-3 shareholders.
Post spin-off, the new public company will be a leader in Systems Engineering and Technical Assistance, Training and Operational Support services for DoD and other U.S. Government agencies, as well as civil and international customers. These businesses are currently a part of L-3's Government Services segment.
However, L-3 will retain its Cyber, Intelligence and Security Solutions businesses, which are also a part of L-3's Government Services. Upon completion of the transaction, the new segment will be named National Security Solutions and will continue to leverage synergies across the company to develop unique solutions to address growing challenges for its DoD, intelligence and global security customers. The completion of the spin-off is subject to certain customary conditions.
The company plans to keep the transaction tax-free for L-3 and its shareholders. It is expected to be completed in the first half of 2012.
Financial Position
In the reported quarter, L-3 Communications generated net cash of $519 million from operating activities, down $70 million from $589 million of cash generated in the year-ago quarter. The company ended the quarter with cash and cash equivalents of $548 million, while long-term debt stood at $4.1 billion.
During the reported quarter the company repurchased shares worth $429 million and distributed $97 million as dividends.
Guidance
L-3 Communications maintained its revenue guidance range for full-year 2011 of $15.5 billion – $15.6 billion. It continues to expect operating margin of 10.7% for fiscal 2011. The company, however, increased its EPS guidance for full-year 2011 between $8.65 and $8.75, from the prior range of $8.50 to $8.60.
Our Take
L-3 Communications is one of the best positioned pure defense players based on its broad diversification of programs and focus on shareholder value.
However, the company's core advantages are somewhat diluted by the loss of key contracts, a backlog skewed toward fixed price contracts and apprehensions over defense cuts to reduce the federal deficit under the Obama administration. The company presently retains a short-term Zacks #2 Rank (Buy) rating. We have a long-term Neutral recommendation on the stock.
Recently, one of its competitors, Lockheed Martin Corporation (NYSE:LMT) reported strong second quarter fiscal 2011 earnings of $2.14, sailing past the Zacks Consensus Estimate of $1.94. Reported earnings were nevertheless burdened with charges related to workforce reduction and pension adjustments.
L-3 Communications Holdings operates through its wholly owned subsidiary, L-3 Communications Corporation. L-3 Communications is a leading supplier of a broad range of products and services used in a number of aerospace and defense platforms.