Green Mountain Coffee Roasters (NASDAQ:GMCR) recorded robust third-quarter 2011 earnings of 49 cents per share that shot up by 140% from 21 cents posted in the year-ago period. It also beat the Zacks Consensus Estimate of 36 cents by 11.11%.
See the full earnings call transcript
The upswing came on the back of success of Keurig Single-Cup Brewing System coupled with the company's flashing appearance in spring advertising and brand support programs, designed to raise awareness of the Keurig Single-Cup Brewing system and "Brew Over Ice" Teas and Coffees, perfect for the summer months.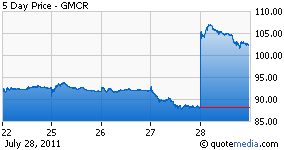 On a reported basis, including one-time items, earnings came in at 37 cents per share, up 206% from 31 cents delivered in the previous year.
Considering the results posted in the third quarter 2011, Green Mountain projects fourth quarter 2011 adjusted earnings in the range of 44 cents to 48 cents a share and the ensuing fiscal 2011 adjusted earnings within $1.63–$1.67. The company estimates fiscal 2012 earnings to be in the range of $2.55 to $2.65 per diluted share.
Zacks Consensus Estimate is 43 cents for the fourth quarter and $1.47 for full fiscal 2011. The estimate for the next year is $2.18.
Consolidated Revenue and Margins
GreenMountain's quarterly net sales surged 127% to $717.2 million compared with $316.6 million in the prior-year period, reflecting robust sales growth in total K-Cup portion pack, Keurig brewer and accessory sales.
Almost 82% of the net sales were contributed by the Keurig brewing system and its recurring portion pack sales, including Keurig-related accessory. The rest of the total sales came from bagged coffee and office coffee services business.
Green Mountain forecasts total net sales growth of 100%-105% in fiscal 2011 and also plans to achieve consolidated net sales growth of 98%-100%, compared with the previous estimate of 82%-87%.
On a year-ago basis, operating income climbed 185% to $131.9 million, while operating margin expanded 380 basis points in the quarter, due to a price increase in May 2011 that was implemented late in the third quarter of fiscal 2011. The price hike helped in generating 13% of total net sales in the quarter discussed.
Other Financial Updates
The company exited the year with cash and short-term cash investments of $106.8 million as on June 25, 2011, up from $64.5 million on March 26, 2011.
Inventories increased to $417.5 million from $177.2 million, driven by the company's effort to have sufficient supply of brewers and K-Cup portion packs for the 2011 holiday season.
While accounts receivable increased 78% due to continuing sales growth and the addition of Van Houtte related accounts receivables, debt outstanding decreased to $421.9 million as on June 25, 2011 from $1.06 billion as on March 26, 2011 on repayment of debt with proceeds from the Company's common stock offering in May 2011.
Our Take
While Green Mountain's sound position in a prospering industry and its strategic acquisitions encourages us immensely, coffee's vulnerability to highly volatile global prices and the presence of tough competitors like Peet's Coffee & Tea Inc. (NASDAQ:PEET) and Starbucks Corporation (NASDAQ:SBUX) draws some lines of worry on our forehead.
Currently, we prefer to rate the stock as Neutral. Green Mountain holds the Zacks #1 Rank, which translates into a short-term Strong Buy rating.