An abounding level of uncertainty exists for long-term investors. Where are the best places to invest capital for long-term growth? What sectors are poised to provide the greatest return? Will the search for low correlation of returns remain elusive for the average investor? As the US economy continues to skate along the bottom, Europe and the Euro face financial uncertainty while China constructs ghost cities to artificially inflate its GDP. To say that investors face a challenge is an understatement.
However, there is one place that most US investors have never considered in their investment planning. The continent of Africa is arguably the most underinvested and under-researched economic region in the world. Too many US investors suffer from a myopic global outlook that rarely extends past the East or West coast except for perhaps to the shores of our European cousins.
Africa is a diverse continent with 54 countries, 24 capital markets, and a wealth of natural resources (13% of global oil reserves, 50% of proven gold reserves, 60% of cobalt, 90% of platinum group reserves, etc.). In addition to Africa's natural resource riches, the continent's demographics include 1 billion people with an average age of 21, versus 45 for developed economies. Africa's population is expected to nearly double by 2040. In fact, Africa is projected to have the highest population growth rate of any region through 2040 and beyond. This projected growth is over twice the global population growth rate. The United Nations estimates indicate that Africa will represent 43% of the incremental global population growth expected through 2040, while the developed economies of Northern America and Europe will generate a combined 3.8% of incremental global growth.

click to enlarge
Source: United Nations
So, how might the long-term investor capitalize on these demographics? The answer is in realizing that this is not your grandfather's Africa. Africa is developing many vibrant economic opportunities. A combination of strong demographic growth trends, natural resource wealth, and improving trends of geopolitical stability/ democracy have fueled significant long-term investment opportunities in Africa for natural resources, infrastructure and consumer goods and services. This is despite the headline grabbing stories emanating from the Middle East/North Africa and isolated incidents like the Ivory Coast. Interestingly enough, the increasing number of BRIC (Brazil, Russia, India & China) middle class consumers supports increased direct investment and trade in Africa encouraging further economic development.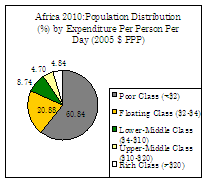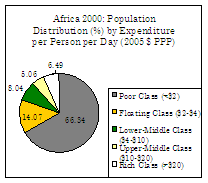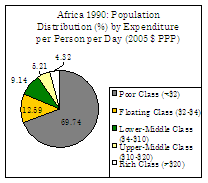 The dominant force behind Africa's long-term economic development, and subsequent investment opportunity, lies squarely on the shoulders of its growing middle class. Findings from the African Development Bank's April report (pdf) highlight Africa's growing middle class as an indicator of economic development across the continent. Africa's large and youthful population is poised for growth as discussed above. As the population continues to break into the middle class, an increasingly skilled workforce and growing number of consumers make Africa a compelling and competitive destination for actively managed investment capital.
In 2010, the African middle class was comprised of approximately 34.3 percent of the population who consumed at the rate of $2-$20 per day (measured in 2005 $ Purchasing Power Parity). Africa's burgeoning middle class has experienced a growth trend since 1990 when 26.9 percent of the continent's population achieved middle class status. By 2000, the middle class had inched up to 27.2 percent.
There is a concern that a significant portion of Africa's middle income group remains part of the floating class ($2-4 per day of expenditures). While Africa's current middle class is comprised of 313.3 million people, 190 million remain in the floating class. In contrast, an August 2010 report by the Asian Development Bank estimates India's middle class ($2-$20) at 274 million people with 75 percent (approximately 205 million) among the ranks of the floating class. While the floating class risks a relapse into poverty, Africa's wealth of natural resources and strategic minerals should provide a resilient safety net in the event of an economic shock.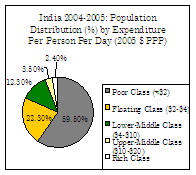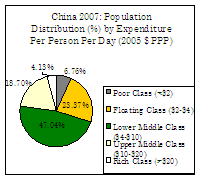 Alternatively, China finds 89 percent of their population (over 1 billion people) among the ranks of the middle class. China's situation highlights the deviations in income class between urban and rural populations. Approximately 91.3 percent of the Chinese urban populations and 87.4 percent of the Chinese rural population are classified as middle class. However, 34.1 percent of the rural middle class may be characterized as floating while only 9.4 percent of the urban middle class are floating. This suggests that urbanization triggers upward mobility within the population and provides economic opportunity for those in the floating class to break into the stable middle class (source: Asian Development Bank).
Interestingly, Africa's demographics also show very strong trends towards urbanization with over one-third of Africa's population living in urban areas. Africa also has more cities with over a million people than in all of North America, according to McKinsey Consulting. This correlation further supports the high growth potential for infrastructure and consumer driven markets in Africa.
High levels of urbanization, Africa's demographics, a developing consumer-market, increased investment in infrastructure, and improvements in governance and private sector development bode well for the continued growth of Africa's middle class and consumer-facing sectors.
As more Africans move from the floating class into the stable middle class, discretionary spending will increase to the benefit of Africa's consumer-facing sectors. McKinsey reports that in 2008, African households spent $860 billion which exceeded household spending in both India and Russia. If the GDP growth rate in Africa remains at its current level, McKinsey projects $1.4 trillion in household spending by 2020 and over half of households with discretionary spending power. This forecast supports the thesis that growth in consumer-facing sectors will accelerate. As such, Africa's consumer markets reveal attractive investment opportunities in consumer-facing sectors such as telecommunications, banking, infrastructure, construction and consumer goods and services.
The ensuing growth of those consumer-facing industries has catalyzed further expansion from the private sector to employment, urbanization and infrastructure. We see a positive feedback cycle where Africa's middle class consumers will feed the consumer-facing sectors that further build and strengthen Africa's middle class. Notably, Africa's demographics can easily withstand this move towards a larger and more highly-skilled workforce. The relatively young population in Africa is projected to nearly double by 2040. As such, the continent's population is better positioned for long-term growth than nations with smaller and older populations. Africa's demographics combined with the increasing size of Africa's middle income bracket establish a compelling platform for investing in Africa's consumer-facing sectors.
In conclusion, the savvy long-term investor may choose to follow the rising tide of population, GDP and income growth that Africa represents. As the consumer and infrastructure engines continue to gain traction, investors in African companies will benefit from their relative attractive valuations (lower P/E ratios and higher dividend yields than other markets), strong growth prospects, positioning and, somewhat counter intuitive, lower historical volatility than developed and other emerging markets. This is a strategy with excellent potential, somewhat indicative of investing in BRICs 15 to 20 years ago.
Aubrey Hamilton contributed to this article

Disclosure: Robert G. Roach is the COO/CFO of Nile Capital Management, LLC., an investment manager that manages funds focused on Africa including a Pan Africa mutual fund [NAFAX].