Just three trading sessions ago, PowerShares NASDAQ 100 (NASDAQ:QQQ) hit a multi-year high. So did iShares Morningstar Large-Cap Growth (NYSEARCA:JKE).
It's not that the markets were ignoring the debt deadlock. SPDR Gold (NYSEARCA:GLD) and CurrencyShares Swiss Franc (NYSEARCA:FXF) were registering records as well.
It's the fact that summertime traders were taking a barbell approach to risk allocation, loading up on "fear" and "high beta." Simultaneously, they began dumping dividend ETFs in the middle of the continuum.
Three days later, even the right side of the barbell has been demonstrating vulnerability. And it's sure to sell off even more if the upcoming weekend doesn't produce a viable solution.
Will Congress serve up an agreement? Will President Obama explore the 14th amendment? How did we get here? This is not my beautiful "House!" This is not my beautiful wife!
The credit collapse of 2008 was supposed to be a once-in-a-lifetime cataclysm. Yet the European debt crisis became a topic of debate in late 2009, hampering financial stocks in 2010 when investors questioned global financial company exposure to sovereign debt. Here in 2011, the possibility of a U.S. debt downgrade is hitting the financial sector yet again, since these are the institutions that may suffer the most from a lower rating on U.S. treasuries.
Indeed, the two-year performance for SPDR Financials (NYSEARCA:XLF) is weak when compared to the broad market S&P 500 SPDR Trust (NYSEARCA:SPY). The sector looks even bleaker when evaluated against "high beta" cyclical peers like SPDR S&P Energy (NYSEARCA:XLE) or Vanguard Information Technology (NYSEARCA:VGT).
Click to enlarge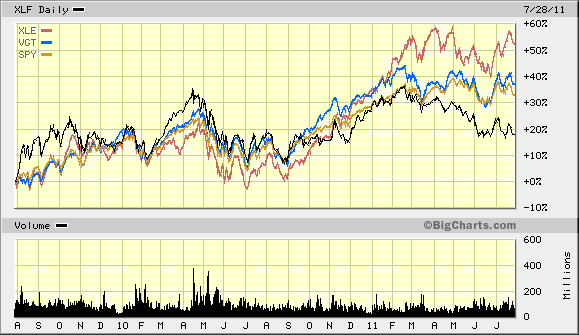 The solution may seem easy. Just invest in an ETF basket that excludes financials, right?
Investors do have the WisdomTreeDividend Ex-Financials Fund (NYSEARCA:DTN). With a beta of 1.0, it has outperformed the S&P 500 SPDR Trust (SPY) on a risk-adjusted basis over the same two-year period. And DTN has a distribution yield of 2.9% that is every bit as attractive as the "soon-to-be-re-rated" 10-year treasury bond.
Click to enlarge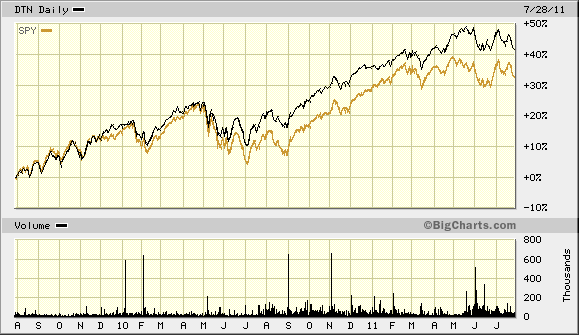 On the flip side, the ex-financials concept does have its complications. DTN is dominated by the non-cyclical segments of the U.S. economy. The top three sectors are utilities (18%), staples (15%) and healthcare (11%). If you're expecting U.S. economic output to pull out of its "soft patch" and re-accelerate in future quarters, DTN may not provide the juice.
The WisdomTree Dividend Ex-Financials Fund (DTN) does have $400 million in assets and it does average more than $250,000 in trading volume. That may be enough for sufficient liquidity under normal trading circumstances. In other words, when the markets are functioning properly, you can expect to execute a buy order or a sell order with little complication.
Are these normal trading circumstances, though? One more congressional hiccup and you can forget about a reasonable bid-ask spread with DTN. Favorable price execution may not be in the cards for fans of stop-limit sell orders.
Problems aside, one might be inclined to pair DTN with a cyclical sector fund like industrials (NYSEARCA:XLI) or energy (XLE). The combination could get you out of the sinkhole that defines financials these days. It's just a thought.
Disclosure: Gary Gordon, MS, CFP is the president of Pacific Park Financial, Inc., a Registered Investment Adviser with the SEC. Gary Gordon, Pacific Park Financial, Inc, and/or its clients may hold positions in the ETFs, mutual funds, and/or any investment asset mentioned above. The commentary does not constitute individualized investment advice. The opinions offered herein are not personalized recommendations to buy, sell or hold securities. At times, issuers of exchange-traded products compensate Pacific Park Financial, Inc. or its subsidiaries for advertising at the ETF Expert web site. ETF Expert content is created independently of any advertising relationships.