About a month and a half ago, I wrote an article entitled, Is it Finally the End of the Road for Netflix? Of course, the stock soared shortly thereafter. Around the time Seeking Alpha published that article (June 19th), Netflix (NASDAQ:NFLX) traded at $245.63. In less than a month it powered to its 52-week high of $304.79.

Despite that NFLX post-Pendola article run, mid-June might go down in the history books, alongside the demise of Webvan, as when things clearly started to go south for Netflix, the company, not the stock. It was around that time when Netflix announced Sony (NYSE:SNE) abruptly pulled its content from Netflix's streaming service due to terms in its agreement with Starz (LSTZA).

In another case of what Netflix management says being several guitar riffs from reality, the removal has proven to be anything but "temporary." Temporary means a few days, maybe a few weeks to most people I run with.

While the company refuses to confirm anything, the removal likely had something to do with the number of streaming customers who were able to view Sony content, prompting Sony to want more money from Starz to ease the sting of what Netflix does so well -- dilute the studios' content.
Fast forward to the post Q2 earnings release ruckus and Reed Hastings might as well be in hiding. He won't give me an interview. And it doesn't appear he's setting up to take softballs from Kara Swisher anytime soon.

Another case in point, this nugget from Netflix's Q2 letter to shareholders:

(Click to enlarge)



Pardon my French, but sometimes no other way to say it exists: That's a load of crap. Netflix will not bid on Hulu because it is in absolutely no financial position whatsoever to do so. And that leads to something I wrote about months ago finally rearing its head.

The big boys are coming to play. One of them will get Hulu. That alone could nail Netflix to the wall. Reed Hastings might have to change his 'we really don't compete with them' analogy from 'we're football and they're baseball' to 'we're table tennis and they're football' once Google (NASDAQ:GOOG), Apple (NASDAQ:AAPL), or Yahoo (NASDAQ:YHOO) walks away with the prize.

And don't forget about Amazon.com (NASDAQ:AMZN). The company has kicked up their content spending in an attempt to improve the streaming video it offers its Prime subscribers. And that's the point I was trying to make months ago. Today, it's relevant to not only content acquisition, but to the Hulu bidding.

Buying streaming content, or buying Hulu for that matter, represents the mere swipe of a debit card for the big boys Netflix has no business competing with. For companies like Google, Apple, Amazon and, to some extent, Yahoo, paying for content or another company represents little more than a bank draft of pocket change proportions.

Netflix had to literally blow up a large chunk of its business model to stay in the game. So much for the "virtuous cycle" that put Swisher's interview in the headlines, even in the absence of meaningful follow-up questions:

(Click to enlarge)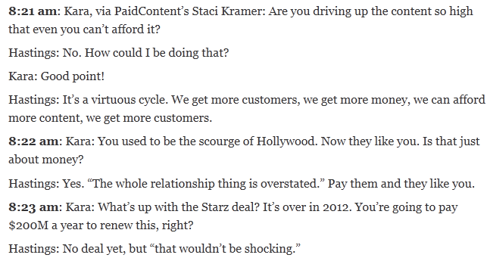 Temporary removal. Virtuous cycle. Good point, Reed!

Disclosure: I have no positions in any stocks mentioned, and no plans to initiate any positions within the next 72 hours.