China Sky One Medical (OTCPK:CSKI) was one of the first Chinese reverse mergers stocks attacked by the short sellers nearly 3 years ago. In that time, dozens of undocumented conspiracy theories and misinformation was levied against CSKI. Dr. R. B. Stuart published an excellent article on July 11, 2011 clearly disproving most of the short seller's accusations. The balance of these falsehoods has been disproved with time.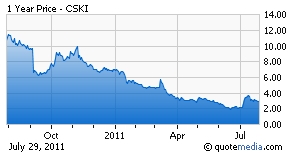 The SEC initiated an inquiry into CSKI in Sept. 2009 after being petitioned by the short sellers. After 23 months, the SEC has not announced any discovery of fraud, irregularities or fines against CSKI. Many investors consider 24 months a closing period for any inquiry as the SEC normally does not announce the end to an inquiry.
John Bird initiated a lawsuit against Moore Stephens PC (CSKI's auditor) in March 2010 stating MSPC should have discovered fraud at CSKI. After 15 months, John Bird was unable to produce proof of fraud by CSKI or any wrong doing by MSPC even after receiving 32,000 documents in discovery. Bird's case was dismissed on June 29th, 2011.
Could a "Big Four" auditor be more thorough in vetting CSKI than this discovery process? Thank you, Mr. Bird.
After years of brutal, unfounded accusations, CSKI is willing to pay travel and hotel expenses within China for investors and financial news media to visit TDR and all four of their subsidiaries. Special invitations are extended to all short sellers. CSKI stated none of the short sellers have ever contacted any company officers or visited the company to verify any of their accusations. Why is it not the responsibility of the accusers to substantiate the charges?
If you will take the time, I will "SHOW" you the viability, profitability, and incredible future ahead for this company. I believe cash generation confirms the sales and earnings. Spending that cash proves the cash exists; thus, the sales and earning must also exist.
The original company is HarbinTian Di Ren (TDR) This company was established in June, 1994 and reorganized in 2000. In 2006, the company entered into US Markets as an RTO. The company is 17 years old. Presently, there are 244 employees at this location. This company's purpose is research and production of 30 herbal medicines that include pain, hypertension, and weight loss patches. Harbin, China is the worldwide center for Traditional Chinese Medicine and TCM raw materials. The company has an additional 1900 commission based sales representatives in 19 provinces.
Established June, 2003 – Harbin First Bio-Engineering - Presently there are 117 employees at this location. This company does research and manufacturing of diagnostic kits.
"Show the Money" (cash spending by CSKI since 2008)
2/13/08 - Purchased Heilongjiang Tianlong Pharmaceuticals - Presently there are 357 employees at this location. The purpose of this location is R&D and production of antibiotics and cardiac drugs. Paid cash $8,272,000

4/18/08 - Purchased Heilongjiang Haina Pharmaceuticals specifically for their Good Supply Practice license-building. This allowed CSKI immediate entry into several new markets. Paid cash $437,000
9/05/08 - Purchased Peng Lai Jin Pharmaceuticals Presently there are 203 employees producing a portfolio of 20 TCMs. Paid cash $2,500,000, plus 38,606 shares valued at $4,594,000.
May, 2009 -CSKI signs an agreement with Taiwan Golden Biotechnology for co-development of a new cancer drug, Antroquinonol (Antroq). Paid cash $5.100,000

Oct. 2009 – CSKI purchases the propriety rights from Harbin Medical University for $1.5 million for a jointly developed drug to treat Breast Lesions. Paid cash $1,500,000
Feb, 2010- CSKI completes two new 6 story buildings costing $13 million. Paid cash $13,000,000

April, 2010 – CSKI bids $7.3 million dollars for 50 year lease on a large parcel of land in the new Song Bei Business District. Bid is accepted. Paid cash $7,300,000


Dec, 2010- CSKI purchases a 30 year, 115 square mile forest lease for $36 million dollars. (see Forest Lease later in the story) Paid cash $36,000,000
"Show the Cash on Hand"
Per the March 31, 2011, 10-Q statement - cash on hand $48,058,000
"Show the Long & Short Term Debt" - NONE
"Show the R & D" (from CSKI's SEC filings):
R & D expenses

2011-1st Qtr Paid in cash from earnings $4,243.000
2010 Paid in cash from earnings $19,614,000
2009 Paid in cash from earnings $15,030,000
2008 Paid in cash from earnings $9,941,000
Note - over $10,000,000 of the above R & D expenses were spent on clinical trials for five new drugs.
Partial benefits from the above research:
"Show the Future of this Company"
Antroquinonol (Antroq) is CSKI's "most promising" of five license protected drugs in clinical trials. Antroq is extracted, concentrated, and processed from Antrodia Cinnamomea. Antrodia Cinnamomea is a well known medicinal fungus found only in Taiwan and utilized in Traditional Chinese Medicine. China Sky One Medical acquired the exclusive right to develop and sell Antroq in the Peoples Republic of China on May 22, 2009 from Taiwan Golden Biotechnology Corp in a 10 million dollar deal. For over 50 years it has been used in the treatment of food and drug poisoning, diarrhea, abdominal pain, hypertension, rashes, and liver & lung cancer in China.
The pre-clinical trials in China, the UK and the United States are incredibly promising for Antroq. These pre-clinical trials showed a consistent suspension of tumor growth in mice within two weeks of initial ingestion with relatively mild doses of Antroq. The result has been duplicated in similar tests in several other countries. Further clinical trials have been done in China and the US to test the tolerance of Antroq in human trials. Absolutely no side effects have been recorded at the effective dosage for extended periods of time for Antroq. Interest in Antroquinonol has been building from around the world. CSKI is preparing to sell Antroq as a dietary supplement in China until the clinical trials are complete. CSKI has the exclusive right to sell Antroq to 1.4 billion Chinese people.
Endostatin is a cancer treatment drug that works by "starving" cancer cells by restricting the generation of blood vessels around cancer lesions, thereby inhibiting, to a degree, the source of nutrients upon which the cancer cells survive. As of December 31, 2010, they had completed their teratogenicity testing, and established quality standards for this drug. Further developments are underway to improve the product quality of Endostatin.
The Forest Lease - China Sky One Medical paid $36 million dollars in cash on Dec. 27, 2010 for a 30 year Forest lease on a 115 square mile mountain range. I did considerable research on herbs and mountain land in China when CSKI announced the new lease. The cost of many herbs is skyrocketing, with many up 500% in three years. The major causes are massive flooding in some areas and huge increases in demand from the West and other parts of the world. Most of the herbs grow slow, require an extremely cold climate, and very rich mountain soil. The world is waking up to effectiveness of traditional medicines without the harsh side effects of western medicines.
There are two basic categories of herbs: cultivated and wild growing. Delicate herbs like Ginseng can be cultivated; however, it takes two years for the seeds to germinate and four to eight years for the plants to mature. Ginseng can live for 80 years (hence, no short term lease). The other category is the wild growing herbs, often only found in the rocky crags on mountain sides. Wild Ginseng is much more potent and several times more expensive than cultivated varieties.
My research further determined mountain farming in China would be done with a minimum of machinery. I expect CSKI will hire pickers and pay them by the kilo for what they find. After they harvest an area, they would not return for many years. (Hence the need for a large area.) I expect the meadows would be cultivated by hand for a variety of herbs and medicinal teas. There are over 2000 varieties of medicinal teas in China.
The terms of the lease were 30 years for $40,000,000 if paid in installments. However, if paid in installments, the rent could be increased without limitation at regular intervals based on the current value of raw materials. CSKI paid $36 million dollars upfront, receiving a 10% discount for cash plus locking in raw material costs for 30 years. That averages out to $1.2 million dollars a year for a nearly unlimited supply of raw materials heading into what is already an absolute crisis for TCM companies. CSKI will have a major competitive advantage in expansion and pricing. Any excess raw materials have a great demand and can easily be resold for additional cash flow.
A signed 22 page copy of the mountain lease is in CSKI's 2010 10-K. The Heilongjiang Tang Wang He Forest Bureau has repeatedly published confirmation of CSKI's mountain lease.
(Additional TCM links)
www.prnewswire.com/news-releases/china-s...
http://www.chinadaily.com.cn/bizchina/2011-06/20/content_12737351.htm)
healingherbsofchina.stores.yahoo.net/non...
health.asiaone.com/Health/News/Story/A1S...
http://www.hkc22.com/chinesemedicine.html
This real company has grown by 1000% since 2006. CSKI has increased their products from 30 to 130 products in 5 years. There is substantial value in the company's buildings and equipment. CSKI and its subsidiaries have a combined 485,000 sq. ft. of modern office, warehouse, and laboratory space and have additional buildings under construction. There are no mortgages of any kind. The company paid 8% of revenues for research development and still created substantial cash flow every year.
Clearly, abundant cash flow confirms sales and earnings. The cash spending proves the cash is real. Where do the short sellers propose the cash comes from year after year? CSKI has no debt, no loans, and no planned stock offerings. Insiders own 40% of CSKI stock and they have never sold a share. All officers take the majority of their salary in stock. Twenty eight key employees of CSKI participate in a stock options plan. CSKI's President Lui takes a $35,000 dollar annual salary plus stock options. Clearly, none of the company's officers and key staff would be successful unless CSKI is successful.
How can anyone doubt the integrity, growth, and valuation in this company? It is time China Sky One Medical resumes its climb before being so unjustly delayed.
Disclosure: I am long OTCPK:CSKI.