JAT Capital is a lesser-known but very successful hedge fund founded in 2007 by John Thaler, after leaving Shumway Capital. Since the abrupt closing of Shumway Capital Partners, a lot of money has been flowing into JAT this quarter. Below is a look at JAT's top 10 reported 13F positions (as of Q1 2011) over time both in dollar value and as a % of total reported longs ($1.5BN). JAT's known for running a large short book and thus a consistently low net exposure. While the shorts are not reported (and likely detracted from returns this quarter), it is still very instructive to observe the long exposures over time (quarter-over-quarter is not sufficient) because it gives a much more complete picture of a manager's conviction in certain names [Baidu (NASDAQ:BIDU)], how quickly it took to build a position [Sina Corp. (NASDAQ:SINA)] and whether or not they've been active in the name previously [Priceline (NASDAQ:PCLN)].
JAT Capital's reports are shown below - (click charts to enlarge):

While BIDU has been a favorite for several quarters compared with the #2 position SINA, exposures to both were increased significantly in Q1. BIDU is up more than 33% since this position was reported (March 31st) :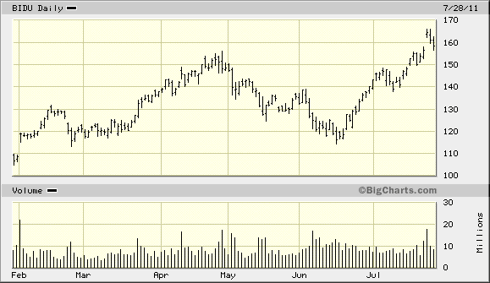 ..and SINA is up more than 37% since being reported: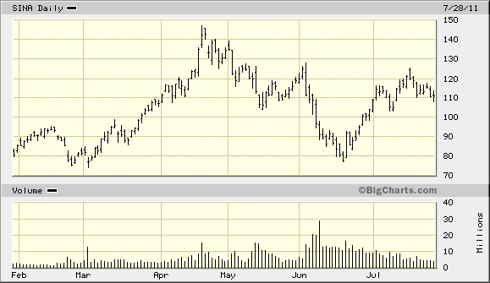 Each of these positions represent large portions of capital as well..collectively accounting for over 20% of all reported long positions.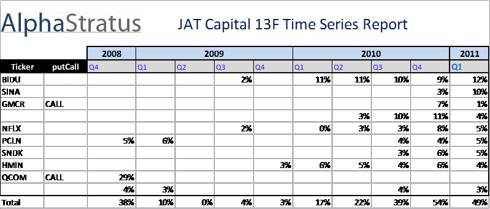 Green Mountain (NASDAQ:GMCR) is another big bet that appears to have worked out brilliantly this quarter and likely paid off very well as JAT appeared to rotate out of the stock and into CALL options. This stock is up over 250% since being reported on the 13F: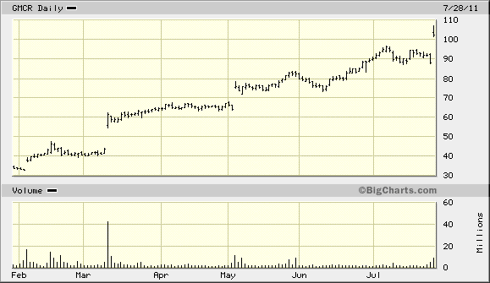 Netflix (NASDAQ:NFLX) and Priceline are both midsize positions and also have worked out this quarter (although Netflix has stumbled recently):
All in all, it appears that JAT's big "gutsy bets" going into Q2 have paid off. It will be very interesting to see, however, how it manages the huge influx of capital and how it positions the portfolio going forward.
Disclosure: I have no positions in any stocks mentioned, and no plans to initiate any positions within the next 72 hours.