When a management with a reputation for brilliance tackles a business with a reputation for bad economics, it is the reputation of the business that remains intact. Those were the words of Warren Buffett, basically describing that no matter how great a management team may be, if the business has a history of poor execution, you can basically consider it dead.
If you subscribe to this idea, then the opposite should also hold true. That is to say, when bad management presides over a sound business model, it should be the reputation of the management team that wins out. But regardless of the business, if poor decisions are being made, the business will render poor outcomes.
You will be hard pressed these days to find any management team who deserves more criticism than the executives at Research In Motion (RIMM). Unlike many other giant technology names such as Apple (AAPL) and Oracle (ORCL) who have been able to make a successful shift from one product to another either by strategic acquisition or innovation, RIM continues to show that it is "lost in motion." The company continues to be in a malaise of sorts and has shown that it can't avoid the fate that became the reality of companies such as Palm and Novell (NOVL).
Earlier this week, I considered RIM a falling knife, largely due to the graphic below:
(Click chart to enlarge)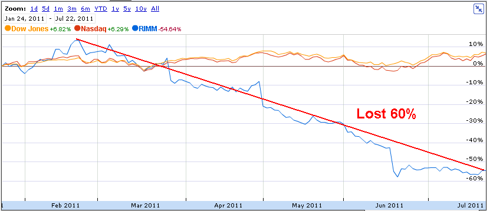 This week the stock has not disappointed as it reached another 52-week low on Thursday at a price of $25.39. I told a buddy of mine last week that if the stock stayed above $25 this week it would have been some sort of a moral victory. Even one of the company's most noted bulls is starting to take a more bearish stance. I was surprised to learn from a Reuters article released on Wednesday that UBS cut its price target on the company citing "competitive threat." Phillip Huang, a well respected analyst who has covered the company for quite some time felt it was necessary to cut RIM's target to $30 from $41. He was said to have "seen little momentum for RIM until software transition."
He was quoted saying:
"We still lack conviction RIM can stem its waning momentum on a more sustainable basis in the highly competitive mobile OS market," Huang wrote in a note to clients. "We therefore remain on the sidelines for now."
Poor management

The anemic performance of the company's stock continues to be the result of poor management. Not only has RIM's stock plummeted significantly this year, but the company continues to miss on its own dismal quarterly projections. It would seem to me that a smart management team should have decided to bite the bullet, cut projections to the degree to where the company would not only beat the street, but "over-deliver." Instead, they have resorted to announcing further cuts within each announcement.

The question investors continue to ask me is; "why would you short RIM at an already low price?" My response continues to be, why wouldn't you? It's a value trap! The argument continues to point toward its 7 product launches that are on the way. There has been the mention of FaceBook integration, OS7 and then its soon to be "flagship" OS QNX. Those are indeed valid reasons for optimism, but knowing that RIM's management will be responsible for the execution, does little to inspire any confidence.

I keep thinking that the potential results of these new products would not be realized until 2012 and in the meantime, loyal investors can't continue to discount what has become a series of poor execution by management. So many things have to go right for the company to just remain relevant. I ask, do you suppose that Apple (AAPL) and Google (GOOG) will be losing share or gaining? We can even throw Microsoft (MSFT) into the list of competitors with its Windows Mobile 7 that will be salivating at the opportunity to take market share while RIM gets its house in order. So by the time these new products are released, it will cost RIM more just to get it in the hands of its consumers.

How much sales has RIM lost just by announcing that a new QNX platform is under way before the company can even estimate a launch date? Who's going to buy a new device now when the company has just warned that it will soon be obsolete? Again, this shows how its management continues to hold the company hostage with its series of poor execution. To make matters worse, RIM's strength in mature international markets such as Britain is not only showing signs of waning, but the company is now unlikely to get much traction in China.

Summary

I jokingly considered RIM "Palm 2.0" but I now realize that is probably more fitting to consider the company "Novell 2.0." Do you remember the Network enterprise giant? The same company that refused to transition from IPX/SPX when Microsoft figured out that TCP/IP was the better standard. Novell also held the company hostage on that decision. How has that worked out?

It continues to be very evident that RIM's management is unable to address any question in a straight-forward manner; even the most simple ones regarding deteriorating gross margins as well as specific technical questions related to Android. It seems as if they continue to be unprepared to address concerns that they had already outlined to investors, when management confirmed that the entire future of the company hinges on QNX; another hostage situation. To RIM's management, I yell with a bullhorn, come out with your hands up and let the company go.

Disclosure: I am long ORCL, MSFT.