Equinix (NASDAQ:EQIX) reported Q2 earnings last Wednesday, after market close. The company delivered solid results, exceeding both guidance and analysts' consensus and increased annual guidance – definitely a nice triple play.
A quick look at some of the highlights:
Revenues were $394.9 million, a 9% increase over the previous quarter and a 33% increase over the same quarter of last year. Analysts forecasted revenues of $379,7 million, on average. Even excluding $11.7 million derived from the ALOG acquisition, the company beat consensus;
Adjusted EBITDA was $181.3 million, an increase of 8% over the previous quarter and a 37% increase over the same quarter of last year;
Net income was $30.7 million, a basic net income per share of $0.65 and diluted net income per share of $0.64 (consensus: $0.48);

Equinix increased 2011 annual revenue guidance to greater than $1,590.0 million and 2011 adjusted EBITDA guidance to greater than $720.0 million. Even excluding ALOG's estimated contribution to 2011 numbers (high end of the range), the low end of revenue guidance was increased by about 1%;

Q3 guidance is for revenues in the range of $412 million to $ 417 million, above analysts' consensus ($395,3 million).
These strong numbers should really come as no surprise to investors: as Rob Powell summarized at Telecom Ramblings, Equinix "posted its usual solid quarter."
Most metrics we follow for the company were exceeding our expectations and we would not be surprised to discover that guidance was somehow conservative.
Churn for the quarter came at 1.6%, the best result for the last 4 quarters

and management expects sub 2% levels for the remaining of the year;

Bookings were strong across all markets

and pricing remained firm – a clear indication that Equinix's value proposition is providing the company a powerful tool when negotiating with customers;

Americas cross connects increased by more than 2,100, the strongest result even in the region;
Cabinet additions were strong across all markets and all verticals, with Americas increasing by 500 cabinets, Europe by about 620

and Asia by almost 700 cabinets;

Both Europe and Asia now have a quarter end utilization of about 70%, a strong improvement from the previous quarter (due to new IBX openings that added, in total, about 6,700 cabinets to Equinix's footprint in the two regions, a much needed inventory for the company's potential future growth in these markets);
Discretionary free cash flow for the quarter was approximately $112 million, a 26% increase over the previous quarter

and the company now expects full year discretionary free cash flow to range between $420 million and $ 440 million;

Cash gross margins were 65%, including ALOG. Excluding the impact of the acquisition, cash gross margins for the quarter would have been 66%.
During the conference call, management provided more visibility into the company's economics used when planning new expansions, which may give a good opportunity to review Equinix's business model, for the benefit of readers new to this company.
Building a data center requires a huge investment upfront - this is a very capital intensive business. However, Equinix's neutral business model allows the company to generate very high margins (up to 90% for interconnection services), that represent a very interesting rate of return on capital invested.
Here is a quick update on the performance achieved by all U.S. IBX data centers open since Q2 2010: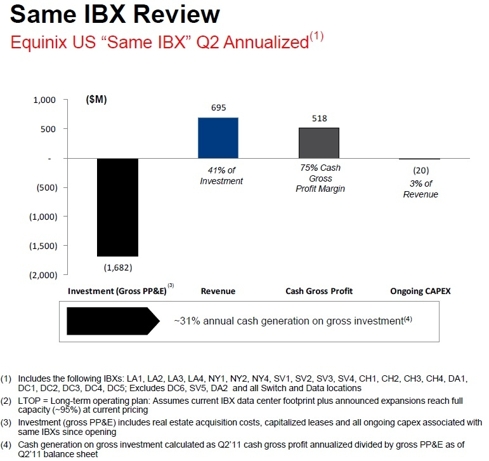 (Click to enlarge)
Here is how Stephen Smith, Equinix's CEO, commented the chart during the last conference call:
As a reminder, we target 10-year IRRs of 30% to 40% on a pretax basis when we approve any of our expansion projects. Let me begin with a quick update of our same IBX performance.

As previously presented, this chart breaks out our revenues, cash profits and returns for IBXs in North America that have been opened for at least a year and demonstrates our success to date. This chart also provides a solid proof point of the attractive unit economics of our expansion, which highlights that for every $2 of expansion CapEx invested, we will generate about $1 of revenue and this dollar revenue will generate greater than 65% cash gross margins at capacity.
A quick look at analysts commentary after the call:
Stifel Nicolaus increased its target price to $130;
Piper Jaffray also raised the price target from $115 to $125 (Overweight rating);
Oppenheimer commented "strong results and increased guidance", raising 2011 expected operating EPS to $3.57 from $3.36;
Evercore Partners commented: "Beat 'n Raise – Excellent 2Q results"

and believe steady execution could provide further upside to their $120 target price,

Citi upgraded the company to Buy, with a revised target price of $124,
Goldman Sachs remains Neutral, with a modest TP increase to $100.
As a final comment, we believe that Equinix might have been conservative in its guidance, for at least a few reasons. First of all, it seems that management was quite conservative evaluating ALOG's potential contribution in the second half of the year, which makes sense given the potential integration problems that might arise. Historically, however, ALOG enjoyed a good growth rate that should only improve now that Equinix's sales force can offer this key South American market to its multinational clientele.
Equinix can now count on a much better inventory in Asia and Europe, two markets that were recently constrained. Bookings in the US were at record high, which should bode well for the second half of the year. Add to that the fact that churn might continue to perform below 2% (a very good historical number for the company) and we believe further upside is possible, even excluding any expansion in new markets (very likely in our opinion by year's end).
Disclosure: I am long EQIX.