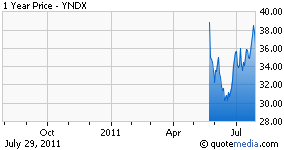 Shares of Yandex (NASDAQ:YNDX), Russia's largest search engine, took a minor hit after the company revealed it was the subject of an investigation into personal data leaked online. Private text messages and other sensitive documents were allegedly revealed through web searches using the company's site. Although the investigation may cause Yandex to alter where its search indexer pulls content from, here is why investors should not be alarmed.
Yandex Did Not Leak Any Data
Search engines such as Yandex or Google (NASDAQ:GOOG) crawl the web constantly looking for new, unindexed content in order to increase search results and keep the results relevant. In this case, MegaFon, Russia's second largest mobile phone carrier, leaked data containing private text message data from customers to the public Internet. Yandex simply picked up on this new data added online and indexed it, allowing it to be found by searchers who knew what to look for. The algorithms Yandex uses to index the data did not have a way to tell this data shouldn't have been online - it simply treated the data as any another document and indexed it as such. Website administrators can place restrictions on the search engine crawlers to prevent data the crawlers find from being indexed. But in this case, MegaFon's site was missing these restrictions, therefore the root cause of the leak lies with MegaFon. The data should never have been released without protection in the first place.
What Are the Potential Damages?
The leak is mitigated because full names of the subscribers were never actually released alongside the text messages, and Yandex has cleared all the pages containing the personal texts. The originator of the data, MegaFon, is also launching its own internal investigation alongside that of the Russian government. The outcome of the investigations will likely show that Yandex was not at fault in this situation and that corporations actively storing user-specific data need to be vigilant when protecting it from unauthorized access. The leak will unlikely have a long term affect on Yandex's user base since Google, the second most-used search engine in Russia, has suffered numerous privacy leaks in the past and still manages to enjoy search market dominance worldwide.
On July 28th, 2011, Yandex reported a 57% YoY increase in revenue in the second quarter, and is projecting a 55%-60% increase in revenue for full-year 2011. Yandex's growth should continue into 2012 and investors should take advantage of big dips in the share price on news like the above.
Disclosure: I have no positions in any stocks mentioned, and no plans to initiate any positions within the next 72 hours.