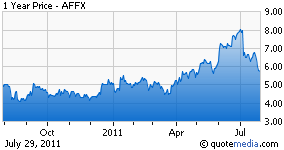 Last month I contributed an article suggesting that Affymetrix's (NASDAQ:AFFX) business was treading water, with very few strategic catalysts in sight. The irrational share price euphoria over new CEO Frank Witney was tempered when Affymetrix warned on revenues in early July. In light of the Q2 earnings release and, in particular, the conference call, I believe one could safely say that Affymetrix has somewhat lost its bearings. However, it could still present an opportunity under the right conditions.
The Bad
Affymetrix reported a slightly higher than expected loss of 5 cents on heavily declining revenue across almost all business lines. The company managed to keep cost of sales correspondingly low and it maintained margins, so the loss was mostly a result of depreciation and amortization. In cash terms, Affymetrix had a $14 million inflow and its net cash is now up to $160 million. But as the analysts pointed out in the Q&A session, the company's revenue is now back at 2001 levels.
The Ugly
Affymetrix does not provide guidance anymore but it appears extremely unlikely, judging from the tone of the earnings call, that the revenue trend will reverse. According to management, the Q2 revenue shortfall only became evident suddenly in June. Worryingly, they don't know yet where, what or how things went wrong - they will have to "dig deep" to find out - and this sure does not sound like positive guidance.

After another disappointing season, and with a new coach, Affymetrix is officially in rebuilding mode.
During the call CEO Frank Witney openly recognized that Affymetrix had missed a technology cycle many years ago (i.e. next-gen sequencing), but insisted that there is still potential in the company's current product portfolio. However, management invariably responded that "it is still early days" to make a call on most of the recent Affymetrix product launches. In any event, the market environment may be getting tighter for all companies in the sector, with government and academic spending facing cuts across geographies.
Also, the CEO plans to keep his focus within the company to get a sense of where growth can be developed, with a view to presenting any new strategies by the beginning of 2012. Any ideas of growth through M&A will have to be put to the side until then. Such ideas would probably exclude the premise that Affymetrix can be sold itself: the problem is not how the company is run but its current product offerings, so what use would they be to an acquirer?
Any Good?
The company appears now to be steadily and comfortably cash flow positive, even though any further declines in revenue would presumably also result in lower cash flows. This cash is needed: Affymetrix will have to either invest aggressively in R&D or acquire another company in order to develop market-relevant technologies. And at least the cash may form a floor for the AFFY share.
In the spirit of rationalizing costs championed by CFO Tim Barabe, Affymetrix has also renegotiated its campus leases, achieving significant reductions and rent-free periods. These cash savings will start showing from the next quarter onwards. The expense reduction may mitigate the impact of CEO Witney's initial stock awards - incidentally, his first batch of options has a strike price of $6,71, so he has something to aim at already.
Finally, legal matters are typically not discussed in earnings calls but there were some industry news in June regarding the patent case against Illumina (ILMN), highlighted as a potential catalyst in my previous article: a trial date has been set for April 2012, which means that there will be no imminent resolution but Affymetrix will continue to pester its old rival for a nice settlement.
Investment Considerations
In summary, the unimpressive results coupled with a very somber conference call were not encouraging. Aggressive analyst questioning indicates a possible reassessment of the May/June upgrades. Any business and legal catalysts cannot occur until early 2012 and CEO Witney has to reset Affymetrix's bearings first.
Affymetrix must justify why, at least in the short term, it should trade at a premium to book value. (It is strange to revert to book values when talking about life science companies but it is necessary here.) In this light, I believe the current price remains too rich. I would feel more comfortable with a price below $5 and closer to $4, where I think a bet on a turnaround or other catalyst would be supported by the company's proven free cash generation.
Disclosure: I have no positions in any stocks mentioned, and no plans to initiate any positions within the next 72 hours.