With the uncertainty surrounding the debt ceiling fiasco putting pressure on equities, opportunities present themselves if one is of the belief that the geniuses in Washington aren't dead set on destroying the U.S. economy. One of these opportunities is an interesting play in venture capital financing that has recently lost about 15% of its share price, due primarily to debt ceiling anxiety, and now trades at about $9.30 per share. Hercules Technology Growth Capital (NASDAQ:HTGC) operates in a unique sector of the specialty finance market with its focus to seek opportunistic financing transactions for venture capital and private equity backed technology and life science companies at all stages of development.
The attractiveness of this business, for income seeking investors, is not solely the 9% dividend yield that HTGC offers at these levels. It is also the potential capital appreciation from a portfolio of warrants, typically granted to HTGC as part of debt financing transactions, that provide the potential for capital appreciation in addition to very attractive dividend yield in an otherwise low yield environment. HTGC presents a concise summary that clearly explains how it invests its capital in this excerpt from its March 2011 Quarterly Investor Presentation (pdf):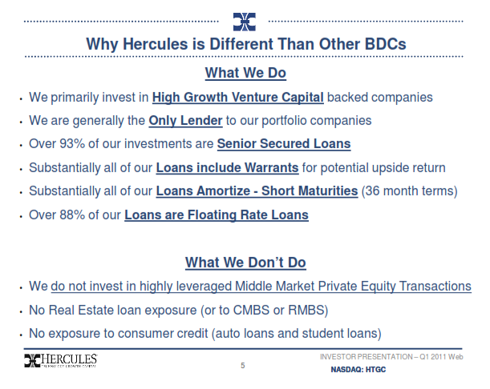 As of March 2011, the total value of the HTGC portfolio was diversified among 41 companies as follows:

Total Debt Investments $396.96 million
Total Equity Investments $ 27.0 million
· Total Warrant Investments $ 21.5 million
Hercules invests in companies at all stages of development, from early stage start-up companies to publicly traded growth companies lacking access to public capital. The HTGC portfolio includes technology and life sciences companies specializing in computer hardware and software, networking systems and information technology infrastructure, Internet services and telecommunications, medical devices, bio-pharmaceuticals and health care services. HTGC uses a limited level of leverage to enhance shareholder returns which, of course, increases its risk profile and returns. As of March 31, 2011, HTGC had borrowed $163.8 million of its total credit lines and had a net asset value of $9.20 per share.
Investors seeking both high yield and growth who want to take advantage of HTGC's recent market decline have a wealth of information available to do their own due diligence. Start with the March 2011 Investor Presentation (pdf) and follow up with the very informative HTGC website. I've been patiently waiting a sub $10 entry point in HTGC due to some extraneous market event and this debt ceiling debacle has given me the opportunity to establish a position.
Disclosure: I am long HTGC.
Disclaimer: These are the personal views of Wall Street Titan and should not be relied upon for investment decisions. Investors should always do their own due diligence.