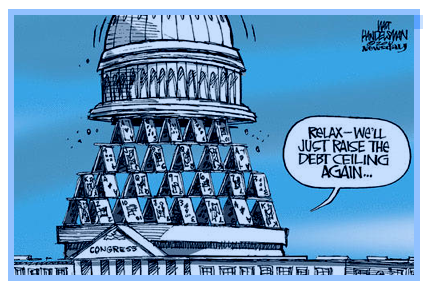 Market Opinion: With news that GDP growth was only 1.3% on an annual basis in the second quarter combined with a revised lower figure for consumer sentiment in June, does it really feel like a fun Friday? Apart from the demoralizing economic news, the market is compulsively worrying about the debt ceiling which sent us down over 100 points at the open. Technically the Diamonds (NYSEARCA:DIA) blew through the post Greek Crisis $122 support level and is trading on its four-month uptrend line (according to a Finviz chart). If we pass the debt ceiling, we could rally up to $127. Taking a look at some of the market's favorite stocks, I see Dollar Tree (NASDAQ:DLTR) showing support at the 50-day SMA. Green Mountain Coffee's (NASDAQ:GMCR) chart continues to move up through its price channel. As for Netflix (NASDAQ:NFLX), the uptrend remains intact, with strong secondary support at $250. Salesforce.com (NYSE:CRM) seems like it may have broke its uptrend but secondary support should come on at the 200 SMA at 135.50.
Now let's look at some specific option trades for those risky enough to invest before the action on the debt ceiling.
Option Trade: American Express (NYSE:AXP)
American Express just reported great EPS numbers of $1.07 vs. $0.98 and $7.62B vs. $7.35B in revenue for the second quarter on July 20. After beating street estimates and stating that card member spending was up 18%, the stock has since sold off with fears of the debt ceiling not being raised. Despite the sell off, AXP's upward channel since March remains intact. Fundamentally, based on Oracle's (NASDAQ:ORCL) current P/E of 13.23 and its TTM earnings, I come up with a value of $50.53, which is right on the price channel support line. If Congress passes the debt ceiling, I expect AXP to rally up to $54-$55/share in the coming weeks. On the downside, if the government does not pass the debt ceiling, Americans would still use their credit cards for purchases ... perhaps more than usual as pensions or unemployment checks may not be sent out. I remain bullish on American Express.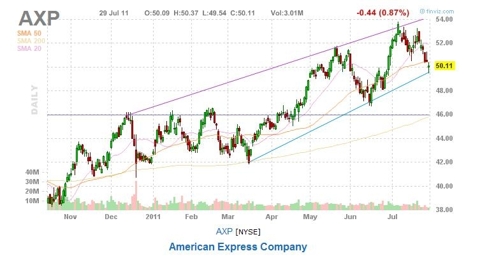 Trade: Sell the Aug. 20 46/45 vertical put spread for 0.10
Max Return: 11.11%
Breakeven Point: $45.90
Probability Spread Will Expire Worthless: 87.73%
Option Trade: Oracle (ORCL)
ORCL does not report until September 16 but has not missed EPS estimates for the past seven quarters.
Technically, the stock has been in a downtrend since the first of May and it is showing signs of a large head-and-shoulders formation on a one-year chart. However, given where the stock is trading now, ORCL is coming close to strong support at $30/share. Using a current P/E of 18.43 and TTM earnings equaling 2.22, I get a value on ORCL of $40.91/share.
Using a DCF model, assuming a 9% growth rate over the next two years, and only a 5% growth rate after that (which is very conservative), puts the stock at $41.13
Using our EquityAnalytics Price Target of $41/share, ORCL is undervalued by at least 25%. However, due to market concerns and ORCL's recent downtrend, I remain neutral on the stock until we see if the debt ceiling will be passed by next Tuesday. For those risky investors who want to take a position, I would look at selling the Sep 16 28/27 vertical put spread for 0.15.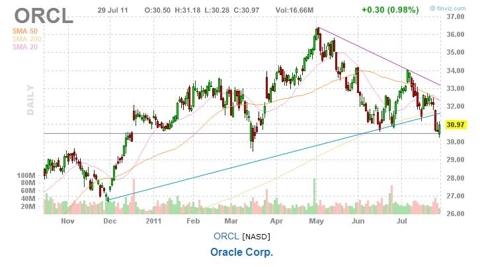 Max Return: 17.64%
Breakeven Point: $27.85
Probability Spread Will Expire Worthless: 79.76%
Disclosure: I am long ORCL.