Mortgage Real Estate Investment Trusts ("mREITs") had a volatile morning on Friday as fears of increased "haircuts" roiled the market.
mREITs finance the purchase of agency-backed mortgage securities through short-term repurchase and repurchase ("repo") agreements. Due to the ongoing fear of a U.S. government default, the cost of overnight repo financing jumped this morning. The fear is that a sustained increase in repo rates will lead to an increase in haircuts (or the down payments that are required for the loans).mREITs plummeted briefly in the morning on the news, but pared the loses significantly by the end of the day.
On average, the REITs below sank 13.2% before closing only 1.8% lower: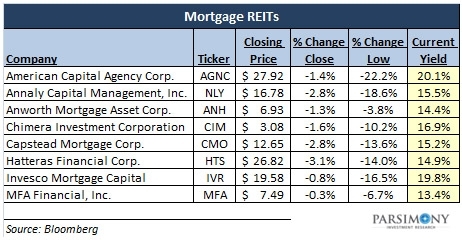 In general, we think the fear around the debt ceiling is causing irrational investor reactions. mREIT investors in particular should not be too concerned about short term volatility in repo rates. On recent earnings calls, REIT executives from Invesco Mortgage Capital (NYSE:IVR), Hatteras Financial (NYSE:HTS), and American Capital Agency (NASDAQ:AGNC) all agreed that a meaningful increase in haircuts is unlikely.
Even if we do see a modest increase in haircuts, and a corresponding decrease in mREIT distributions, we still believe that mREITs are a compelling investment opportunity for at least the next 12-24 months. The mREITs in the table above currently have an average yield of 16.3%. If yields drop 2-3% due to lower distributions, we still like the risk/reward profile of these investments and we think any meaningful pullback is a good buying opportunity in select mREITs.
The current low interest rate and steep yield curve environment is ideal for mREITs. As we have highlighted in recent articles, we think interests rates will remain low for the foreseeable future (next 12-24 months). As such, we believe mREITs offer investors an extremely compelling risk/reward profile (especially REITs with a high mix of agency securities). However, we caution investors to watch interest rates and distributions very closely if invested in the space.
NLY and MFA remain our two main REIT holdings due to their strong management teams and proven ability to manage their portfolios in any interest rate environment. However, we also have a small position in AGNC. We continue to believe that the best strategy for investing in this space is to own a portfolio of mortgage REITs to diversify your risk.
Note: Based on our overall asset allocation model, we recommend a 10%-20% allocation to REITs.