The Dividend Champions spreadsheet and PDF have been updated through 6/30/11 and are available here. Note that all references to Champions mean companies that have paid higher dividends for at least 25 straight years; Contenders have streaks of 10-24 years; Challengers have streaks of 5-9 years. "CCC" refers to the universe of Champions, Contenders, and Challengers.
New Columns Added
During July, I added several new columns and enhanced the information in other areas:
Estimated 5-year Annual EPS Growth: Now appearing as column AD, I'm including a calculation of the consensus estimated annual earnings-per-share growth, according to analysts. I derived this value from the method that Yahoo (NASDAQ:YHOO) uses to compute the PEG Ratio, which it defines as the "Forward" P/E (Price/earnings ratio) divided by the 5-year estimated annual EPS growth...an item which is not available for download. However, since the current year's EPS estimate is available (see column AA), dividing that number into the current price results in the "Forward" P/E and dividing the PEG Ratio into that isolates the 5-year estimated annual EPS growth rate.
The new data item comes with a few caveats, of course. First, any attempt to predict the next five years is bound to involve a lot of very changeable assumptions by the analysts. Second, the number of analysts covering a particular company will vary greatly. An obscure company may only be followed by one or two analysts, whereas a few dozen may follow the largest companies. Third, it's necessary to keep in mind that Yahoo's data may lag behind by one or more days, so the figure may be less than precise. Nevertheless, I think the new data item may be useful in promoting further research by investors.
Percentage Increases by Year: Appearing as columns BB through BL are the percentage increases for each company over the previous year. This should give a more visual picture of the dividend progression than simply using the 1-, 3-, 5-, or 10-year Dividend Growth Rates. Also added were columns BM (Mean, or simple average) and BN (Standard Deviation). These are somewhat similar to (but not the same as) the "Bumpiness" factor recently introduced by SA Contributor Robert Allan Schwartz and also discussed by SA Contributor Kiisu Buraun. Note that my calculations of annual dividend increases and the resulting averages and standard deviations are modified so as to eliminate divisions by zero and negative dividend actions. I did this to avoid error messages (when dividing by a previous year's dividend of zero) and to focus specifically on companies' dividend increase streaks. The modification was necessary for Challengers and few Contenders, but not for the Champions.
Enhanced Company Deletions Table: Under the Changes tab, I have added notations about subsequent dividend actions and, in some cases, acquisitions, by companies that have been deleted for cutting their payouts, having unchanged dividends in back-to-back years, and so forth. I was prompted to expand the notes by a recent article and discussion by SA Contributor Low Sweat Investing. While I don't plan to add another tab for these "fallen angels," it's a valid approach to consider forgiving them for a dividend freeze of a year or two, especially if they have resumed dividend increases in subsequent years. Certainly, a temporary freeze prompted by the financial crisis of recent years is not as devastating an event as an actual dividend reduction, although the notes reveal that even some former "cutters" have resumed increases.
Quick Summary
In recent months, my article outlining the latest update has included a paragraph that spelled out the changes in share prices, dividend yield, and recent increase percentages for the Champions, Contenders, Challengers, and the combined "universe" of CCC companies. But writing that paragraph from scratch or modifying the previous month's text was tedious work at best, so I have devised a simple solution. Newly added as page 2 of the Summary tab, is a table comparing the composite numbers from the latest update to those from the previous month and the end of the previous year. Below that is a summary of the month's activity in terms of companies added, deleted, or promoted. In the future, I will copy that into this article, as I have done below:
Quick Summary:

Month End:

7/29/11

Champs

Contdrs

Challgrs

Total

No. of Companies

100

147

204

451

Ave. No. of Years

38.7

15.2

7.0

16.7

Average Price

49.00

46.48

43.95

45.90

Average Yield

2.96

3.11

3.15

3.09

Ave. MR Increase

6.63

8.02

9.82

8.58

Month End:

6/30/11

Champs

Contdrs

Challgrs

Total

No. of Companies

100

148

201

449

Ave. No. of Years

38.8

15.3

7.0

16.8

Average Price

50.42

48.23

45.51

47.50

Average Yield

2.89

2.97

3.04

2.98

Ave. MR Increase

6.57

7.98

9.80

8.54

Year End:

12/31/10

Champs

Contdrs

Challgrs

Total

No. of Companies

98

129

190

417

Ave. No. of Years

38.7

15.7

6.9

NC

Average Price

51.99

45.84

44.65

NC

Average Yield

2.86

2.90

2.90

NC

Ave. MR Increase

6.04

6.63

10.93

NC

MR = Most Recent; NC = Not Calculated

Additions:

Altera Corp. (NASDAQ:ALTR) to Challengers

Enbridge Energy Partners LP (NYSE:EEP) to Challengers

Kaydon Corp. (NYSE:KDN) to Challengers

Rogers Communications (NYSE:RCI) to Challengers

Deletions:

Investors Real Estate Trust (NASDAQ:IRET) from Champions

Beckman Coulter (NYSE:BEC) from Contenders

Promotions:

Maxim Integrated Products (NASDAQ:MXIM) from Challenger to Contender

Tompkins Financial Corp. (NYSEMKT:TMP) from Contender to Champion
A Little Help from My Friends
Additional enhancements are always a possibility. A couple of areas under consideration are:
Changing columns AF through AI: Currently, these columns show each stock's 52-week Low and High, along with the percentage change that the current price represents from those prices. I thought I could replace those with the percentages that the current price represents from the 52-week High and Low, and from the 50-day and 200-day Moving Averages. Those percentages are listed as downloadable from Yahoo, but I found the results unusable because each cell contained the word "DOWN" or "UP," followed by a number.
However, if there is sufficient interest, I believe that I can "parse" the 52-week range (as I already do) and create the appropriate percentage changes, as well as downloading the actual 50- and 200-day Moving Average, from which I can calculate the percentage changes that the current price represents from those values. So...a topic for discussion is whether users would rather keep the data as is OR show the percentage change that the current price varies from the High, Low, and 50- and 200-day Moving Averages.
What about BO and Beyond?: Having added new columns through BN, the main spreadsheet now stretches to a fourth page in width, but with some open space on the right. So, there is room for more data in several additional columns. (Or has the file size gotten "too big" for some folks?) One idea that I am toying with is to create a Dividend Growth Model to quantify what SA Contributor David Van Knapp calls "Dividend Rights" that dividend growth investors acquire by buying a stock. This idea is still in its infancy, but I think a good topic of discussion would be how to construct such a model to estimate the dividends that a company might pay in the next five or 10 years...or more. Currently, "Dividend Discount Models" tend to require too many assumptions or estimates to be reliable. But a Dividend Growth Model could rely on dividend growth rates, length of streak, payout ratio, earnings estimates, or other data. Ideas?
Now for Something Completely Different
If you've read this far (without falling asleep), you may have noticed that I highly value the contributions of other SA authors, and having recently started using the F.A.S.T. Graphs of Contributor Chuck Carnevale, I feel that they are well worth the price of admission, so I urge readers to consider at least a trial subscription to that service. Below, I am going to attempt to include one of those graphs on a stock mentioned above. If it doesn't appear (or appears as some bizarre image), I'm completely at fault by virtue of a lack of tech skills. Otherwise, I hope that it will reinforce the adage that "a picture is worth a thousand words." (Maybe that should be "a thousand dollars!")
[Click to enlarge]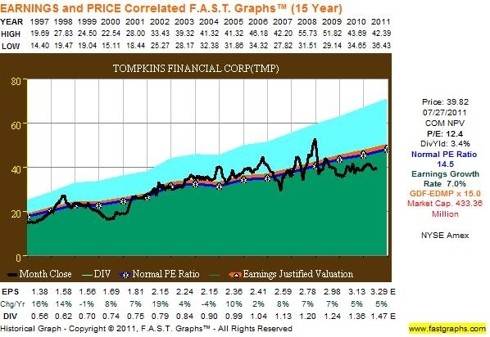 As always, I welcome suggestions in the comment section below.
Disclosure: I have no positions in any stocks mentioned, and no plans to initiate any positions within the next 72 hours.