Amazingly, Congress remains deadlocked about this self-imposed debt crisis. While we remain long gold and long the dollar, we believe a prudent hedge is appropriate at this time. While an ideal hedge would be purchasing credit default swaps on United States debt, this is not possible for most investors, and it also carries the counterparty credit risk inherent to OTC swaps. We believe purchasing futures on the VIX index is a great way to hedge.
Posted below is a chart of the VIX index over the last 5 years.
[Click to enlarge]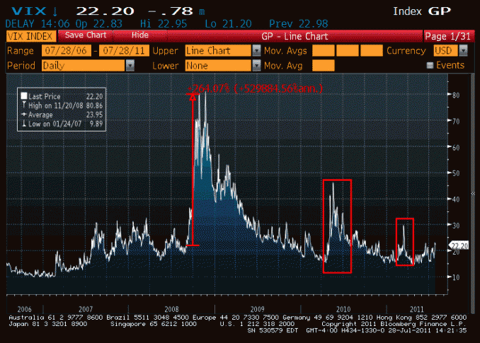 From - RealFinance Commodity Analyst Newsletter

As can be seen, the Lehman bankruptcy caused the VIX to spike from 21.99 on 9/2/08 to 80.06 on 10/27/08. As a US default has never been encountered, if in fact this scenario occurs on Tuesday, equity markets will go absolutely haywire. The VIX could easily undergo a similar spike if the unthinkable happens and politicians remain gridlocked.
Purchasing either the August, September or both VIX futures contracts is a great, leveraged downside hedge. The August VIX futures contract is currently trading at 20.80 and the September contract trading at 21.40. With the VIX index currently at 22.63, these futures contracts are already trading at almost a 10% discount to the spot index, so even if the VIX stays at current levels, purchasing these contracts would be profitable. If the US defaults and the VIX spikes to 30 or above, these contracts would pay off handsomely.
Please note we do not recommend purchasing the iPath S&P 500 VIX Short-Term Futures ETN (NYSEARCA:VXX) or any volatility ETF or ETN, as these are terrible securities that do not track at all to the VIX. This hedge must be entered directly on the VIX futures.
Disclosure: Author is long VIX futures