The market fell again Friday to end an ugly week. We still have no resolution to the debt ceiling issue and the situation in Europe continues to worsen. However, the recent pullback has put more stocks into "bargain" territory. Here are three stocks under $15 a share with low valuations that are worth considering:
Fifth Third Bancorp (NASDAQ:FITB)- Fifth Third Bancorp operates as a diversified financial services holding company in the United States. The company's Commercial Banking segment offers banking, cash management, and financial services to large and middle-market businesses, and government and professional customers. This segment also offers lending and depository products, global cash management, foreign exchange and international trade finance, derivatives and capital markets services, asset-based lending, real estate finance, public finance, commercial leasing, and syndicated finance. Its Branch Banking segment provides deposit, loan, and lease products to individuals and small businesses.
Overview – Fifth Third's stock price has had a miserable 2011 along with most of the rest of the financial sector. Fifth Third is down about 20% from its highs of the year. However, there are compelling reasons to establish a position at $12.70 a share:
Fifth Third looks like it has relatively strong technical support at $12 (Click on chart below to enlarge).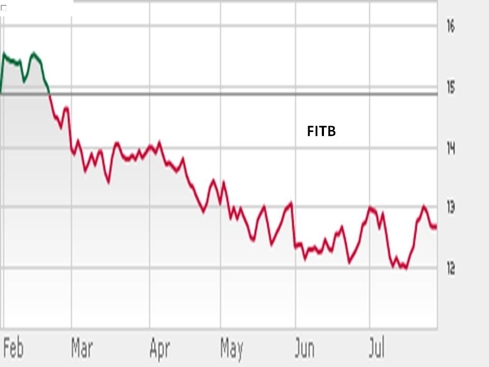 Click to enlarge
Fifth Third has handily beat earnings estimates each of the four quarters and is selling at under 12 times this year's projected earnings and approximately 9 times 2012's consensus EPS.

Insiders are holding tight as there has been no insider selling over the prior six months.

Credit quality is improving and the bank is generating substantial operating cash flow.

It is significantly under analysts' price targets. Credit Suisse has a price target of $18, Raymond James is at $17 and S&P is at $15 a share.
Alcoa (NYSE:AA) - Alcoa, Inc. engages in the production and management of aluminum, fabricated aluminum, and alumina. The company operates in four segments: Alumina, Primary Metals, Flat-Rolled Products, and Engineered Products and Solutions. The Alumina segment engages in mining of bauxite, which is then refined into alumina. The Primary Metals segment produces aluminum. The Flat-Rolled Products segment engages in the production and sale of aluminum plate, sheet, and foil. The Engineered Products and Solutions segment produces and sells titanium, aluminum, and super alloy investment castings, hard alloy extrusions, forgings and fasteners, aluminum wheels, integrated aluminum structural systems, and architectural extrusions.
Overview – Alcoa has also had a tough year. The stock has declined a little under 20% since hitting its highs of the year in April. It might be time to take advantage of the selloff and start to acquire a stake in Alcoa at $14.85 a share:
Alcoa sells at less than 12 times this year's projected earnings and under 11 times 2012's consensus EPS. In addition, it has met or beat earnings each of the last four quarters.

It has roughly doubled its operating cash flow from FY2008 to FY2010. It also sells at the bottom of its five year valuation based on price to cash flow.

Alcoa is strategically placed to take advantage of the secular trend of increased aluminum demand driven by emerging markets.

It looks like Alcoa is building a technical base at just under $15 (Click on chart below to enlarge)

Click to enlarge

Alcoa is under analysts' price targets. Credit Suisse has a $20 price target on Alcoa as does S&P.
Marvell Technology (NASDAQ:MRVL) - Marvell Technology Group Ltd. designs, develops, and markets analog, mixed-signal, digital signal processing, and embedded and standalone ARM-based microprocessor integrated circuits. It offers mobile and wireless products, including communications processors, applications processors, and standalone wireless products, as well as combination devices, which incorporate wireless, Bluetooth, and FM radio capability. The company also provides storage products comprising tape drive controllers, read channel, hard disk controllers, solid-state drive controllers, hybrid drive controllers, and storage-system products for hard disk drives, tape drive electronics, optical disk drives, solid-state flash drives, hybrid drives, and storage subsystems technology.
Overview – Marvell has been hit with the rest of the semiconductor industry in 2011. Marvell has lost 35% against its highs earlier in the year. At $14.84 a share, it is now just too cheap for a variety of reasons.
It has a fortress balance sheet with no debt and over $3.70 a share in net cash.

There has been little to no insider selling in the last six months despite the challenges the industry faces.

It is selling at less than 10 times this year's projected earnings and under 9 times 2012's consensus EPS. If you back out net cash, it is about 7.5 times 2011's expected EPS and 6.5 times 2012's consensus.

Marvell has had average earnings growth of over 23% over the past five years and sells for a five year projected PEG of less than .7.

At under $15, Marvell is selling for less than most analysts' price targets. Auriga is at $18 on Marvell. Credit Suisse has a price target of $22 and S&P is at $19 on Marvell.
Disclosure: I have no positions in any stocks mentioned, but may initiate a long position in MRVL, FITB over the next 72 hours.