Vodafone Groups plc (NASDAQ:VOD) is one of the world's largest communications services companies. Its operations and partner operations span the globe from Australia to Europe to Asia to territories supported by partner companies. These include its 45% stake in Verizon Communications, Inc. (NYSE:VZ) in North America and a trade agreement with ENEL PCS Chile in Chile.
VOD currently has a market capitalization of about $145 billion with an enterprise value of $196 billion revenue of $74 billion for the year ending March 2011. VOD has consistently paid a dividend in June and in November. The following graph shows its dividend history: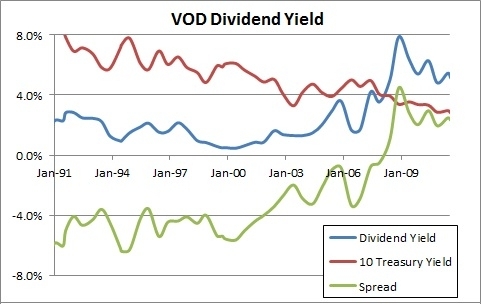 Created from data from Yahoo Finance

During the Great Recession, VOD's dividend yield spiked up to about 8% and has since then been declining. Its current dividend yield is about 5.1% based upon a trailing twelve month dividend of $1.44 and recent closing price of $28.10. Its dividend yield is still well above the historical trading range so if its growth prospects have not changed substantially this could be an interesting opportunity. Its presence in many emerging markets should help drive overall growth.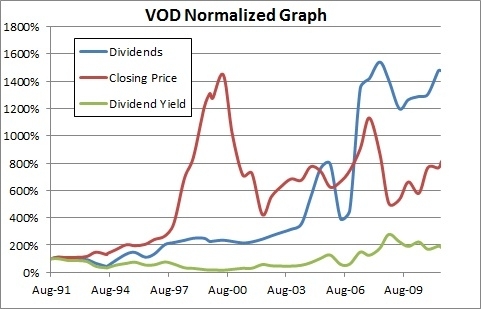 Created from data from Yahoo Finance

Like almost all communications services companies, VOD had an enormous spike during the internet boom. It is also quite clear to see the dividend yield compression at this point in time when these stocks were almost being exclusively valued as growth companies with essentially unlimited prospects. Since the end of that boom in 2001, VOD has recovered about half its share appreciation.
However, more interestingly, VOD has posted an even larger increase in overall dividends. Over the past eight years, dividends have increased at a compound annual growth rate of 22%. The Great Recession put a damper on dividend growth, but VOD is showing strong growth once again as seen the following graph: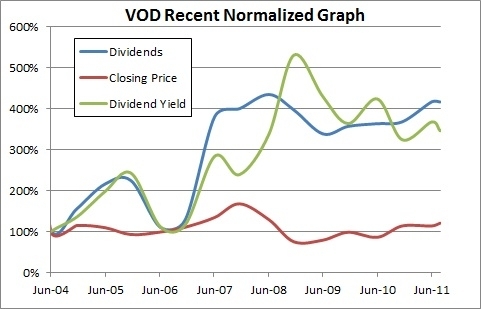 Created from data from Yahoo Finance

This chart shows a clear step up in dividends paid that lacked an accompanying stock price increase. In fact, the stock price has only appreciated about 20% over this time, while dividends are up 320%. While it could be true that overall company growth is slowing, both revenue and net income are up strongly over the past three years.
Furthermore, for the year ending March 31, 2011, dividend payments were just 60% of net income and 40% of operating cash flow suggesting a reasonable cushion looking forward. So while a more thorough analysis is required to further check VOD's overall growth prospects and the sustainability of its dividend, VOD appears to be a stock with good upside.
Facts and figures are from Yahoo Finance.
Disclosure: I have no positions in any stocks mentioned, and no plans to initiate any positions within the next 72 hours.