By Justin Dove
One thing that's certain in the U.S. debt drama is that the government will have to cut costs. There isn't much consensus on where the major cuts will come from, whether from entitlement programs, defense spending and so on…
One source for saving the government some money has already emerged: data infrastructure.
The New York Times recently reported that the federal government plans to eliminate 40 percent of its computer centers in the next four years. The goal is to reduce technology costs and update the way it uses computers to manage data and provide services.
In short, the government wants to implement cloud computing networks to save money on expensive physical data centers. The federal government spends about $80 billion on information technology each year.
According to Vivek Kundra, Chief Information Officer for the federal government, about $5 billion could be saved annually by moving to cloud networks.
A 2009 report by Booz Allen Hamilton (NYSE: BAH) concluded that the total life-cycle cost of cloud servers "may be 66 percent lower than maintaining a traditional data center." This cost-cutting endeavor is likely to be a bonanza for IT companies within the cloud computing industry.
Estimated Government Spending on Cloud Computing by Agency
The chart below is from a declassified February report compiled by Kundra.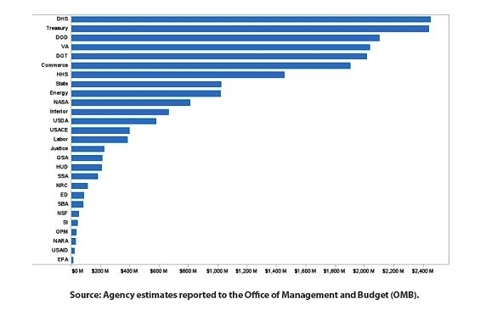 Obviously the agencies at the top of the spending tree such as the Department of Homeland Security, the Department of the Treasury and the Department of Defense would require more secure cloud-based networks.
However, the General Services Agency (GSA) and the Department of Agriculture ((USDA) have already converted to cloud-based email services. By converting those 140,000 email accounts into the cloud, the government saved $42 million. At three million employees, the Department of Defense could save $10 billion in a similar move.
The Next Round of Google vs. Microsoft
The moves of the GSA and the USDA to clouds highlight the next battle between tech-giants Google (Nasdaq: GOOG) and Microsoft (Nasdaq: MSFT). The GSA chose to use Google's cloud-based service, while the USDA chose Microsoft's.
Google's Enterprise Apps and Microsoft's Office 365 are very similar cloud computing platforms for sharing documents and communicating through email. It'll be interesting to see if either service emerges as superior or if they continue to mutually coexist as rivals.
Other Cloud Companies That May Benefit
A Google search consisting of "'Booz Allen Hamilton' + 'cloud'" garners a flurry of job postings for cloud engineers at the company. Booz Allen has only been public for less than a year and the road has been rocky. However, this growth in government cloud implementation could be something that helps stabilize the stock over the next few years.
Citrix Systems (NASDAQ:CTXS) received some bad press lately because of a high stock P/E ratio north of 40 and a high volume of insider selling. The stock was down almost seven percent on Wednesday. However, the company reported 16-percent Q2 revenue growth on Wednesday after the closing bell and acquired Cloud.com earlier this month. It was named the market leader for three years running in cloud-based remote support services. Finally, Citrix announced Tuesday that it hired numerous Silicon Valley veterans to enhance its cloud-based knowledge. Although it may be overpriced for now, it'd be wise to keep an eye on this company.
Bureaucracy in the government usually hangs up these types of sudden changes. But with such a focus on cutting spending recently, the government has a bit more pep in its step. The beauty of the situation for IT companies is that most of the savings will come from lower energy needs, less hardware and less real estate required for the data centers.
As the chart above shows, there will still be plenty of money spent on implementing these cloud strategies. It'll be interesting to see which companies emerge as the biggest benefactors.
Disclosure: Investment U expressly forbids its writers from having a financial interest in any security they recommend to our subscribers. All employees and agents of Investment U (and affiliated companies) must wait 24 hours after an initial trade recommendation is published on online - or 72 hours after a direct mail publication is sent - before acting on that recommendation.