Finding good yielding stocks in an environment where ten year Treasuries pay under 3% is getting exceedingly difficult. The sector that has traditionally provided high yield is Utilities. Unfortunately, given the regulatory bent of the current Congress and administration, Utilities currently provide more unknowns than is usual in this sector. The yields are not that enticing either given the challenges the industry faces, low growth prospects and lack of faster growing international demand. I think a better place to look is the unloved Pharma sector with better growth prospects and international diversification along with enticing yields. Two stocks I like in this sector currently are Pfizer (PFE) and Merck (MRK).
Pfizer (PFE) – Pfizer Inc., a biopharmaceutical company, offers prescription medicines for humans and animals worldwide. The company's Biopharmaceutical segment provides Lipitor for elevated LDL-cholesterol levels in the blood; Enbrel for rheumatoid arthritis, polyarticular juvenile rheumatoid arthritis, psoriatic arthritis, plaque psoriasis, and ankylosing spondylitis; Lyrica for post-herpetic neuralgia, diabetic peripheral neuropathy, fibromyalgia, neuropathic pain, adjunctive treatment of epilepsy, and general anxiety disorder, as well as for use as an adjunctive therapy for adult patients with partial onset seizures; Prevnar/Prevenar for invasive pneumococcal disease; Celebrex for osteoarthritis and rheumatoid arthritis, and acute pain; Viagra for erectile dysfunction; Xalabrands for reducing elevated eye pressure; Effexor XR for depressive, generalized anxiety, social anxiety, and panic disorders; and Norvasc for hypertension.
Overview – Pfizer has pulled back around 10% in the last two months and now appears worth considering at these price levels:
1. It is trading just above a six month technical support level (See Chart, click to enlarge).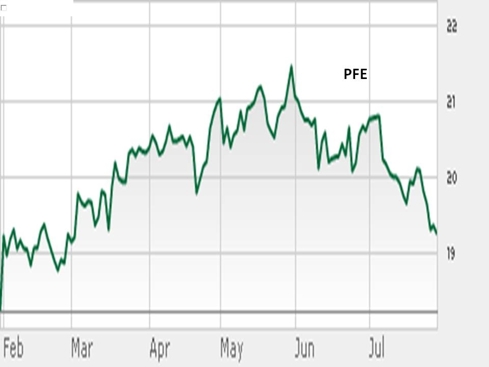 2. It is selling in the bottom half of its five year valuation range based on P/E, P/B, P/S and P/CF.
3. Pfizer has an AA rated balance sheet and yields a generous 4.2%.
4. The acquisition of King Pharmaceuticals earlier in the year added products to its portfolio in pain treatments and animal health.
5. Cost synergies from this acquisition and Wyeth in 2009 should continue to be realized and the company should buy back $5B to $7B in stock this year.
6. PFE sells at just 8.5 times this year's earnings and under 8 times operating cash flow.
7. At $19 and change, Pfizer is under several analysts' price targets. S&P has a price target of $24 on Pfizer. Credit Suisse's price target is $23 as is Citigroup's.
Merck (MRK) - Merck & Co., Inc. provides various health solutions through its prescription medicines, vaccines, biologic therapies, animal health, and consumer care products. The company's Pharmaceutical segment provides human health pharmaceutical products, such as therapeutic and preventive agents for the treatment of human disorders in the areas of bone, respiratory, immunology, dermatology, cardiovascular, diabetes and obesity, infectious diseases, neurosciences and ophthalmology, oncology, vaccines, and women's health and endocrine.
Overview – Merck (MRK) has also fallen around 10% in the last ten weeks. Its announcement that it will be cutting 17,000 jobs over the next five years certainly did not buoy investors' confidence Friday, but was a necessary adjustment to maintain margins over the longer term. Being a contrarian, I believe it might be the time to start to build a position in Merck:
1. Merck is selling at the very bottom of its five year valuation range based on P/S and P/B.
2. MRK is a low beta stock with a robust 4.5% dividend yield and an AA rated balance sheet.
3. Merck should realize significant cost synergies from the merger with Schering Plough and has a relatively robust R & D pipeline.
4. It has solid and growing operating cash flow and recently instituted a $5B stock buyback program.
5. It is selling at less than 9 times earnings, has easily beat earnings each of the last four quarters and earnings estimates for 2011 and 2012 have risen over the last 3 months.
6. At around $34 a share, Merck is significantly below analysts' price targets. Credit Suisse has a price target of $44 a share. Merrill Lynch is at $41 and S&P has a $42 price target on Merck.

Disclosure: I am long MRK.