The situation in Europe becomes increasingly more troublesome by the day. The latest bazooka rescue plan from the European Union on July 21 appears to have missed its target. The sovereign debt problems that have already infected Greece, Ireland and Portugal are increasingly spreading to Spain and Italy, with government bond yields back on the rise in these countries.
The situation in Belgium also continues to show signs of deterioration and France is apparently now facing the growing pressure of a ratings downgrade. Such conditions are increasing the probability that European banks will face more losses on sovereign debt holdings and a potential seizure of liquidity markets. These are the conditions of which global financial contagions are made.
With these risks in mind, monitoring the financial institutions on the front line of the eurozone crisis is worthwhile in identifying signals that contagion effects are beginning to take hold and spread. Beyond European stress test results and working to dissect available financial information, a most straightforward and comparable measure of genuine stress among institutions in the European banking system is none other than stock price performance.
Just like during the crisis in 2007 and 2008, when bank stocks started to smoke, fire soon followed in many cases. And after peaking in early May, European bank stocks as measured by the iShares European Financial Sector Index ETF (NASDAQ:EUFN) has plunged sharply to the downside. Thus, the threat is very much real for further stress in the months ahead if the trend of the last few months continues.
click on images to enlarge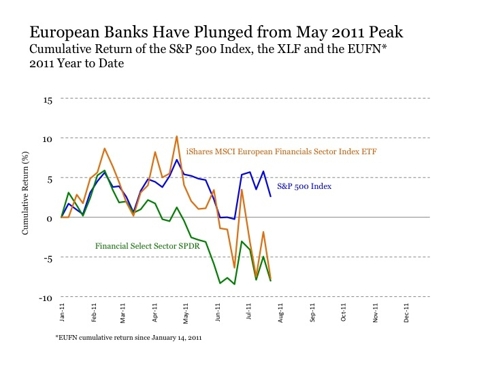 Click to enlarge
My walk through Europe begins with the most troubled locations. Instead of getting too far into the weeds here in what is likely an introductory post on the topic, I will instead let the charts do most of the talking for themselves and will look to drill down in future posts.
Greece
Of course, this story is already played out with Greece now effectively in default. National Bank of Greece's (NBG) stock price is well below early 2009 lows.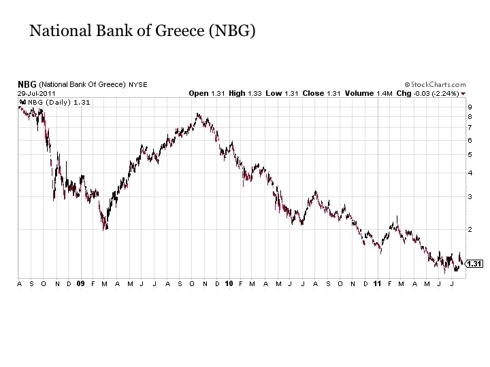 Click to enlarge
Ireland
No surprises here either. Although not as dire as in Greece, the picture is still deeply challenged. Bank of Ireland (IRE) has returned to early 2009 lows, while Allied Irish Banks (AIB) entered into new low territory months ago.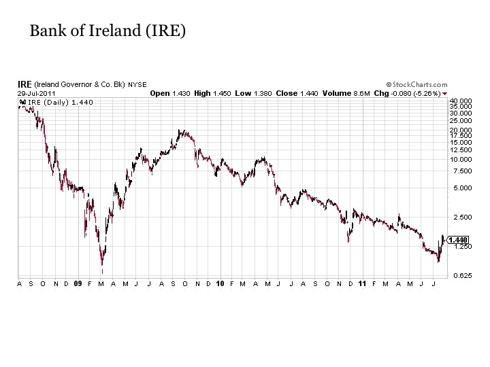 Click to enlarge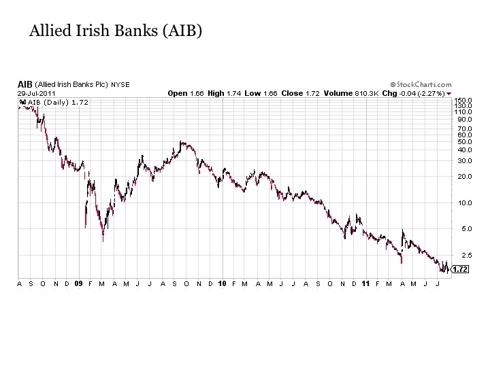 Click to enlarge
Portugal
The fact that the largest private bank in Portugal has essentially been cut in half in the last few months is most telling.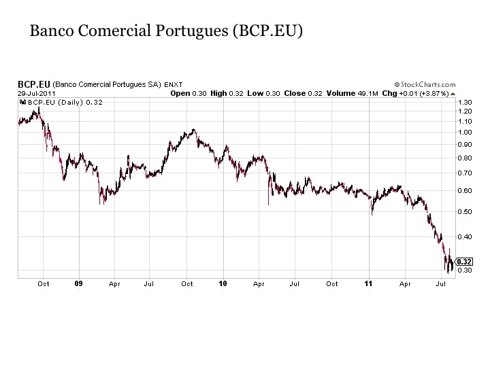 Click to enlarge
Spain
The two major banks in Spain are not showing the signs of stress prevalent with their government, at least not yet. Although shares of both have been trending lower in recent months, they remain in the center of the trading range that has existed since early 2010. The diversified global focus of both banks may help explain this relative stability.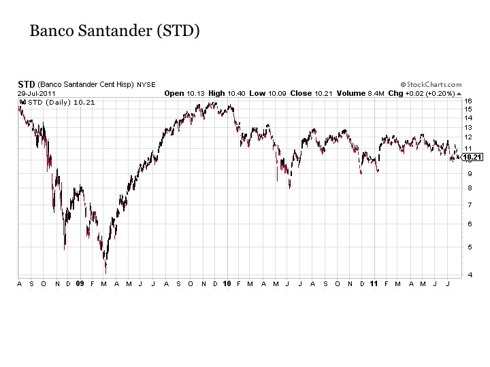 Click to enlarge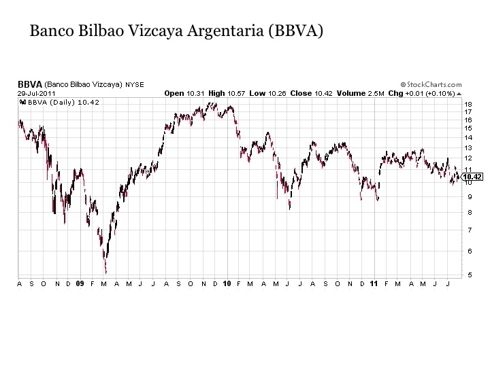 Click to enlarge
Italy
The charts for these two major Italian banks highlight the stress that is mounting in the country. Both have been in a steady descent since early 2010 and are now closing in on the early 2009 lows. Confidence in these stocks clearly continues to wane within a country that has a major debt load that might be too much for the EU to rescue.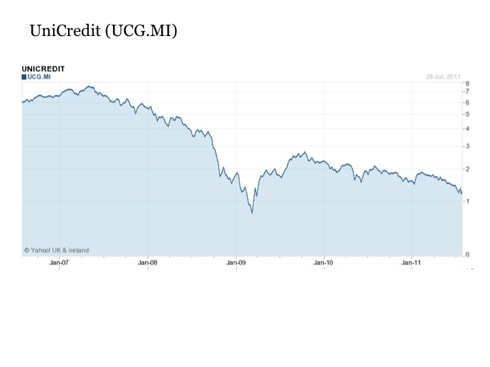 Click to enlarge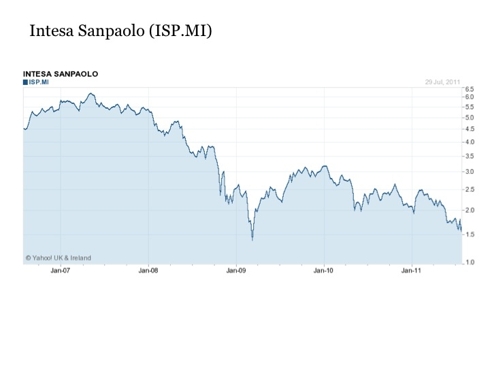 Click to enlarge
Belgium
The chart for Dexia has a similar look and feel to the Italian banks. Although not yet back to early 2009 levels, the trend is lower and the pace is quickening to the downside.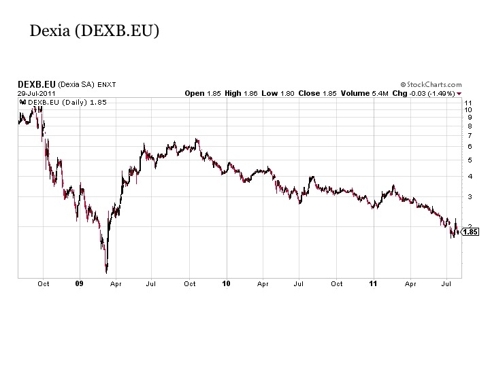 Click to enlarge
The Netherlands
Moving away from the BPIIGS, the situation begins to look more stable. But once again, this is true at least for now. ING Groep N.V. (ING) has worked to overcome its share of challenges in the last few years, and the stock price remains within its trading range since early 2010 and on a modestly upward sloping path since the pullback last summer.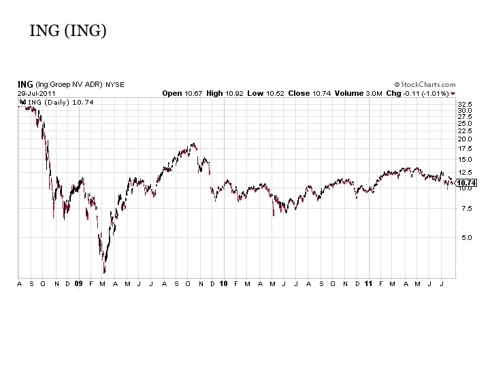 Click to enlarge
France
While far from crisis levels, some cracks are beginning to show in the French banks. BNP has pulled back sharply in recent weeks but remains at the low end of its two year trading range. Soc Gen and Credit Agricole have also been trending lower since early this year, but both remain within their two year trading ranges. The exposures of French banks to the sovereign issues in Europe are well documented. Thus, these banks merit close attention as events unfold in the coming weeks. A further break to the downside would be particularly notable.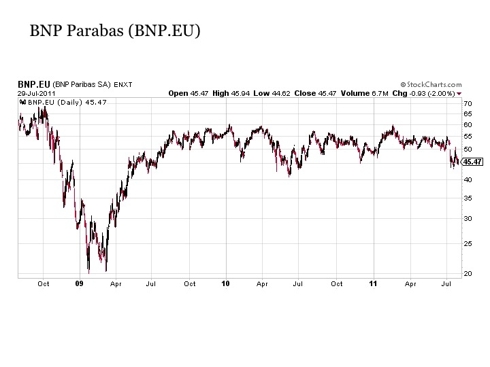 Click to enlarge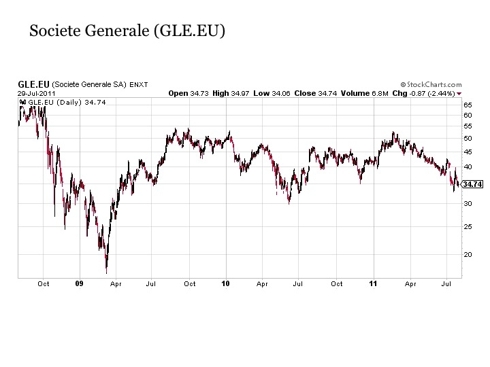 Click to enlarge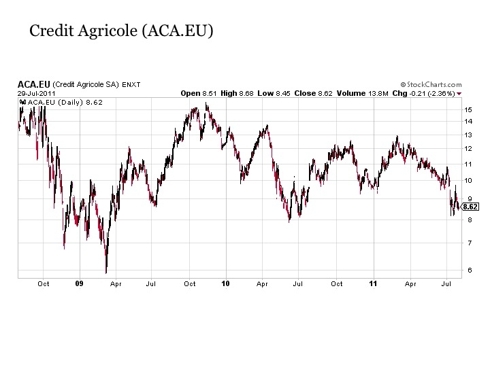 Click to enlarge
Germany
Germany is the safe haven market that investors would likely run to in the event of a crisis. But this is true of the sovereign debt and not necessarily of its banks. Although slowly drifting lower since late 2009, Deutsche Bank (NYSE:DB) appears to be holding fairly steady. The same cannot be said, however, for Commerzbank, which has tailed off sharply in recent months to early 2009 lows.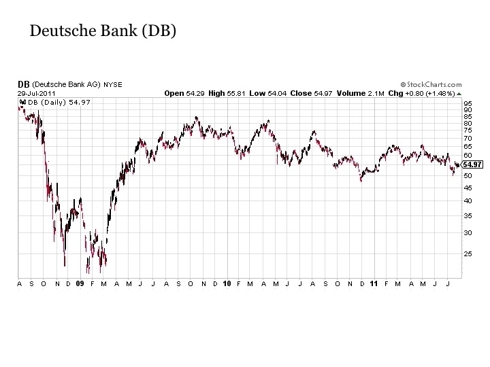 Click to enlarge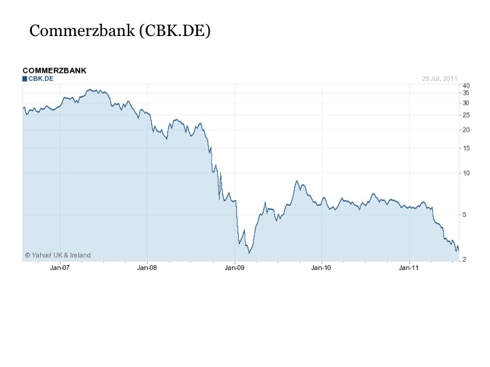 Click to enlarge
United Kingdom
Although outside of the eurozone, many of these institutions are closely intertwined with the events playing out within the currency union. Overall, the story is mixed. HSBC (HBC) continues to hold steady. But Barclays (NYSE:BCS) and Lloyds Group (NYSE:LYG) have both recently broken decisively below their two-year trading ranges, with Lloyds now closing in on early 2009 lows. As for The Royal Bank of Scotland (NYSE:RBS), although holding steady on its stock price, it still remains under heavy government control.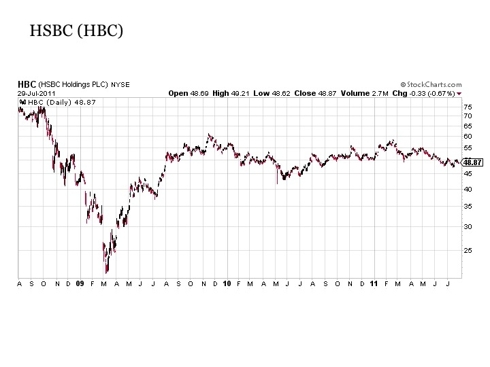 Click to enlarge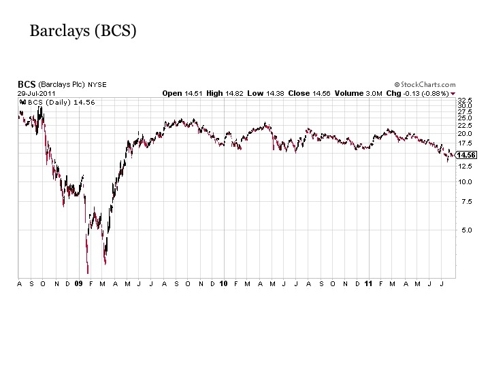 Click to enlarge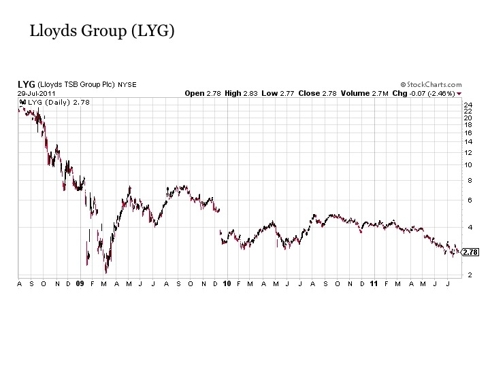 Click to enlarge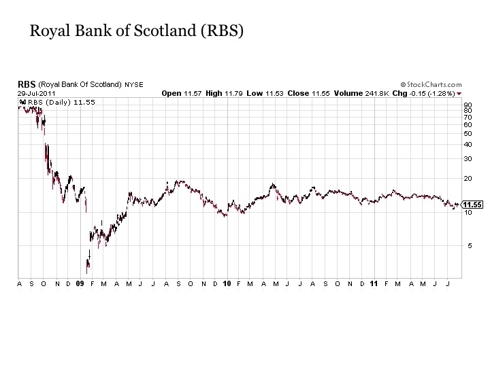 Switzerland
Switzerland is a popular destination for safety seeking investors, but just like Germany this doesn't necessarily translate over to the banks. Credit Suisse (NYSE:CS) has fallen to the bottom end of the trading range it has had in place since the beginning of 2010. UBS (NYSE:UBS) has also drifted lower in recent months but remains in the center of its post crisis trading range.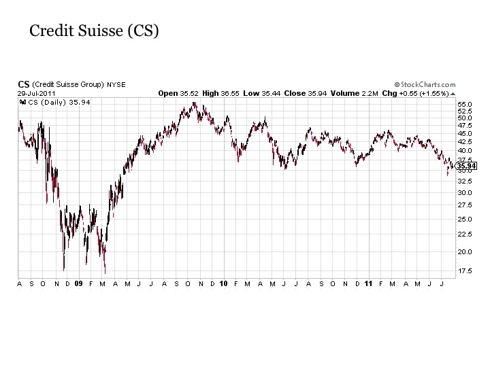 Click to enlarge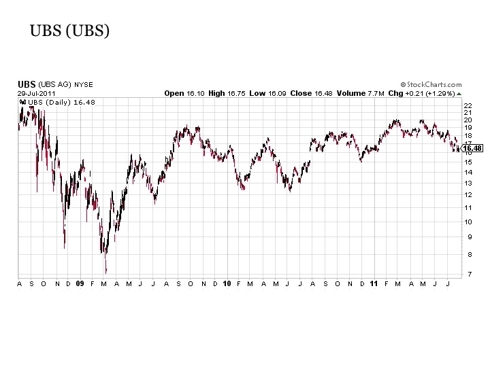 Click to enlarge
Key Takeaways:
The charts above lead to the following key takeaways:
The bank story has played out in Greece, Ireland and Portugal and is all but over.
The banks in Spain, Italy and Belgium merit the closest watch in the coming weeks given the deteriorating sovereign debt circumstances in these countries.
The banks in France and the United Kingdom should also be monitored closely for any spillover effects beginning to play out.

A breakdown in these shares, particularly the French banks, could provide an early signal that contagion effects are beginning to take hold.
Institutions in Germany, Switzerland and the Netherlands are holding generally steady for now, but should be watched for any signs of acceleration to the downside.

This would be another signal that contagion effects might be spreading.
In the coming weeks, I will be following up with more detailed analysis on specific areas of the universe introduced above.
Disclosure: I have no positions in any stocks mentioned, and no plans to initiate any positions within the next 72 hours.