Celgene is a biopharmaceutical company working on the discovery and development of products for the cure and treatment of cancer, and inflammation disorders. The company has shown expertise in solid tumor cancers, prostate and ovarian cancers, and non-Hodgkin's lymphoma. Celgene's best products have been Thalomid and Revlimid. Thalomid had $386 million of sales in 2010, while Revlimid enjoyed sales of $2.47 billion.
Important to the future of pharmaceutical companies is the development of new drugs in the pipeline Celgene has several new and exciting drugs in its pipeline. They include pomalidomide, a treatment for psoriasis and for arthritis. Celgene is also receiving positive results from a phase 1 study for the treatment of Crohn's Disease.
By no means is the average laymen qualified to pass judgment or understand the merits of new drugs in the development stage. As an investor, it is at these times we trust the analyst, usually educated in chemistry, often with advanced degrees, to guide the investor to an understanding. It is our duty as investors to judge the financial picture.
Earnings are the power behind increasing stock prices. Included in the table below is an estimate of Celgene's growth prospects out to 2015 and the estimated PE ratio.
| | | | | | | |
| --- | --- | --- | --- | --- | --- | --- |
| Year | 2010A | 2011E | 2012E | 2013E | 2014E | 2015E |
| EPS (not adjusted) | 2.8 | 3.43 | 4.27 | 5.15 | 6.15 | 7.29 |
| Revenue $MM | 3620 | 4660 | 5485 | 5501 | 6618 | 7266 |
| Estimated PE | 21.2 | 16.1 | 13.3 | 11.5 | 9.64 | 8.63 |
If the consensus estimates for Celgene are close to target, then the shares are certain to advance well above current prices. Last week, Celgene announced profits rose 80% in the second quarter on greater sales of its drugs Revlimid and Vidaza and on sales of its newest product, Abraxane. The company raised its adjusted profit forecast to a range of $3.45 to $3.55 per share, up from $3.35 to $3.40 per share. Celgene said it now expects $4.6 billion to $4.7 billion in revenue this year. Previously it called for revenue of $4.45 billion to $4.55 billion.

Shares of Celgene have been locked in a trading range the past four years. During this period of time, earnings per share have climbed from $0.54 to the estimate for 2011 of $3.43. A break above $62-$63 should lead to a rally back to the previous highs in the mid to high $70's.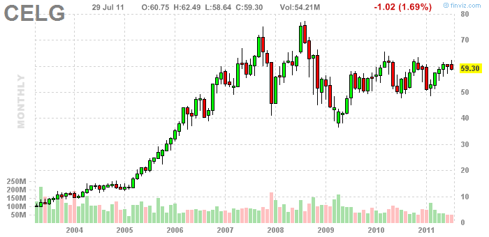 Click to enlarge

Conclusion: Celgene recently announced earnings that jumped 80% over the previous quarter. The company guided the Street higher on expected earnings. The estimates over the next four years predict earning to more than double from current levels. The long term investor should consider purchase of the shares of Celgene.
Disclosure: I am long CELG.