In the last 30 years, Congress has approved and the president has signed 35 laws that raised the debt ceiling in the United States. Further, Congress has also raised the debt ceiling three times since Mr. Obama came into power (with no House Republicans voting for any of those increases).
In light of the debt ceiling agreement, it is my opinion that the attention of the market participants will now shift to two major likely events in the foreseeable future:
The possibility of a rating downgrade for United States

The possibility of another stimulus package to keep the economy afloat
This article discusses the reasons why QE3 is very likely event and also, its impact on different asset classes.
There is a clear indication from the policymakers themselves that they are open to further stimulus if the US economy fails to gain further momentum. Therefore, from the perspective of the policymakers, we need to evaluate the direction in which the economy is moving.
Before looking at any economic data indicators, I would look at the consumer confidence index, as it is devoid of any doctoring.
click on images to enlarge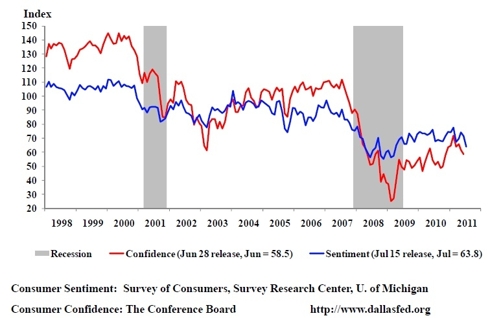 Click to enlarge
As is evident from the chart above, the index has been on a gradual decline and this is certainly bad news for an economy driven primarily by consumption. The reflection of dipping consumer confidence data is seen in the retail sales and real personal consumption data, which has seen dismal growth in the recent past.
Retail Sales - Weakening Data
Click to enlarge
Real Personal Consumption Expenditure - Sharp Decline in Recent Past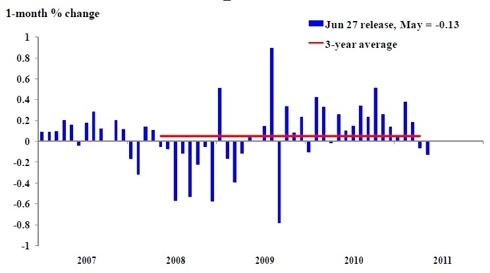 Click to enlarge
Before mentioning and discussing the GDP numbers, I would also like to bring readers attention to the price movement of some equities.
Fed Ex (NYSE:FDX) shares have been on a downtrend since the beginning of July 2011, with the stock down 10% during this one month period. During the same period, the Dow Jones index has gone down by 3%. In my opinion, these are better and more realistic indicators of another meaningful slowdown than government published numbers.
Even the shares of Wal-Mart (NYSE:WMT) stores have declined 6% from its near-term peak of $56 in May 2011. During this period (May to July), the Dow Jones has been unchanged.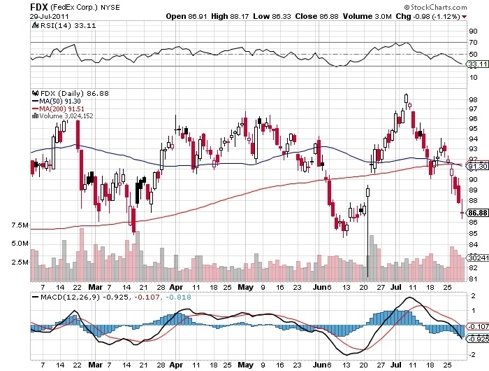 Click to enlarge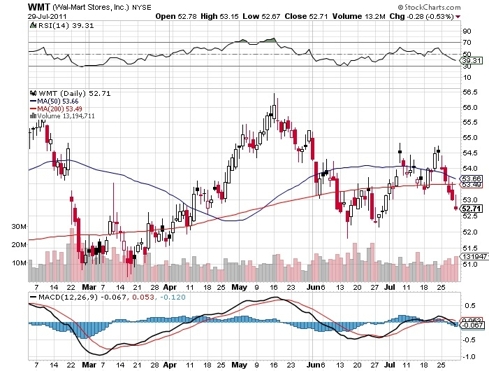 Click to enlarge
Clearly, these numbers are more of leading indicators of the direction of economic activity in the foreseeable future. Further, the GDP growth during the first half of 2011 has been dismal underscoring the fact of an imminent slowdown in the second half of the year, especially with no planned stimulus (as of date).
However, in my opinion, the government would not immediately come up with another package for the economy. Further weak numbers, decline in stock markets (15-20%) and more depressed consumer sentiments would trigger the next stimulus.
The conditions mentioned above are best for flow of money from risky assets to treasury (which is still perceived as a risk free asset). As such, a drop in yields would be the best times to offer more bonds to investors and generate funds for QE3.
Activity in different Asset markets
As mentioned above, I would personally expect equity markets to decline 15-20% before we see any relief package for the economy. From this viewpoint, I would not consider fresh exposure to indices at these levels. Having said this, any meaningful correction is an opportunity to enter the markets. One can be assured that policy makers would not allow any substantial decline in equity markets. Further, in an environment of continuous decline in value of paper money, it is better to be in different asset classes than being largely in cash.
Dollar and Treasuries might be asset classes for some short-term trade. If money does flow from risk asset classes to Treasury bonds, Dollar long trade might bring in some returns. However, with the risk of downgrade, the counteracting force makes this investment option risky for near-term.
I would also avoid commodities for more than one reason. First, any strengthening of the Dollar would be negative for commodity prices. Second, an imminent slowdown in China is bound to negatively impact commodity demand.
Taking a relatively longer term view, I would consider exposure to both industrial commodities and precious metals on any near-term correction. Upward price drivers for both these asset classes would not only be demand from emerging markets, but also the current money printing environment (which is expected to last longer).
In conclusion, QE3 is more of a certainty. In the near-term (3-6 months), asset classes would be volatile with an expected downside in equities and commodities. Further, stimulus might prop up markets again. To what degree, is questionable.
Disclosure: I have no positions in any stocks mentioned, and no plans to initiate any positions within the next 72 hours.