It looks like it's just about over. Congressional leaders in Washington have apparently come to an agreement on a deal to raise the debt ceiling. The fact that a deal has come and that it took until the final hours to get it done is not a surprise, as it is simply the nature of the sausage making process in the U.S. Capitol.
What also is not a surprise is the fact that stocks are cheering the news with S&P futures up +17 points as of early Monday morning. And celebrate they should, as a major overhang of uncertainty has been lifted from the market.
But take caution in confusing post-debt-ceiling-debate-euphoria with the beginnings of a new sustained upturn in stocks. Recent market volatility has been driven in part by issues much bigger than the debt ceiling drama, and these problems are not likely to go away any time soon.
Any post-debt-ceiling stock rally is likely to be short lived. Lately, the lift enjoyed by stocks has lasted only a few days at most, following recent post crisis announcements. For example, although stocks responded positively in the first few days following both the Greek austerity vote on June 29 and the euro zone rescue plan announcement on July 21, they soon ran out of steam and began drifting lower once again.

click on all charts to enlarge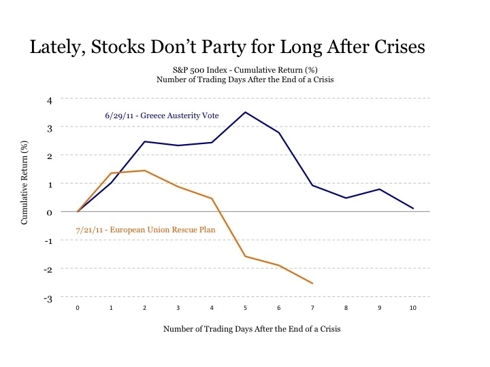 Three factors are likely to cause stocks to fade once again after a few days of post debt ceiling celebration.
The global economy is slowing
Additional fiscal and monetary stimulus will be limited going forward
The European sovereign debt crisis keeps getting worse
The third issue is particularly disconcerting and may have the most profound short-term impact. And once the markets come down from a two or three day post-debt-ceiling bender, they're likely to turn their focus to the situation in Europe and begin to worry about recent developments.
Of particular concern are the two big countries at the core of the euro zone crisis – Spain and Italy. In both cases, 10-Year government bond yields are back on the rise. Of particular concern is Spain, which is now solidly over 6%. Credit Default Swaps for both Spain and Italy are also now back on the rise only days after the rescue plan announcement on July 21. Further deterioration in either of these countries could begin to lead to renewed concerns over financial contagion. Stay tuned.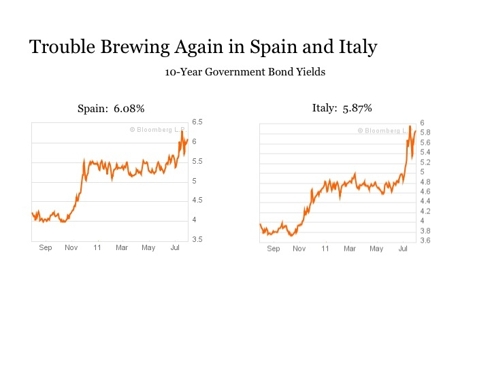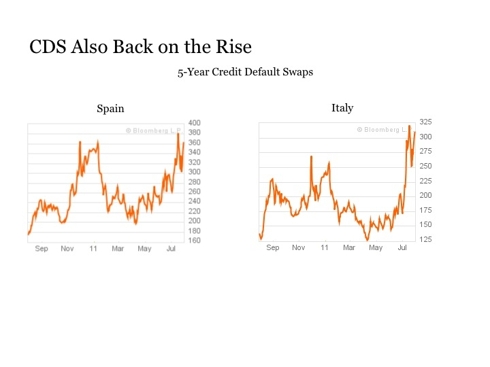 So raise your glass and enjoy the stock party over the next few days. If the futures hold into the open later today, Monday promises to be a great day for stocks. And like any great party, perhaps the fun will extend well into the week.
But be sure to keep a clear head along the way. Using the rally to lock in some gains on stock winners may be worthwhile. And use any dips along the way to pick up on safe haven investments like gold (NYSEARCA:GLD) - up +8.4% in July and 14.1% YTD - and Treasuries (IEI, IEF, TLT, TIP) – up +3.2% in July and 6.8% YTD on the IEF - may be a prudent way to pick up some added portfolio protection for the weeks ahead.
Beware staying too long at the latest stock party, as the portfolio hangover could be particularly painful if investment markets begin to sober up.
Disclosure: I am long GLD, IEI, IEF, TLT, TIP.
Disclaimer: This post is for information purposes only. There are risks involved with investing including loss of principal. Gerring Wealth Management (GWM) makes no explicit or implicit guarantee with respect to performance or the outcome of any investment or projections made by GWM. There is no guarantee that the goals of the strategies discussed by GWM will be met.