By Relmor Demitrius
On July 27th, 2011, the FCC issued a memorandum on the comment period regarding whether to allow the three year voluntary price freeze from Sirius XM Radio (NASDAQ:SIRI) to be lifted. The FCC stated it would not be extending the price freeze and Sirius XM is now allowed to raise prices as it sees fit. When Sirius and XM Radio approached the FCC about merging the two companies, they offered to freeze prices voluntarily for three years. FCC put this condition in as a mandate to allow the companies to merge. Now that the comment period on this ruling expiring has ended, the FCC has issued its official decision on the matter.
Here is some of the exact language from this document. (Click to enlarge)


Of course, this comes as absolutely no surprise. There is no legal authority for the FCC to require this or enforce an extension of a voluntary price freeze. I am reminded of the Shakespeare play, "Much Ado about Nothing" in this case. There is a lot of documentation and comments that are all irrelevant. So nice of the WCS Coalition (collection of cell phone company interests) to comment, as well as the plaintiffs from the Blessing Anti-Trust case, who tried to get documents read with regard to this decision. All were told to get lost and nice try basically.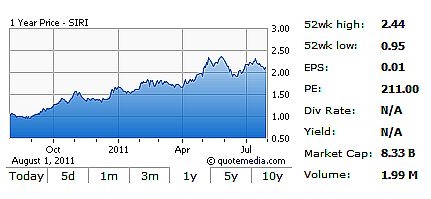 Good that this issue has been put to bed and the company can now focus on other matters.
With Monday's expiration of the poison pill and the reverse split now a distant memory as a threat, the company is slowly putting issue after issue to rest. August 1st also begins the first day of a possible takeover offer from a third party, as the three year merger freeze on NOL's reset ends. Not ironically, the same time the poison pill expires as well. Things could start happening now fast and furious for this company. With the release of 2.0 coming in Q3, price increase probably starting in January, and offers now able to be made for the company, it should be an exciting time to be a shareholder.
Disclosure: Long SIRI