Some data center related stocks hit a brick wall in July, and saw their stock price decline by roughly or more than 10% - mostly an effect of the first earnings in the sector.
Pure players and REITs were among the best performers, and their monthly road appeared to be just a bit bumpy, with Equinix (NASDAQ:EQIX), increasing about 3.5%, and Interxion (NYSE:INXN), losing about 2%, representing the extremes of this relatively narrow performance range.
Here is a quick look at July's data: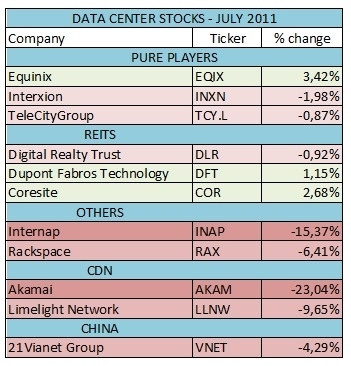 Earnings season started at the end of the month for the sector, with Akamai, Equinix, Digital Realty and Internap having reported their numbers either on Wednesday or Thursday of last week.
Equinix reported a triple play, and its stock rebounded nicely to hit a new 52 week high on Thursday.
Akamai disappointed investors again, as the company lowered its 2011 growth expectations:
And while we generally don't give guidance beyond the current quarter, at this point, we think the most likely range for revenue growth for the full year is 10% to 13%. [instead of 15%]
For once we agree with Jim Cramer, and Limelight Networks performance (almost -10%) can only be seen as a reaction "in sympathy" to Akamai's decreased guidance for the year.
Internap was also quite week in the month, and lost about 15%.
An analysis of YTD data shows that the sector remains mostly healthy, with the exception of the CDN sub sector, that sees declines of almost 30% (Limelight Network) and almost 50% (Akamai) – and this negative performance definitely accelerated in the last two months, as Akamai lost 7% in June and 23% in July, and Limelight lost 20% in June and almost 10%, as we said, last month alone.
21Vianet Group, the Chinese provider of data center services was also weak in July, and continues its recent trading below IPO prices.
Here is a look at the complete year to date numbers: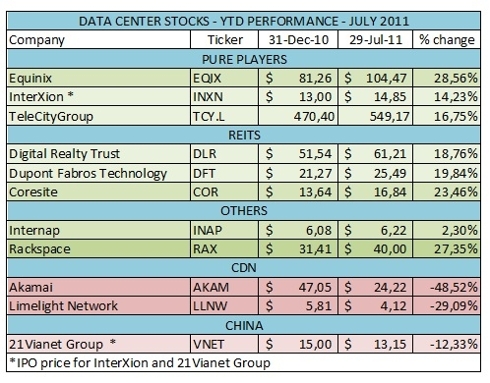 (Click to enlarge)
As a small reminder, three companies (Navisite, Terremark and Savvis) disappeared from our list, as they were acquired during the year. Investors in those companies gained about 50%, assuming they had bought the shares at the end of 2010.
Disclosure: I am long EQIX.