The SEC's August 15 deadline is now at hand for approximately 10,400 reporting companies. By that date, companies are required to file their June 10-Q financial reports in the XBRL interactive reporting format. First-time XBRL filers (about 8,700 in number) can receive a 30-day extension if requested.
For reference, the SEC had set a three-year phase-in period for reporting companies to comply with the new eXtensible Business Reporting Language filing format. The 500 largest market-cap companies were required to file in XBRL for the June 2009 quarter; the next largest group of 1,200 companies had to file in XBRL starting for the June 2010 quarter; and now the balance of approximately 8,700 companies must file in XBRL by August 15. Over the last 2.5 years, companies and solution providers have had time to develop and refine their XBRL software solutions to meet the terms of the mandate or establish out-sourced alternatives.
XBRL is a standards-based, granular, and machine-readable financial reporting format that allows the public to have access to financial data as-reported by filers, thereby enhancing transparency and comparability since all companies must use the same relevant taxonomies to construct their reports. The SEC's EDGAR System is the data repository for filed XBRL data. For further information about XBRL, see the SEC's XBRL website and the SEC's Electronic Filing Manual. For worldwide activities in XBRL, see XBRL International's website.
EDGAR Online, Inc. - A Pure Play on XBRL
EDGAR Online (EDGR) is fully operational and ready to meet the formidable XBRL demand of about 8,700 new first-time reporting companies. The company now works closely with established financial printers such as R.R. Donnelley (RRD), PR Newswire's Vintage Filings, and Business Wire.
But it wasn't always wheels-up for EDGAR Online. As a pioneer in the XBRL field, the company built its massive proprietary XBRL historic database as well as its XBRL data and analytics products on its own nickel and long before the SEC had mandated the XBRL standard. As a result of their investment in building its XBRL resources, the company has incurred the staggering amount of $45.2 million in federal net operating loss carry-forwards as of Dec, 31, 2010.
Yet, although flying in lonely skies, EDGAR Online was committed to XBRL and proceeded to build a 10+ year historic XBRL financial database for all SEC-reporting companies, and over the last decade, the company has developed XBRL data and analytics services. These products are supported by EDGAR Online's advanced XBRL data-mining systems and methods.
XBRL Filings
Now that companies are reporting for the second quarter, XBRL filings will soon start ramping up sharply as the August 15 deadline approaches. So far, just for the two-week period ended July 29, there have been a total of 509 XBRL filings made for Q2 10-Qs, or approximately 4.9% of the expected 10,400 required filings to be made. EDGAR Online has provided XBRL solutions for 42 of those 509 filings.
For perspective, in the last three quarters, EDGAR Online has provided about 80 solutions per quarter. How the company's market share will develop over the next few weeks -- as almost 10,000 more filings are made -- will significantly impact the company's operations. Revenue from the ramp-up will largely accrue to the company in Q3 although the company does record some part of those fees in Q2 as they "on-board" client accounts.
The SEC also mandated XBRL filings for mutual fund risk/return reports starting in January 2011. EDGAR Online provided about 5x as many XBRL solutions for funds during Q2 as it did in Q1. For mutual funds, EDGAR Online works primarily with filing agents PR Newswire's (Vintage Filings) and Merrill Corporation.
The reason why these operating metrics are relevant is that, for the first quarter of 2011, XBRL filings revenue represented 40% of EDGAR Online's total revenue, i.e., $2.39 million on total revenue of $5.98 million. The balance of revenue was derived from XBRL-related data, software solutions, and subscriptions.
One thing for sure, providing the XBRL solutions for a large number of SEC-reporting companies and funds is a major achievement. For example, here are the recent XBRL-compliant 10-Q reports by Microsoft (MSFT) and Google (GOOG), filed by R.R. Donnelley and using EDGAR Online's XBRL solution. You may access XBRL filings as they are made by checking the SEC's RSS feed or the independent EDGAR Dashboard.
The Larger Picture
EDGAR Online has basically taken the Intel Inside (INTC) approach to its products. For example, I-Metrix Pro investment research platform is offered as part of Thomson Reuters' Checkpoint, and its XBRL data set powered 305 software-based products as of March 30. The same is true with its UBmatrix subsidiary. UBmatrix provides the UBmatrix XBRL engine for Oracle's (ORCL) and SAP's (SAP) enterprise performance management platforms.
Because XBRL is only now being required for all SEC-reporting companies, there has been little investment focus on XBRL service providers and their business potential. For reference, here is raas-XBRL's summary of XBRL filing providers. It is immediately clear that EDGAR Online is the only publicly-traded pure play on XBRL.
As to the investment rationale for EDGAR Online, the XBRL Filings business is important but not the primary long-term potential. Based on public documents, there is significant interest in expanding XBRL use to other fields where granular, machine-readable, transparent, and standards-based disclosure is in the public interest. For example, asset-backed securities, government agency reporting, municipal bonds, derivatives, corporate actions, healthcare, and hedge funds are all areas of possible conversion to the XBRL format. As an example of how XBRL reported data can be used, here is EDGAR Online's new Money Market Fund Holdings dataset and its As Reported XBRL Dataset products.
Worldwide, XBRL is growing perhaps even more rapidly than in the United States. Via UBmatrix, EDGAR Online will likely particpate in building the server-side XBRL systems for government entities. And, via its technology and implementation partners, the company may participate in various reporting mandates (e.g., the current HMRC tax reporting rules in the U.K.).
Standing Back
It is easy to stand back and challenge the XBRL thesis since it is a new standard, and the corporate XBRL data filings are not yet topped-off. Also, XBRL is primarily B2B or B2G in character, making its product value not instantly recognized. On the other hand, the CFA Institute is now an integral part of the XBRL standards process, and most of the leading CPAs have endorsed its use. In the U.S. it will only be after September 15, that substantially all companies will have complied with the SEC's XBRL mandate. After that date, I expect new waves of XBRL-powered financial analytic software products in the area of business intelligence, financial analytic tools and applications.

Data architects know it is critical to have a accessible and reliable repository for XBRL data. In a June 2011 Oracle technical paper entitled "XBRL Repository - An Industrial Approach of Management of XBRL Documents," the writers state:
The potential market for XBRL is huge as it effectively tags financial data to facilitate communication of this data in a more consistent and self-checking manner.

In this paper, we analyze the XBRL model from a perspective of data management to show how XBRL has created a new emerging vertical domain of database applications that offer opportunities and technical challenges for the database.
The article graphically presents its view of the XBRL Repository Architecture that includes XBRL Storage, XBRL Query, and XBRL Service with XBRL Applications outside. Here is Oracle's 2009 announcement of its partnership with UBmatrix.

Given the importance of the SEC's mandate, UBmatrix's leading position in building XBRL systems and applications, EDGAR Online's unique XBRL historical database, the funding by Bain Capital, and the business processing deal with SunGard, it seems that EDGAR Online is now fully off the ground and ready to soar.

The Queryability of XBRL Data - The Next Big Thing in Search?

Like semantic search, data search may become an area of investment focus. There is a reasonable basis to think that EDGAR Online may become involved in the XBRL data search area, given that UBmatrix subsidiary filed this U.S. Patent application in September 27, 2004 for "Method for Searching Data Elements on the Web Using a Conceptual Metadata and Contextual Metadata Search Engine," Beyond the patent claims and disclosures, UBmatrix has already built its XBRL search engine. Reliable retrieval and programmability of XBRL information from SEC filings may well become critically important in commercial and government data gathering systems, e.g. business intelligence.

The UBmatrix XBRL Engine, as described in the above Oracle technical paper, has advanced queryability functions that allow the XBRL instance documents to be queried and retrieved. I don't know the nature or potential of revenue to UBmatrix as a result of its patent application or its being part of enterprise platforms.

Since the above U.S. patent has not been granted yet by the USPTO, EDGAR Online has not disclosed. And, I do not know if the patent will ever be granted or, even if granted, if it will be of significant financial value to EDGAR Online. For the terms, [xbrl search], there are 163 search results on Google Patents. If you search under EDGAR Online or separately under UBmatrix, there are other granted or applied-for patents in the XBRL area.

For background, UBmatrix was granted the U.S. Patent, "Method for Adding Metadata to Data, for which the Provisional Application had been filed for on August 17, 2001. In that patent, a total of 214 claims were granted, and it is considered the basic XBRL U.S. patent.

Conclusion

For a micro-cap stock, EDGAR Online is performing at the high end of the financial data and analytics market. After a decade of the company's building its products and services, the markets are now opening up for XBRL. We will get first clues of the company's performance once a large percentage of companies have filed their XBRL 10-Qs for the June quarter. This new business may become a significant recurring revenue stream for the company. And with significant net operating loss carry-forwards, earnings will be largely sheltered for the foreseeable future.

EDGAR Online's annual meeting is on Thursday, August 4; and on Friday, August 5, it reports earnings for the second quarter. I expect EDGAR Online's revenue will be up in the second quarter vs. the first quarter for the following reasons:
Number of mutual fund filings using EDGAR Online were about 5x Q1 level.
"On-boarding" of Phase 3 filing companies should increase revenue.
However, more important than the Q2 earnings report is the % market share that EDGAR Online garners among Phase 3 filing companies. The company has well-established filing agents as partners, and there is every reason to expect relatively good operating performance.

The stock chart below is pretty dismal, but it is for a period when SEC Phase 3 XBRL revenue had not yet been recorded and while the company was incurring major operating costs for developing their XBRL proprietary database, products, and services.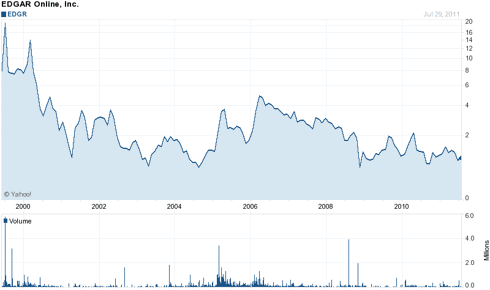 Disclosure: I am long EDGR.