Power One, Inc (PWER) reported Q2 FY2011 results on Thursday the 28th:
Quarterly revenue grew 21% YOY for a total $260M, squarely in the middle of the $250-270M range guided in May's Q1 conference call.
Diluted EPS missed consensus estimates of $0.22 by 1 cent on operating income of $53M, a 23% YOY increase over last year's Q2 results of $0.17 EPS and $31M income.
The Renewable Energy Solutions segment generated sales of $180M, which represents 27% YOY top-line growth. Power One reported significant gains in domestic markets, China and India, the cumulative total from these regions increasing from only 4% to 18% of total revenue.
The Power Solutions segment generated sales of $80M, an 11% YOY increase in top-line growth. The company is focusing on reducing expenses and improving operating efficiencies in this segment, but the larger opportunity clearly lies with the other business group.
The company guided Q3 revenue in the $265-280M, marginally below previous estimates. Yearly guidance was revised upward with expectations of improvement in the solar sector as a whole, stabilized demand in Europe and increasing market-share in North America and Asia.
As discussed in my previous article, PWER looked severely undervalued heading into the earnings announcement, trading at the very bottom of its historical P/E channel for a 6.3x TTM multiple. Traders appeared to have been expecting a large miss and new 52-week lows, but the company delivered well within previously provided guidance, confirmed an optimistic forecast for the rest of the year and saw an immediate uptick in interest on Friday, with the stock trading as high as $7.75, 15% above the previous close of $6.80, before settling at $7.21 by the end of the day.
Volume confirmed price action, tripling the daily average of about 2.7 million for a total of 8 million shares traded on Friday. The day also saw a huge spike in call activity, with more than 2,500 contracts for the August 20 $9 call being opened, a number well above the total amount of existing interest for the day and strike price. The September 17 $9 call saw a little over 500 contracts traded, a ten-fold increase over existing open interest.
While PWER stands to suffer disproportionately from immediate market jitters, I believe we've witnessed the bottom of a downward drift which began in mid-February, with the company's CEO, Richard Thompson, sounding a cautionary note about oversupply in the channel and weakness in Italian and German markets which used to make up an overwhelming about of Power One's sales. A number of recent developments seem to point to a turn-around in sentiment:

Short interest has been steadily declining for the last seven months.
The company has proven for two quarters straight that it can deliver on guidance during adverse macro conditions such as channel oversupply and sector-wide pricing weakness.
High-profile analysts appear more willing to recognize Power One's performance during difficult conditions, with Needham's Edwin Mok commenting on Friday that "PWER lowered full year revenue guidance, but the small reduction was likely better than feared. In the near-term, business conditions remain challenging with excess channel inventory in Europe, but PWER's expansion into new markets in N.A. and Asia are driving growth." Mean analyst 12-month price target on the equity is $10.90.
Market share gains in Asia and North America show Power One isn't just diversifying its customer base to minimize disruption from volatility in European subsidies but also looking at long-term prospects in markets with the most potential for sustained future growth.
PWER continues to look extremely cheap even after Friday's bump (Charts and data courtesy of Ycharts):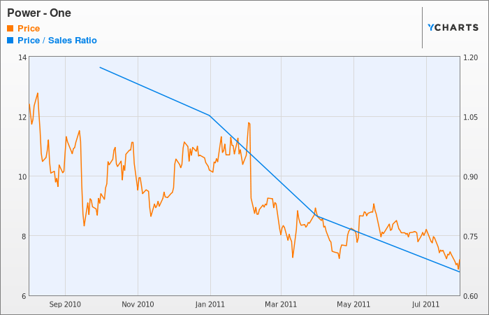 One-year P/Sales ratio shown declining to current 0.67x multiple.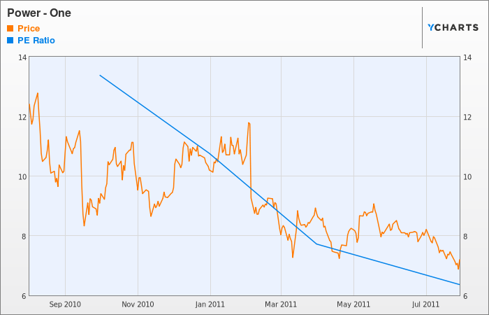 Click to enlarge
One-year P/E ratio shown declining to current 6.5x multiple.

With valuation metrics dropping in half over the span of a year as revenue and income both improved, I disagree with the brief analysis provided by Tate Dwinell published on SA, which concludes:

Technically, shares of PWER are still seeking a bottom and it's a bit too soon to call today's move the beginning of a new sustained move up. I'd like to see shares surge above the 50dma around the $8 level and hold there for a couple weeks, which would be a stronger signal that a bottom may be in.
This seems timid for a company showing serious growth in a worry-ridden sector. I see price action below the 50-day SMA of $7.90 as a tremendous opportunity for those looking to establish or broaden existing positions or profit from intra-day option plays.
The August 20 $7 call (PWER110820C7) for example, traded as low of $0.40 late Thursday, before the earnings announcement, and as high as $0.85 during Friday's spike. With the help of good 'til killed limit orders, one can acquire these short-term contracts at rock bottom prices and set up automatic sales when the they, along with the underlying equity, see abrupt price appreciation due to PWER's high beta.
As always, option trades with volatile equities warrant extreme caution and carry significant risk. Investors are advised to do due diligence and carry out trading strategies only after performing their own research.
Disclosure: I am long PWER.