This article is part three of a seven part series that is looking at the incredible opportunity that a cyclical company can represent as earnings recover coming out of a recession. Part one, 6 High Profile Industrials With Staggering 3-Year Performance, provided a cursory view of six industrial companies. In part two, we provided a more comprehensive look at Cummings Inc.: Cummins' Staggering 3-Year Annualized Performance.
In part three we're going to take a closer look at Crane Co. (NYSE:
CR
).
Crane Co. (
CR
) is an industrial company that manufactures and distributes products for the construction, aerospace, defense and miscellaneous other industries. Its primary products are industrial pumps, fluid control devices, vending machines, fiberglass panels, aircraft brake systems and valves. The following description is taken directly from its website:
"Crane Co. is a diversified manufacturer of highly engineered industrial products with a substantial presence in a number of focused niche markets. With approximately 11,000 employees working together in five business segments across 25 countries, Crane generated 2010 net sales of $2.2 billion. We are dedicated to integrity and honest dealings in all that we do."
The extent of Crane's diversification can be seen from the following graphic depicting 2010 sales.

On July 25, 2011 Crane Co. released the following earnings announcement: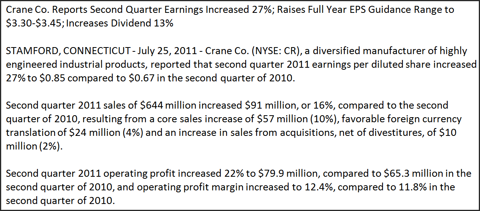 Crane Is a Quasi-Cyclical Stock With Moderate Earnings Growth
The following F.A.S.T. Graphs™ plots earnings only for Crane for the period 1995 through the great recession, calendar years 2008 and 2009. Although Crane Co. has remained profitable for this entire time frame, there have been times when its earnings were very cyclical. During both calendar years 2008 and 2009, Crane experienced drops in earnings.
With monthly closing stock prices overlaid on top of earnings we see a very strong correlation with a lot of volatility along the way. However, over longer periods of time, the trending direction of stock prices coincides with the trending direction of earnings. Note how the precipitous drop in stock price for 2008 and 2009 significantly overreacted to the more modest drop in earnings. In other words, the stock price fell far below the orange earnings justified valuation line.
Click to enlarge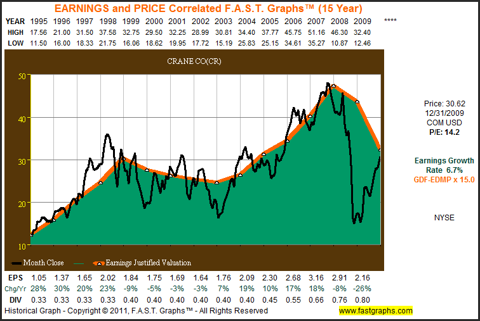 Crane Co.: Price Earnings Post Recession
The following graph shows how Crane Co.'s price and earnings recovered following the great recession of 2008 and 2009. In calendar year 2010 earnings recovered and grew 22% over calendar year 2009, followed by an estimated 23% growth for calendar year 2011. Stock price reacted almost instantly as it has been rising steadily following the recovery in earnings.
The associated performance for Crane Co. coming out of the recession was more than three times greater than the recovery of the S&P 500. Crane Co. shareholders have enjoyed a closing annualized rate of return of 48.5%, plus more than $9,000 in dividends. Therefore, the total annualized rate of return has averaged over 50% per year since year-end 2008. Once again, we see the incredible opportunity that undervaluation creates.
Click to enlarge


Crane Co.: The Long-Term Historical Perspective
The following 15-year earnings and price correlating graph shows a very close correlation between earnings and stock price over time. Although the stock price climbed above the orange earnings justified valuation line and fell below it numerous times over this 15-year (14+ years) time frame, the correlation to and with earnings is crystal clear. We believe the most important perspective that this graph portrays is the excessive fear-based overreaction to the recession, followed by the incredible explosion in stock price as the economy and earnings recovered. It's also important to note that even though this company has occasional bouts of cyclicality, it has remained a profitable enterprise throughout this entire time frame.
Click to enlarge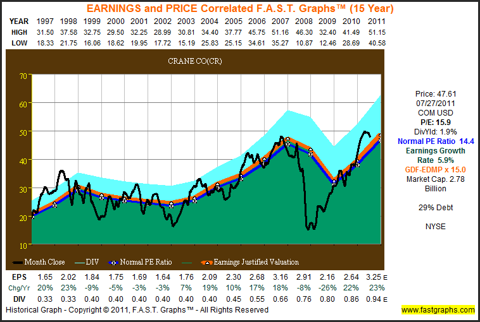 The time period 1998 to 2004 shows earnings falling modestly each year. Therefore, Crane Co. froze its dividend at $.40 a share. Nevertheless, when it was all said and done, shareholders were once again rewarded in almost direct proportion to the operating results (earnings growth) the company achieved.
Click to enlarge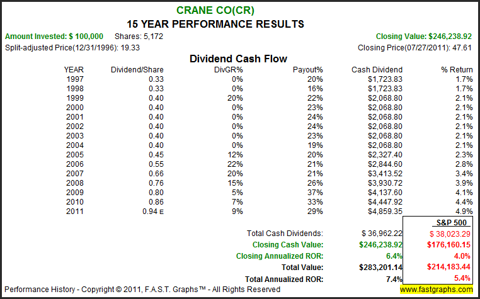 Crane Co. (CR): The Future
The consensus of leading analysts forecast Crane Co. to grow earnings at the above average rate of 9.2%. Based on these analysts expectations Crane Co. appears to be fairly priced with a PE ratio less than 16, and a dividend yield of almost 2%. However, the researcher should be aware of the cyclical nature of the earnings growth that this company has historically generated.
Click here for a video on Crane Co.
Conclusions
Once again with Crane Co., we see an example of how investors' overreaction from fear created an incredible investment opportunity for the brave. The real lesson is that many people live in a constant state of fear and trepidation with their stock portfolios. But, the truth is, what people really fear the most rarely, if ever, happens. Consequently, most people's fears turn out to be far more devastating and dangerous to their financial health and security than real world events.
Although many advocate doing it, we believe that running from the falling stock price of a solid business is most often a mistake. What normally happens is that people sell at the precise time at which they should be buying. Consequently, they end up buying high and selling low. In contrast, the emotion "greed" will usually create the exact opposite effect. Because the price of a certain stock is running, many are enticed into buying it at the precise time they should be selling it.
As investors, it's important that we learn to keep our emotions in check. Instead of only focusing on price, and treating our portfolios like a big casino, we should try to remember that we really own businesses. If we are careful in selecting those businesses in the first place, and careful about what price we pay to buy them in the second place, our confidence in the long-term rewards from owning them should be high. Knowledge is power, and perhaps the greatest antidote for keeping emotions in check.
Disclosure: No positions at the time of writing.
Disclaimer: The opinions in this document are for informational and educational purposes only and should not be construed as a recommendation to buy or sell the stocks mentioned or to solicit transactions or clients. Past performance of the companies discussed may not continue and the companies may not achieve the earnings growth as predicted. The information in this document is believed to be accurate, but under no circumstances should a person act upon the information contained within. We do not recommend that anyone act upon any investment information without first consulting an investment advisor as to the suitability of such investments for his specific situation.