In spite of Congress' best efforts, Visa remains a growth story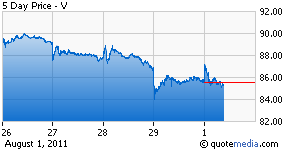 If you've been watching Visa (NYSE:V) and Mastercard (NYSE:MA) over the last two years, both were highflying stocks with tremendous room for revenue and earnings growth. However, in a seemingly random act, Senator Dick Durbin decided to identify service revenues from the debit card duopoly as detrimental to the consumer.
Since the famed "Durbin Amendment" was added to Dodd-Frank, the shares of Visa have dipped as low as $66 when the Federal Reserve announced an 11 cent processing limit on debit cards, to as high as $90 after news broke that the Federal Reserve doubled the limit to 22 cents.
Although we think the company is more valuable without price ceilings, on a discounted-cash flow basis, shares of Visa are worth $107 each, in our opinion. This puts our valuation at about 20x 2011 earnings, which is reasonable given that we expect EPS to grow 30% in fiscal year 2011. In the spirit of transparency, we make our DCF valuation model template available here, so investors may use it to value any operating firm they wish.
Visa's business model is tremendous
Unlike competitors American Express (NYSE:AXP) and Discover (NYSE:DFS), Visa and Mastercard do not take on the lending risk associated with issuing credit cards. Instead, they rely on companies like JP Morgan Chase (NYSE:JPM), Citi (NYSE:C), Bank of America (NYSE:BAC), Nordstrom (NYSE:JWN), HSBC (HBC), and Capital One (NYSE:COF) to take on the lending risk, while they collect payments every time their debit and credit cards are swiped. This broker model was costly, as Visa did not become very profitable until they acquired enough users, both via merchants and consumers, to process enough transactions.
With no lending risk and high barriers to entry, Visa possesses a rare business that throws off tons of cash as long as consumers continue to spend money. Additionally, the company obtains complete data on its users that can be sold to direct marketers.
One of the most dominant competitive advantages: The Network Effect
The network effect is easily one of the strongest competitive advantages a company can have, and Visa has an impressive network. With around 300 million credit card accounts and around 400 million debit cards in the United States, Visa is easily the biggest player in the transaction processing business. The company processed an impressive $5 trillion in fiscal year 2010, with over 1.8 billion cards worldwide.
Because so many people "go with Visa" (to quote Morgan Freeman), almost every merchant in the United States, big or small, accepts Visa. Though there are still a few cash-only places scattered throughout the United States, new advanced in technology, such as iPads that can process credit cards, Visa should be accepted almost everywhere. We measure the strength of a Visa's competitive advantages by the sustainability of the gap between return on invested capital and its weighted average cost of capital. This, in conjunction with a rigorous DCF process, represent the core of what we do at Valuentum in arriving at our best ideas.
Debit downer?
As we said earlier, we'd prefer to see no restrictive regulation on Visa and Mastercard's debit card business. Debit card business eclipsed credit card business again in 2010, with total transactions processed climbing 18.5% to $2.9 trillion in the US. Though these debit card transactions will no longer be nearly as profitable as credit card transactions, we think a combination of pressures by Visa and its big banking partners like JP Morgan Chase and Bank of America will encourage consumers to substitute back to credit cards. As two of the biggest credit card lenders in the country, they may be far more interested in pushing their clientele into their profitable credit card offerings, rather than the no-longer profitable debit cards.
In response to the Durbin Amendment, we've already seen banks eliminate free checking and debit card rewards, which we suspect could decelerate debit card growth. Regardless, we think the move towards a cashless society will benefit total transaction volume.
International growth overlooked, PayPal overestimated
With the way it's been trading lately, it appears investors are focusing on the slower growth U.S. business (up 9%) rather than a robust international business (up 22%). CEO Joe Saunders stated that he thinks continued debit growth in other countries will continue to drive expansion. We think a build-out of the Visa network globally could catch on elsewhere as it has in the U.S., and that it should continue to be a profitable endeavor.
Furthermore, a lot has been made about eBay's (NASDAQ:EBAY) PayPal online processing system becoming the future of payments. However, we think the high take rates (about 9%) are unsustainable when both Visa and Mastercard have significantly lower (2-3%) take rates and have far more users and accounts. Additionally, we think the acquisition of CyberSource, a leading online payments solution, will help make Visa one of the next generation payment players.
Lots of uncertainty surrounds the future
With the passing of the Durbin Amendment, Visa guided down its revenue growth and EPS growth. However, the new outlook only prompted us to lower our fair value estimate for Visa a few dollars to $107 per share. That still leaves plenty of upside, assuming the less profitable debit card transactions do not impact the business more than we expect.
Visa itself has a wonderful business model, but we think investors should carefully monitor how Visa navigates the challenging legal environment. Long-term spending shifts favor cashless transactions both in the United States and abroad, which gives plenty of room for Visa to grow. Management has also bought back shares prudently, with at least $1 billion in buybacks annually, and also pays out a small dividend.
Disclosure: I have no positions in any stocks mentioned, and no plans to initiate any positions within the next 72 hours.