Overview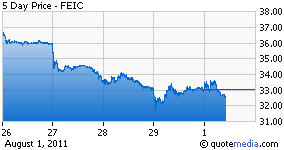 FEI Company (NASDAQ:FEIC) supplies specialized instruments for nanoscale imaging, analysis, and prototyping to enable R&D and manufacturing in academic and industrial applications. Its products include: ion beam systems, scanning electron microscopes, transmission electron microscope), and dual-beam systems. It also provides related software solutions and service contracts. The firm is headquartered in Hillsboro, Oregon, but operates in the U.S., Europe and Asia Pacific regions.
I became interested in FEI because it is a local technology firm with low debt and improving margins and earnings. FEI's stock fell sharply during the financial crisis, but it has bounced back as the firm's profitability and prospects increased. It is currently ~26% off of its 52-week high at a market price of $33.04 (July 29, 2011). FEI continues to invest in new products, to expand its markets, and to improve operational margins. Based on my research and valuation model, I believe FEI is undervalued at its present market price.
Corporate Divisions & Strategies
FEI is organized into three main divisions, each focused on a specific industry segment with specific strategies for growth. FEI has positioned itself well, targeting high-growth opportunities and developing plans that will enable it to tap adjacent markets and to migrate lab-based products into field-based, on-site equipment. The following sections briefly highlight some of these strategies. For more detailed information, I suggest downloading and reviewing the firm's recent 2011Q1 investor presentation or visiting the company website. (Note: There's a really cool picture of a hydrothermal worm on the home page!)
Electronics
FEI supplies analysis equipment to chip manufacturers, such as Intel, for use in R&D and manufacturing of transistors and other technologies. As the size of electronic components continues to shrink, there is increased need for precise, higher-resolution analysis equipment. FEI will benefit from Intel's (NASDAQ:INTC) recently announced 3-D transistor (FinFET) technology. In addition, FEI's products can help to speed up the development cycle, allowing foundries to reach mass production sooner.
Life Sciences
FEI Life Sciences seeks to become the global leader in providing complete solutions (hardware and software) to life scientists focused on nanoscale biological knowledge. Bookings in this division have a CAGR of 18% over the last 6 years, with current products focusing on structural biology applications (3D modeling), part of a $1B+ market. The firm plans to expand into the $1B+ cellular biology market and the $10B+ healthcare market for diagnostics and drug delivery, currently served by MRI, CT, and other technologies.
Natural Resources
This is FEI's newest division, formalized in 2010 after the acquisition of two software firms that specialized in this field. Its products provide geological analysis of rocks and minerals for oil, gas, and mining firms, helping them in the planning, exploration, and processing phases. FEI is benefitting from the increase in exploration and production due to higher consumption and commodity prices. As resources become scarcer, FEI's microanalysis equipment provides value by helping firms to better analyze their drilling sites. FEI sees opportunities in on-site technologies, estimating the market for such products to be over $500M versus the lab-based product market size of $50-100M; it plans to pursue this opportunity.
Corporate Operational Strategies and Actions
FEI defined several goals to guide its future growth and profitability, and it has demonstrated significant progress since the 2008 financial crisis. The firm set a 2012Q4 gross margin target of 45%, but raised it to 47.5%, as the 45% level was already achieved in 2010Q4. It also plans to lower SG&A from 22% (2010) to ~18%. If these targets are met, operating income margins will rise from single digits to 16-19%.
FEI has taken several steps to achieve higher margins. FEI moved some operations to the Czech Republic to take advantage of lower labor costs and tax rates, and implemented an ERP system to improve internal resource management. Gross margins have increased due to higher product pricing, lower COGS, and a higher-margin sales mix. FEI is also standardizing more of its components, leading to better inventory management and reduced service costs.
Additional Financial Information
FEI's operating margins have improved from 5% in 2008 to 10% in 2010, and its goals are even higher for 2011 and beyond (16-19%).
The firm has just $89M in debt (2.875% rate), and as of 2011Q1, had over $450M in cash and shareholder equity close to $18/share.
Bookings are up 14% YOY and the 2010 backlog was at record levels
Geographic diversity continues to increase. In 2010, revenue from the U.S. and Europe was less than Asia and the rest of the world combined for the first time.
FEI is using its cash to acquire high-growth businesses, particularly in the Life Sciences and Natural Resources segments. The firm requires a risk-adjusted return on its investment, so it is selective in choosing acquisition targets.
FEI has authorized a 4 million share buyback (~10% of outstanding shares).
DCF Valuation and Sensitivity Analysis
I created a DCF valuation using the previous five years of annual financials as a baseline, and then adjusted some levers based on FEI management's projections and my own assumptions. These adjustments included:
Improving EBITDA ratio to 19.2% by 2016 (Management projects EBIT of 16-19%, and DA/Rev = ~3%)
12% revenue growth for 2011, dropping gradually to 6% by 2016, then down to a 3% long-term rate.
Repayment of $89M in debt in 2013 with no new LT debt.
Tax rate of 29% (2011) increasing to 32% (2016+)
WACC discount rate of 9.04%, equity discount rate of 9.5%.
The model yielded an estimated value of around $51 per share, which is at the high end of analysts' range of $31 to $50 (Yahoo Finance), and above their mean estimate of $42. This intrinsic value is contingent on the accuracy of the lever values, with the discount rate and EBITDA as a percent of revenue levers having the greatest sensitivity. For example, with a 13% EBITDA, which the firm already exceeds, the valuation dropped to $41. With a 10.9% WACC (+20% over assumption), the valuation dropped to $46. In a scenario that combined both the higher discount rate with a lower EBITDA ratio, the model yielded a value of $37. In all of these cases, the value is above the current price of $33, providing some confidence that the stock is undervalued and has limited downside.
Recommendation
Based on my analysis of FEI, I believe it is undervalued and a good growth opportunity with a compelling story. FEI is a small, specialized firm with a solid balance sheet, improving margins, and growth opportunities. FEI knows its core competencies and is leveraging its expertise to enter new markets (natural resources) and to create new, value-added products (on-site analysis). FEI is positioned in the right industry segments, based on a MarketResearch.com report (Chai, C., 2011) that confirmed increased demand for high-resolution, high-precision microscopes in the semiconductor, biomedical, pharmaceutical, nanotechnology, and other commercial industries. It also noted rapid market growth in Asia, as well as emerging growth in Russia and Brazil due to their increased funding for nanotechnology R&D centers.
My DCF model and sensitivity analysis support this recommendation, showing that even with lower sales and margins, the intrinsic value of this firm is higher than the current market price. Of course, this does not account for unforeseen macro-economic factors (e.g. slipping back into recession), and assumes that FEI continues delivering on its operational improvements and at least maintains a low level of growth. With its large backlog, high cash balance, and management's statement of "good visibility" at its May 2011 presentation, FEI appears to be in good shape for the near-term, providing time to develop the growth opportunities and zoom in on higher profits.
Resources:
Disclosure: I have no positions in any stocks mentioned, but may initiate a long position in FEIC over the next 72 hours. I am long INTC, which is mentioned in the article.