Staples, Inc. (SPLS) is a leading global retailer of office supplies. SPLS manages its business across three segments: North American Delivery, North American Retail and International. Its International segment operates in 24 countries, including China, the United Kingdom, and Germany. The North American Delivery segment is focused on the sale and direct delivery of office supplies to corporate customers while North American Retail manages stores frequented by consumers and smaller businesses. The North American segments have had better margins than International, but International has posted stronger revenue growth. Like many retailers, SPLS has a year end around the end of January.
The recent Great Recession impacted SPLS top line with revenue increasing a scant 6.3% from 2008 to 2010 (year end January 29, 2011). However, SPLS was able to grow operating income at 14.7% over the same period and net income 10% due to cost management techniques. Over this time, office supplies represented almost 50% of revenue, while business machines accounted for another 30%. The remaining revenue was from computers and office furniture.
With a strong market position, they began paying an annual dividend in 2004, but switched to a quarterly dividend in 2009. While income statement growth has been quite flat over the past three years, SPLS has kept a relatively low payout ratio of just 29% which was also very easily covered by operating cash flow, even after capital expenditures. The following chart shows SPLS historical dividend yield. The forward dividend yield is approximately 2.6% based on a forward annual dividend of $0.42 and a recent closing price of $16.06.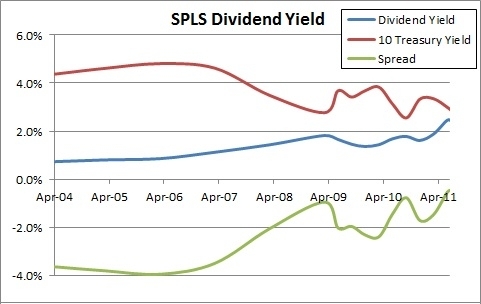 Created from data from Yahoo!Finance

The above chart shows that dividends have been increasing a very modest rate of 6.6% over the past 4 years. While dividends have been increasing, the stock price has not performed as strongly as seen below.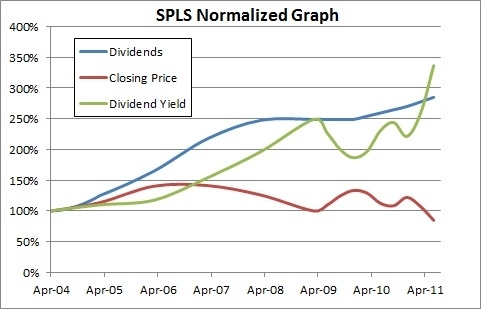 Created from data from Yahoo!Finance
Overall this has contributed to a higher yield than recent history. Even with Analyst projections showing double digit EPS growth for 2011 and 2012, the stock has declined 17% over the past year and 25% over the past three years.
An evaluation of SPLS would require a deeper dive into its free cash flow to determine whether it has a reasonable valuation. An investor should not buy this stock simply for the dividends alone and its poor recent stock performance would be a second caution. However, a quick review of its financials suggest that on a cash flow basis, SPLS might be an attractive opportunity. Its strong operating cash flow of $1.45 billion in 2010, low capital expenditures (consistently around $0.4 billion for past three years) and modest debt level of $1.9 billion (total enterprise value of $12.6 billion) suggest that a discounted cash flow model might show a fair to undervalued stock. My follow up article will provide a more detailed cash flow analysis.
Disclaimer: This article is for informational and educational purposes only and shall not be construed to constitute investment advice. Nothing contained herein shall constitute a solicitation, recommendation or endorsement to buy or sell any security. Sources for this article include Yahoo!Finance and SPLS SEC filings.