Over the last two weeks, I have offered suggestions on how to use options to trade earnings season. In this article, I spotlight several companies that report this week, noting ways to capitalize on the result of their respective reports with options.

Activision Blizzard (NASDAQ:ATVI): I have followed this utter disappointment of a stock long enough to know one thing. No matter what the company announces, the stock will likely continue to stagnate. Don't ask for favors, don't talk to strangers, don't ask me why - tortured shareholders continue to wait for ATVI to breakout, but it never does.

First, have a look at the chart, courtesy of FreeStockCharts.com. And then read a nice review of the numbers by fellow Seeking Alpha contributor Robert Weinstein. But, don't let mini-runs and big revenues fool you, ATVI will go nowhere. It's one of life's greatest and most frustrating mysteries.

Click to enlarge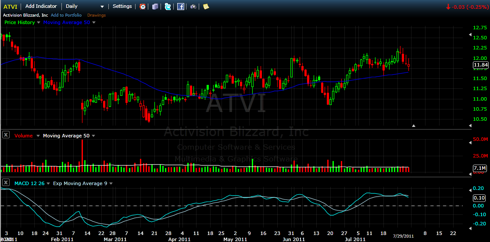 Click to enlarge

I am most heavily inclined to just stay away from ATVI all together, but if you're bearish and in a risky mood, consider this bearish risk reversal. Buy the ATVI November $11 put for roughly $0.42 and sell the ATVI November $13 call for approximately $0.34.

If ATVI stays below $13 between now and expiration, you're looking good on the short side of the trade. If the stock drops, you should be able to take some profits on the long side.

Activision reports Wednesday after the close.

Tesla Motors (NASDAQ:TSLA): TSLA bears remind me of the worst cable "news" networks such as Fox and MSNBC have to offer. They're excellent at ignoring the facts, creating their own skewed realities, attempting to freak people out with false alarms and filtering out any information that does not conform to their surface scratch theses.

Bears contend that Americans will not buy a $55,000 electric vehicle (EV) like the Model S. And, technically, if we consider Americans broadly, they're right. But that does not matter.

Tesla does not need middle-class Americans to buy its cars. It did not need that to happen for what was always planned as a limited Roadster run and it does not need it for the Model S launch. What Tesla needs and will get is upper-middle class and downright affluent customers teaming up to buy somewhere between 10,000 and 20,000 Model S's over the course of a couple of years before the even more affordable Model X comes out.

Bears also brush off the recent $100 million deal Tesla signed with Toyota (NYSE:TM) to basically build the Rav-4 EV for the major automaker. That extra $100 million in the coffers helps bridge the gap between the end of Roadster sales and the beginning of the Model S push.

Heading into earnings, I look forward to hearing not only about the production schedule for the Model S, but how many more pre-reservations Tesla has taken. As of the last report, that number stood at 4,600. If you believe what you read in the Tesla enthusiast forums, Model S pre-bookings easily passed 5,000 during Q2.

As a bull, I want to keep doing what I have suggested all along. Sell TSLA near-term puts with a strike price you would be comfortable going long at. Use the proceeds to help finance the purchase of TSLA LEAPS call options. The TSLA January 2013 $30 calls still look good selling for around $6.50. And, of course, dollar-cost-averaging makes sense as well.

Tesla reports after the close on Wednesday.

Quick Hits

General Motors (NYSE:GM): GM reports Thursday before the open. Like Ford (NYSE:F), I could see myself going long GM at the right price. Therefore, pick a strike price you would be comfortable owning GM at and sell puts at that strike, assuming you share my bullish sentiment.

GM might experience some artificial debt ceiling-related movement, therefore, it makes sense to proceed with caution if you intend to buy calls. Don't get fooled by head fakes.

Kraft (KFT): Kraft reports Thursday after the close. Always a nice stock to own in a retirement portfolio, use any weakness to go long KFT. You could do this by selling a cash-secured put. Again, select a strike you would be happy buying KFT at, sell a put at that strike, collect the premium income and wait to see what transpires. The KFT August $34 puts at about $0.49 per contract represent an aggressive play.

Proctor & Gamble (NYSE:PG): I put PG in a similar class as Kraft, except the PG sports an even uglier chart.

Click to enlarge


Click to enlarge

While I fully expect an early week-bounce, you can collect some premium income and get along on a meaningful pullback by selling the PG August $60 puts for about $0.66 apiece.

As an aside, the topsy-turvy economy favors consumer staples and high-end retail. The rich get richer and the poor buy (and stock up when they can) on what they need. That's the story I see. As such, and speaking of KFT and PG, I still like the Consumer Staples Select Sector SPDR ETF (NYSEARCA:XLP) as both a short- and long-term play.

Disclosure: I am long F, TSLA.