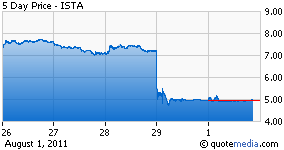 ISTA Pharmaceuticals' (ISTA) latest extension of its bromfenac sodium franchise has failed an important test. Remura has proven no better than an over-the-counter artificial tear product at reducing the signs and symptoms of dry-eye disease, casting doubt over the promise of its most immediate pipeline hope.
Executives blamed a "dramatic" placebo response, but ISTA investors blinked nonetheless – shares fell 28% to $5.21 in early trade today. Revisions to a remaining Phase III trial will take place, focusing in particular on women, who are more prone to experience discomfort resulting from inadequate production of tears. Success in the remaining trial will be necessary to resurrect hopes that bromfenac can continue to be a growth driver for the California group.
Placebo effect
ISTA reported results from the three-arm 420-patient West study of the non-steroidal anti-inflammatory drug preparation. Whilst patients in both the low- and high-dose arms experienced improvements in the signs and symptoms of dry eye syndrome at six weeks compared to baseline, the improvement was not statistically superior to that of patients in the placebo arm.
The improvement among placebo patients came despite a two-week washout phase to identify good placebo responders before randomisation, in order to prevent such a result.
The highest dose of Remura showed a statistically significant improvement over placebo in a co-primary endpoint, conjunctival staining among women aged 51-70. However, under a special protocol assessment (SPA) with the FDA the assignment of the endpoints as co-primary means the trial is viewed as a failure.
In a call with investors, chief executive Vicente Anido said the company plans to revise the statistical plan for the East study, due to report in the fourth quarter, with possible modifications to adjust for the placebo findings from the West study, better identification of subgroups in which the NSAID is effective, or removing the co-primary endpoint tag so success in one is better received. As the study is under an SPA, those alterations could only take place after meeting with the FDA.
Reversal of fortune
ISTA had been one of the micro-cap good news stories of the first half of 2011, with shares building to a seven year high of $11.26 in May on a successful switch of post-cataract-surgery patients from twice-daily bronfenac solution Xibrom, which lost patent protection, to once-daily Bromday, protected through 2013 (Pharmasset the stand out small cap performer in first quarter, April 4, 2011).
There was hope that a successful Remura trial combined with positive news on the use of bronfenac as an adjunct to Lucentis or Avastin in treating wet age-related macular degeneration would propel the shares higher. Analysts had penciled in price targets of $13-$15.
The share drop today puts the company's market capitalisation at roughly $170m, which values the company at even less than the net present value of its established products Bepreve, Istalol and Vitrase, a valuation that EvaluatePharma builds around equity analysts' sales forecasts.
The wet AMD data has not emerged, and now West trial results appear to have blocked another line extension. Statistical adjustments could yield some success in the second phase III trial in dry eye, but for now the investors' view of ISTA is a company that is not living up to its promise.