All of the companies below are in the biotech/pharmaceutical sector and have shown impressive gains over the last year. Also, the pharmaceutical sector is considered a defensive investment and thus may outperform in uncertain times, like that surrounding the August 2 debt limit and the possible downgrade of U.S. debt. A downgrade will increase borrowing costs and could trigger a global financial collapse.
Antares Pharma (AIS): Up 52% for the year, analysts' target: $3.05
The $204 million company is waiting for FDA approval for its drug to treat overactive bladder syndrone, which is expected on December 8th. Meanwhile, Watson Pharacueticals (WPI) signed a licensing deal to market the drug in the United States and Canada if the FDA approves it.
Insiders have been loading up on the stock, which some say could be an attractive takeover target. The graph also gives numerous buy signals.
Click to enlarge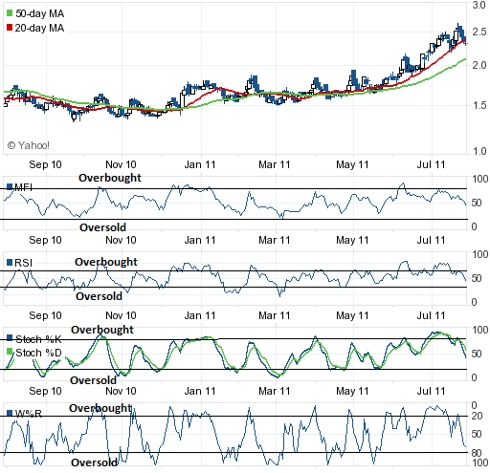 BioSante Pharmaceuticals (BPAX): Up 83% for the year, analysts' target: $6.17
The $280 million company just priced a public offering of 16 million shares at $3 a piece, The offering is expected to close August 1st. Underwriters can buy an additional 2.4 million shares within the next 30 days.
Though this will cause a dilution and initially put downside pressure on the stock, many companies seem interested in its female sexually-dysfunctional drug, causing possible takeover speculation. Two clinical trials are expected by the end of the year. However, note that the FDA will likely be strict on such a drug. After all, Pfizer (NYSE:PFE) and Proctor and Gamble (NYSE:PG) have both stopped making sexual dysfunction drugs because of safety issues. Meanwhile, the graph is flashing many buy signals.
Click to enlarge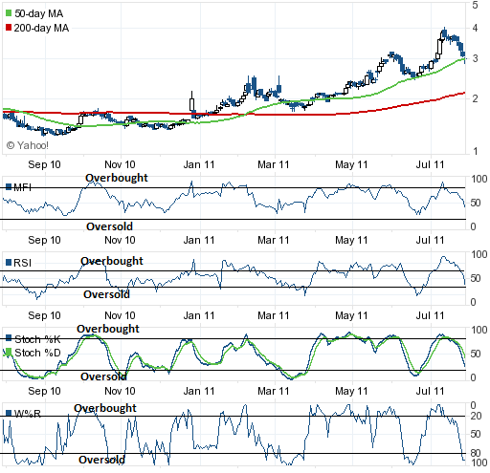 IntelGenx Technologies (OTCQX:IGXT): Up 122% for the year, analysts' target: $2.06
The $36 million company develops CPI-300, a high-strength Bupropion Hydrocloride (HCL), the active ingredient in Wellbutrin XL, which is already FDA approved in 150, 300 and 450 mg doses. Valeant (NYSE:VRX), maker of Wellbutrin XL, failed to produce a single 450 mg dosage, thus allowing CPI-300 to enter the market, which is estimated to be $150 million for high dosage patients. FDA approval date is set on November 13. Marketing is expected immediately on approval. Any deal is expected to include a seven-figure upfront payment, double-digit royalties, and sales milestones.
CPI-300 employs the company's VersaTab multi-layered technology, which is superior over single-layered drugs like Wellbutrin XL® in the sense that release-time is spread out.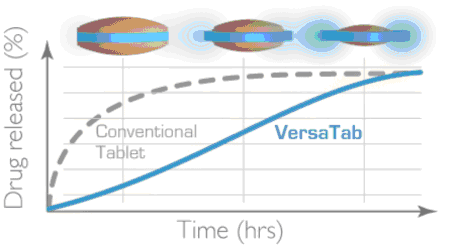 Further, manufacturing is cost-effective, allowing CPI-300 to be price competitive. Patent protection extends to 2027.
The company received a complete response letter on February 8, 2010 saying that the company needs to address commercial manufacturing and food affects before approval. Since then, it has hired a manufacturer and believes a label adjustment and a post approval education can satisfy the food impact, which was observed in both CPI-300 and the reference (Wellbutrin).
Insider ownership is 46.8%, of which the CEO and his wife hold 11 million shares, or 24.27% of the company. BluMont Capital holds 11.33% and Alpha North Asset Management holds 9.99%. The three parties, considering the CEO and his wife as one party, are betting a lot on this company. Why? Do they have good chance of getting approval? The stock looks very bullish with several buy signals.
Click to enlarge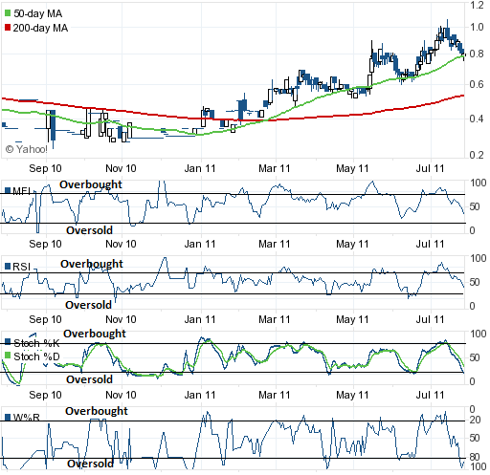 Jazz Pharmaceuticals, Inc. (NASDAQ:JAZZ): Up 365% for the year, analysts' target: $41.00
The $1.65 billion company beat analysts' estimates and reported a surprisingly bullish forecast Thursday after the bell. Shares surged 14.74% on Friday. The company has beaten estimates for four straight quarters. Revenues jumped 60% to $64.6 million, and earnings per share were $0.71 in the second quarter. The company expects between $247 million and $260 million in revenue and earnings per share between $2.68 and $2.79 for the year, better than analysts expected. Below are graphs of the past revenues and earnings.
Click to enlarge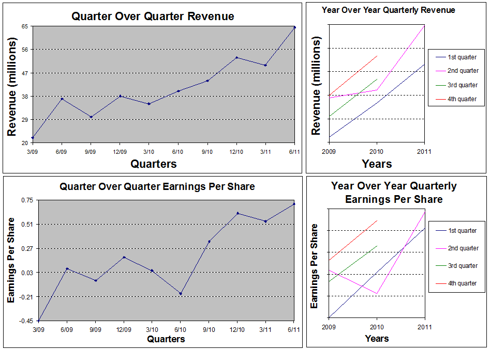 Both revenue and earnings graphs look bullish. Quarterly year over year revenue grew 1,390%. The company boosts a strong balance sheet, has a forward PE ratio of 9.39, and has a PEG of 0.86. A PEG below one is considered a good investment. Insider ownership is 27.18%. Though an immediate pullback to the $39 level is possible, it will likely go up over the long-term.
Approved Drugs
Xyrem (sodium oxybate) is used for treatment of narcolepsy to reduce too much daytime sleepiness and reduce cataplexy (weak or paralyzed muscles) attacks. The fastest growing narcolepsy drug on the market made up about 85% of total first quarter revenue. On July 14, an analyst said Xyrem revenue could nearly double as more patients start using it and the company raises price.
Luvox CR (fluvoxamine maleate) is used for the treatment of Obsessive Compulsive Disorder (OCD), an anxiety disorder in which the person has unwanted and repeated thoughts, feelings, ideas or obsessions that make them feel driven to do something. Sales rose 29% last quarter to $7.1 million.
Pipeline
JZP-6, a treatment for fibromyalgia, had clinical trials discontinued after it failed to get FDA approval. JZP-8 treats recurrent acute repetitive seizures. The company is also creating a solid oral dosage form of sodium oxybate. However, both are very early stage drugs and years away from approval. In the meantime, Xyrem and Luvox CR should easily drive the company's growth.
Click to enlarge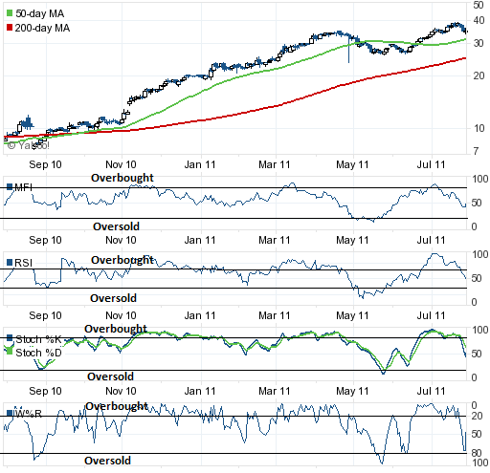 Questcor Pharmaceuticals, Inc. (QCOR): Up 178% for the year, analysts' target: $32.40
The $1.93 billion company manufactures H.P. Acthar, an injectable drug that is approved for the treatment of certain disorders with inflammation, including multiple sclerosis, infantile spasms, opsoclonus myoclonus syndrome and nephrotic syndrome. Acthar shipments rose 45% from the year-ago period as prescriptions for the drug doubled, driving the pharmaceutical company's record second quarter. Though the stock could provide a mild short-term pullback to the $29 level, it should perform well over the next six months and onward. Below are graphs of the past revenues and earnings.
Click to enlarge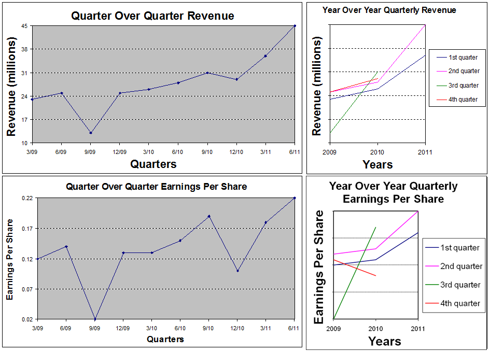 The revenue graph looks like revenue just started to breakout. Quarterly year over year revenue grew 40.30%. The company boosts a strong balance sheet, has a forward PE ratio of 24.64, and has a PEG of 1.15. A PEG above one is still considered a good investment. Insider ownership is 16.51%.
The only other product it has in its pipeline is Doral, a treatment for quazepam. It also treats insomnia characterized by difficulty in falling asleep, frequent nocturnal awakenings, and/or early morning awakenings.
Click to enlarge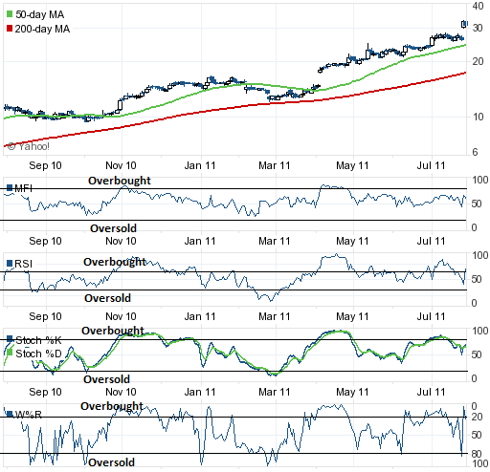 Disclosure: I have no positions in any stocks mentioned, and no plans to initiate any positions within the next 72 hours.