Telular (
WRLS
) released its third fiscal year quarterly results on Thursday, July 28. The report was positive despite an expected decline in the Telguard subscriber base. Management increased cash guidance for fiscal year 2011 net income before non-cash items from $8.5-9.5 million to $9.0-9.5 million.
Telular's main business focus consists of the following segments:
Telguard: Provides primary and backup alarm communication solutions for residential, VoIP, small business, financial, commercial and fire system markets. These products transmit full data from virtually all security and fire systems to central stations using the cellular network.
TankLink: Tank monitoring products offers solutions for M2M communications. Tank monitoring and automatic replenishment solutions help address the inventory management needs in the petroleum logistics, bulk chemicals and bio fuels industries.
Telular acquired SmarTank in January, adding to TankLink's recurring revenue and operating cash flow margins. Financial details concerning the acquisition were discussed in this
article.
Telguard accounts for the bulk of Telular's revenue. Telguard service revenue continues to grow sequentially, but has slowed due to a decrease in the subscriber base.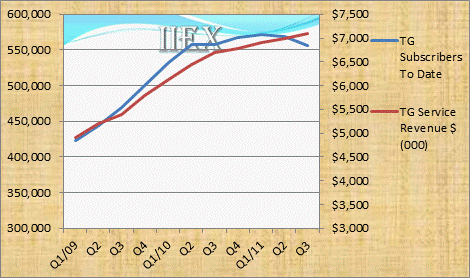 Why the decrease in subscribers? One of Telular's largest customers (probably ADT) terminated 29,000 subscribers in the quarter. Revenues and ARPU (average recurring revenue per unit month per subscriber) increased because margins attributed to this customer are much lower than newer activations. The large customer enjoys the benefits of volume discounts. When asked about the size of this customer management had this to say in the May
conference call

:
Cary Kelly with Conquest Capital: Just kind of a follow up to the last gentleman's line of questioning; on the reconciliation project with the large customer, can you tell us what the total number of your currents accounts that customer has? I know we've got 29,000 that are expected to deactivate in this next quarter but how many accounts does that leave after that?

Joe Beatty: Yes. We're not going to disclose that number. That gets a little too close competitively and probably more than that customer would care for us to reveal. But they remain a substantial customer, both in our current base and in addition they continue to buy products from us and so they're definitely a very major customer but I'm not going to get specific about the number in the base.
Management expects another 25,000 disconnects from this customer. In a conference call last July (2010), the CFO noted ARPU from the large dealer was "about two bucks a month, and anything new going in is substantially higher." So in light of the above and information from past 10-Q filings, we ran a few numbers in an effort to approximate the number of subscribers this customer contributes to the total, along with approximate margins for each group. You can follow all the mathematical gyrations
here
or just view the subscriber and margin results below.
| | | | |
| --- | --- | --- | --- |
| | Large customer Subscribers approximation | Higher Margin subscribers | |
| | | | |
| | | | |
| | | | |
It's a substantial customer but margins are much lower than with new customers.
This is the reason service revenues are going up as the subscriber base has moved down. If Telular continues replacing low margin customers with higher margin customers, the potential revenue increase is substantial, increasing ARPU above the current $4.20. The risk is Telular must keep pace with any large customer disconnects. This should not be a problem since one high margin account replaces several low margin accounts. Hopefully these disconnects will end after this quarter.
Telguard ARPU increased to $4.20, a sequential increase of $0.12 due to the margin mix discussed above. The average product unit cost was $139. Telular sold 24,300 Telguard units and added 22,400 new Telguard activations, bringing the total subscriber base to approximately 556,300 down from 568,600.
Management believes there are another 25,000 accounts that may be terminated. We expect the subscriber base could drop up to two percent while service revenues remain flat, given the high number of expected terminations. The reason given for the terminations is the large customer is cleaning up its inactive accounts. On a positive note, this customer continues to add new accounts while terminating past accounts that are no longer active.
Management reconfirmed guidance for churn to be in a range of 8-10 percent. The industry average is 12-15% and Telular could trend toward this range as the subscriber base grows. Below is a graphic view of our longer term subscriber projection.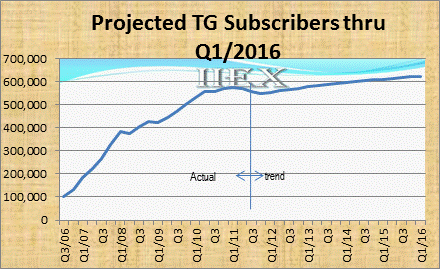 Meanwhile, at TankLink, recurring revenues increased sequentially from $789,000 to $898,000, an increase of 14% for the quarter. Telular sold 1,500 tank monitoring units, increasing billable tanks from 19,900 to 21,200, an increase of 6% for the quarter. ARPU jumped from $12.45 to $13.78 per month. The last 10 quarters are shown below, followed by our longer term subscriber projection: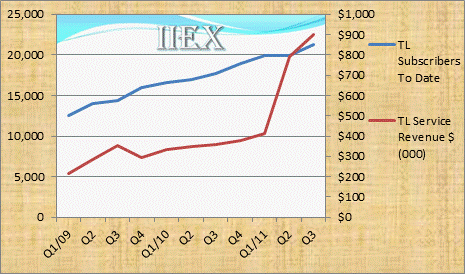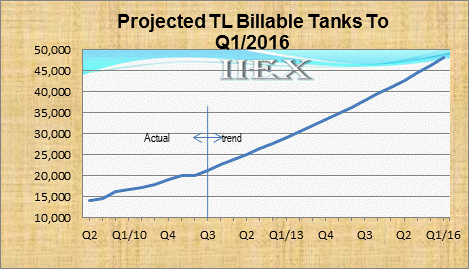 Cash and Dividends
Telular raised the low end of its fiscal year 2011 cash projection, as defined by management as net income before non-cash items to $9.0-9.5 million. Below is a graphic view of our longer term projection.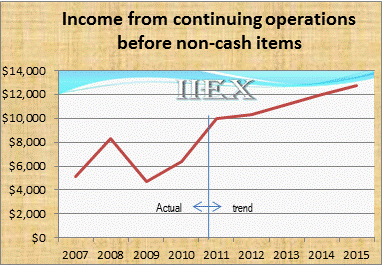 Telular's declared a quarterly dividend of $0.10 ($0.40 per year). The total payout next year is about $6.1 million or a payout ratio of 66% based on this year's cash projection and a current yield of 6.3%. The company has no long term debt. The dividend is safe given the current and projected cash shown above.
The stock remains attractive for the following reasons:
Fiscal year 2011 net income before non-cash items increased to $9.0-9.5 million.
Dividend of $0.40 per share yielding 6.3% at the time of writing.
The dividend commitment implies high confidence by management going forward.
Sustained growth going forward. Service gross margins exceed 68%.
Pristine balance sheet, no debt and growing cash flow generation.
Terminations by a large customer are a concern. If there are other reasons besides "scrubbing inactive accounts," then terminations will continue and could have an adverse effect if management cannot replace them with new high margin subscribers.
A complete set of updated detailed financial data and projections reflected in this article is found
here.
Disclosure:
I am long
WRLS
.