A stock that has received recent attention on Wall Street is Zoll Medical (NASDAQ:ZOLL), which designs, manufactures and markets an integrated line of proprietary, noninvasive cardiac resuscitation devices, external pacemaker/defibrillators, disposable electrodes, mobile ECG Systems, and EMS data management solutions. Zoll has products that are increasingly popular with both EMTs and emergency rooms across the US. Europe and Asia are beginning to buy their products, so growth in sales looks secure.
The recent price momentum has been a result of upgrades in the projections for sales and earnings.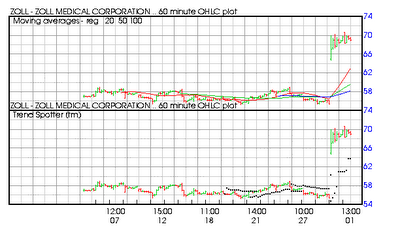 Barchart technical indicators of recent price momentum:
100% Barchart technical buy signals
Trend Spotter buy signals
Above it's 20, 50 and 100 day moving averages
4 new highs and up 20.06% in the last month
Relative Strength Index is 74.72% and rising
Trades around 69.00 which is above its 50 day moving average of 57.45
Barchart calculates a 61.99 support level
Fundamental factors to consider:
Wall Street brokerage analysts have recently discovered this S&P 600 stock and released 6 strong buy, 1 buy and 1 hold recommendations to their clients based on double digit projections for sales and earnings increases
Sales are projected to increase by 14.20% this year and another 15.30% next year
Earnings are forecast to increase by 46.00% this year, 37.00% next year and continue to increase by 32.50% annually for the next 5 years
Summary: Whether you like large or small cap stocks, your portfolio should prosper if it contains stocks having double digit projections for sales and earnings increases. Good products, aggressive sales and earning forecasts, recent interest by both professional and individual investors means that this stock deserves a place on your watch lists.
Disclosure:
I have no positions in any stocks mentioned, and no plans to initiate any positions within the next 72 hours.