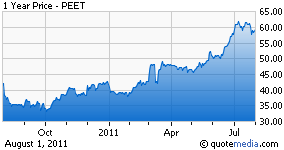 Peet's Coffee & Tea Inc. (NASDAQ:PEET), one of the world's leading specialty coffee roaster and marketer of fresh roasted whole bean coffee, is scheduled to report its second-quarter 2011 financial results on Tuesday, August 2, 2011.
The current Zacks Consensus Estimate for the quarter is pegged at 32 cents a share. The Zacks Consensus Estimate projects revenues for the quarter to be $88 million.
First Quarter 2011 Recaps
Peet's, which faces stiff competition from Green Mountain Coffee Roasters Inc. (GMCR) and Starbucks Corporation (SBUX), posted robust results for the first quarter of 2011 as earnings went up 58% year over year to 41 cents per share.
Earnings also surpassed the Zacks Consensus Estimate of 34 cents per share by 20.58%. Earnings were primarily impacted by strong performance of the grocery business, reporting 22% year-over-year growth, as well as good sales growth in all segments.
Net sales climbed 9.0% to $88,472.0 million in the quarter from $81,196.0 million in prior-year quarter, demonstrating strong growth in the specialty segment. The number of stores remained flat compared to the previous year at 193.
Management Guidance
The company lowered the fiscal 2011 earnings per diluted share by 10 cents to the range of $1.43 to $1.50. Further, management reaffirms full-year total net revenue growth in the 8% to 10% range. The current Zacks Consensus Estimate for fiscal 2011 is $1.46.
Second-Quarter 2011 Zacks Consensus
Earnings estimates for the second quarter of 2011, as provided by the analysts, range from 30 cents to 34 cents. Thus, the current Zacks Consensus Estimate for the quarter is pegged at 32 cents per share, reflecting a year-over-year increase of 10.3%.
Over the past 30 days, none of the analysts revised the earnings estimate keeping the Zacks Consensus Estimate unchanged. However, the estimate declined by 6 pennies over the last 90 days.
Earnings History Outpaces Zacks
With respect to earnings surprises, Peet's has topped the Zacks Consensus Estimate in all the preceding four quarters. Over the last four quarters the earnings surprise ranged from a positive 0.00% to a positive of 20.59%, with the average earnings surprise being 14.72%, suggesting that Peet's has outperformed the Zacks Consensus Estimate.
Recommendation
Peet's Coffee & Tea is a growing company. The company's high quality standard and its variety are maintained by its vertically integrated business model. However, the highly competitive nature of specialty coffee category and the vulnerability of coffee prices to weather and damage by pestconcern us.
Currently, we prefer to rate the stock as Neutral.