Apparently my June 8 article on IMAX Corporation (NYSE:IMAX) caused quite a stir. TV pundits and CEO Rich Gelfond himself blamed the stock's subsequent drop on my article. I suppose the attention is flattering, but I hardly think that a few thousand views of my article triggered enough of a selling frenzy to move the stock.
The company's quarterly earnings release on July 28th was, even in the CEO's words, disappointing. However, the reasons for the weak earnings stem from issues that I highlighted in a follow-up article on the company.
Readers might now be wondering: Is it time to short IMAX?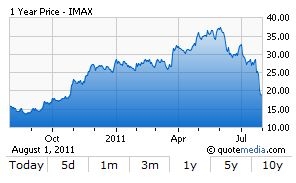 First, I want to make a few things clear. I love seeing movies in IMAX. I don't go often, because it's inconvenient to get to a real IMAX theater, I don't like the smaller versions of IMAX and it's expensive. However, when I go, I am always blown away because I choose movies that screen well in IMAX.
I also want to make it clear that if I ever make a big action movie, I hope Mr. Gelfond won't hold it against me and will still screen it in IMAX. Mr. Gelfond, as co-chairman and CEO, has done a great job with IMAX since 1999. IMAX went from a moribund specialty-film company to being embraced by Hollywood. It's not his fault that there are inherent flaws with IMAX as it presently exists. Of course, the company has already reinvented itself once. Perhaps it can do so again.
Finite Installations and Brand Dilution
Mr. Gelfond and his interviewer, Motley Fool gadfly Rick Aristotle Munarriz, responded intelligently and thoughtfully to my original article, although I think they missed the overarching point. IMAX is a great experience, as noted. I call it a fad not because it doesn't hold intrinsic value, but because I see it as just another tool to jack up revenues amidst severely declining admissions. The film industry has done this in the past -- things like CinemaScope were invented in response to television.
Now I don't deny that IMAX will generate some great revenue via installations, but the interview did not address my argument that there is a finite market for these installations. Mr. Munarriz insists that this "dismisses the potential of an exhibitor adding more than one IMAX projection system in any given multiplex". Oh, really? Existing theatre complexes are not going to take on the enormous expense of tearing down existing auditoriums to put in an IMAX theatre. It means giving up at least two smaller auditoriums to make room for a true IMAX screen, if not more. No way. The revenue from this one IMAX auditorium would have to significantly eclipse revenue from the other two over time to make it a value proposition. It isn't.
At best, only a few exhibitors are going to shell out millions to construct a new IMAX theatre on their own, assuming they have the real estate to do so. If IMAX pays for this construction, then it is doing so at great capital expense, hoping to recoup via rev-share/JV deals going forward. That's a dicey proposition.
That leaves brand new theatre complexes to be built with IMAX included. Yes, that will happen. Yes, that will generate revenue. But an infinite number of new theatre complexes cannot be built, and therefore the number is finite. Markets will be saturated. Just look at America. How often and how many new complexes are sprouting up? Not many.
And there is the "LieMax" issue. Mr. Munarriz also casually dismisses the "LieMax" argument, saying revenues from those theatres outperform "True IMAX". It's faulty logic to conclude that patrons don't care about the differences. If Mr. Munarriz's assertion is true (he didn't provide a source), perhaps it's because there are more LieMax than IMAX screens, that are easier to get to, and possibly cheaper on ticket price. Theatres have been retrofitting to LieMax, for certain, but Mr. Munarriz does not have support for his conclusion.
In addition, something fishy is afoot regarding these screens. According to the large-screen format trade magazine LF Examiner, IMAX and its exhibitors stopped reporting the number of LieMax screens in 2007, "despite repeated requests". There's also been an internal dust-up concerning IMAX and the Giant Screen Cinema Association. It feels like a degree of defensiveness concerning this issue. Why might that be? I submit that IMAX is well-aware of the difference and potential brand dilution between the two screens, and it would rather keep the issue under the radar rather than attract attention. Because the truth is that the LieMax experience is nothing compared to true IMAX.
It's All About Content
I argued before, and maintain, that IMAX has hitched its trailer to Hollywood, and cannot control the quality of content put on its screens. Q2's results prove this point. Piper Jaffray analyst James Marsh said,
The slate of movies for the back half of this year was disappointing. It's hard for investors to get aggressive when you don't have a good slate of films.
I've said that not every film is Avatar or Harry Potter. IMAX is literally held hostage by content it does not control.
According to Deadline Hollywood Daily, Mr. Gelfond stated that he is considering making a bigger bet on potential blockbusters by reducing the number of films IMAX shows each year -- "less films with longer lead times". So what happens if IMAX books these blockbusters and they either turn out to be duds, or don't perform strongly over their entire booking period? And, as I've stated in my previous article, it is impossible to predict box-office performance. Investors betting on projected revenue in a given quarter are literally gambling. More to the point, blockbuster films generate most of their revenue in the first few weeks of release.
The longer lead time idea also bumps up against my argument that there are limited genres of films that play in an IMAX theatre, and even Mr. Gelfond admits (via Deadline Hollywood),
Our audience is more of a fanboy-driven audience than a family-driven audience, so we are going to make an adjustment.
To what? Bridesmaids doesn't play in IMAX. It's the big, loud action, animated, and sci-fi movies that play. IMAX is limited by genre, which limits the demographic that goes to its theatres; by the reduced disposable income in this demographic; by the fact that these genres are the most expensive to produce which means a limited annual supply; by a long-term trend of falling admissions; and by facing headwinds in the secular move away from movie theatre entertainment to home entertainment. In addition, I believe that IMAX is economically sensitive, particularly considering its primary demographic.
Even if I am wrong about people eventually wearing out on the novelty of IMAX, all the factors above will limit what IMAX can achieve, short of renegotiating higher JV rev-share with the exhibitors. Good luck with that.
How Is This Actionable?
So what's the play here? I told people to watch out for things like declining cash flow, and IMAX had three consecutive quarters of declining cash flow from operations. This quarter it had $800,000 in negative cash flow.
In the short-term, expect more volatility. The stock is now off almost 50% from its recent highs. Speculative traders may find a reason to buy in for a swing-trade. However, the stock's chart is broken. The price cut right through the 200 EMA, but there is support at the 200 week EMA and 50 month EMA at $16. If value investors jump in, there's certainly room for the stock to recover 30-40% from here.
In the intermediate-term, there's no telling what could happen. Investors with this time horizon should stay put - they need to wait to see what the next few quarters bring.
Long-term investors have two choices. Those who think that my thesis is garbage have a great opportunity to jump in at these prices. Those who think that IMAX is a short may choose to be aggressive and open up a small short position. Sometimes a quarterly report like this is the clarion call for the beginning of the end. Or it may not be. I personally would wait for further developments.
Disclosure: I have no positions in any stocks mentioned, and no plans to initiate any positions within the next 72 hours.