As expected, Congress and the administration agreed on a debt ceiling agreement over the weekend. It provides for $900B in spending cuts over 10 years, with another $1.5T of cuts and revenues to be recommended by a bipartisan committee (Simpson/Bowles all over again). Although this will not do much to address our massive deficit over the long term, it effectively kicks the can down the road for the time being.
The market looks vulnerable here. I think at best we will remain stuck in a trading range (S&P 1250 to 1350). Therefore, I will be looking to take new shorts in the market at some point in the next few days. One area I am looking at is stocks that have extreme valuations and are selling at least three times their five year projected PEG. Here are three stocks that fall under those criteria:
Volcano Corporation (NASDAQ:VOLC) - Volcano Corporation designs, develops, manufactures, and commercializes a suite of intravascular ultrasound (IVUS) and functional measurement (FM) products used in the diagnosis and treatment of vascular and structural heart disease. The company's IVUS products include disposable phased array and rotational IVUS imaging catheters; and virtual histology, IVUS tissue characterization, and ChromaFlo stent apposition analysis products. Its FM offerings comprise FM consoles, and disposable guided wires to measure the pressure and flow characteristics of blood around plaque.
Overview – Volcano Corporation looks severely overvalued for a variety of reasons and if we get a debt ceiling agreement rally I will be looking to short this stock in the $33 to $34 for myriad reasons.
Volcano is selling at the very top of its five year valuation range based on P/E, P/B, P/S and P/CF.

It has tried and failed twice to hold in the $33 to $34 range
(Click chart to enlarge)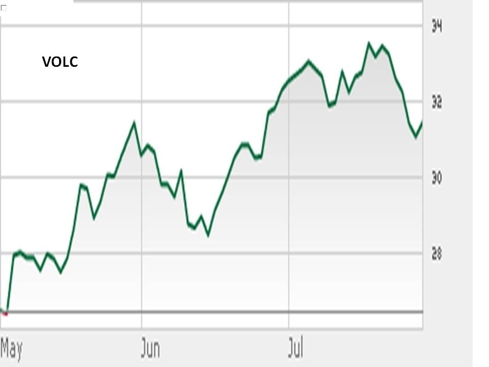 Volcano sells at a projected five year PEG of just under 6, over 5 times trailing revenues and over 150 times this year's expected earnings.

Finished goods inventory growth is worrisome.
Volcano generates 30% of its revenue from Japan which should continue to be hit by slow economic growth in the aftermath of the Tsunami.
Intrepid Potash (NYSE:IPI) – Intrepid Potash, Inc., together with its subsidiaries, engages in the production and marketing of muriate of potash or potassium chloride, and langbeinite under the Trio brand name primarily in the United States. It also offers by-products, including salt, magnesium chloride, and metal recovery salts.
Overview – Even though Intrepid has pulled back some 10% on concerns of slowing worldwide growth, it looks like it has further to fall for the following reasons:
Intrepid is selling at the bottom of its five year valuation range based on P/B and P/S.

Intrepid is selling at more than 3 times its five year projected PEG and 8 time trailing revenues.

Insiders have sold over 2mm shares in the last six months and its operating cash flow is actually less than it was in FY2008.

Intrepid has missed estimates two of the last four quarters and consensus estimates for 2011 have come down in the last three months.

Intrepid is highly vulnerable to a slowdown in demand from emerging markets like China.
Salesforce.com (NYSE:CRM) – Salesforce.com, Inc. provides customer and collaboration relationship management (CRM) services to various businesses and industries worldwide. It also offers a technology platform for customers and developers to build and run business applications. The company's Salesforce CRM services enable customers and subscribers to record, store, analyze, share, and act upon business data, and to help businesses manage customer accounts, track sales leads, evaluate marketing campaigns, and provide post-sales service. It markets sales force automation features of its application services under the Sales Cloud brand name; and customer service and support automation features under the Service Cloud brand name.
Overview – Salesforce.com is consistently held out as one of the overvalued equities in the market and has absolutely killed shorts over the last two years. However, I think the stock could be setting up for a nice short after it sees the usual 8 to 10 point bump after its earnings conference call.
It is selling at the very top of its five year valuation range based on price to cash flow and trades for more than 4 times its five year expected PEG.

Technically the stock looks tired. Salesforce.com has tried and failed to hold the $150 to $160 four times in the last three months
This company seems to be run for the insiders not the shareholders. Earnings for 2011 are projected to just be slightly ahead of 2010. However, shares outstanding are scheduled to increase 13% in 2012 in order to provide an enhanced management compensation plan. Insiders have sold over $100mm in shares over the previous six months.

Salesforce.com sells for 11 trailing revenues, over 15 times book value and more than 40 times operating cash flow so it is expensive regardless of measure.
Disclosure: I have no positions in any stocks mentioned, but may initiate a short position in CRM, IPI, VOLC over the next 72 hours.