The ugly budget fight on Capitol Hill took a toll on the markets last week. While the broader indices took a steep 4% dive, it is important to note that we are in the 30th month of the current rally and within 5% of the rally highs set just three months ago. As an investor, it is imperative to keep a cool head, especially in such turbulent times, and keep scouting for new opportunities while keeping an eye on both the price movements and news flow. Our daily and weekly coverage analyzing the top movers for top buy and sell ideas is aimed at enabling you in that effort. You can access the rest of our daily, weekly and quarterly mover series on our author page. This article covers our analysis of the top movers in the technology sector last week.
The Technology SPDR (NYSEARCA:XLK) was down 3.4% last week. Of the approximately 950 stocks in the technology sector, forty-five stocks trading above $1 at closing on Friday, July 29th, went down more than 15% during the week and another five went up more than 15% during the week (see the table below). These fifty stocks were analyzed to determine if they would continue in the same direction, or if they would reverse their moves going forward. The following are the best buy and sell ideas based on that analysis.
Sell STEC Inc. (NASDAQ:STEC): STEC manufactures enterprise-class solid-state drives (SSDs) used in high-performance storage and server systems, based on dynamic random access memory (NASDAQ:DRAM), static random access memory (SRAM), and flash memory technologies. SSD is a disruptive, game-changing technology that is a substitute to traditional rotating magnetic hard disk drives (HDDs). SSDs are faster, generate less heat and use significantly less power than the HDDs. STEC's products are used in high performance computing, networking and communications, consumer electronics and industrial applications. Its shares fell 43.6% for the week, and they are down 42.4% YTD.
Its shares fell steeply by 30.1% on Friday when the company announced on Thursday after the market-close that in its second quarter ending June 30, it missed analyst earnings estimates by 1c, and more importantly it guided down the September quarter to $70-72 million in revenue and 8c-10c in earnings versus estimates of $96.4 million and 32c, mainly due to competitive challenges, both from other SAS SSD manufacturers as well from lower-cost, lower-performance SATA-based drives.
While the company believes that the next generation (Gen 4), even higher-performance ZeusIOPS SSDs (to be introduced in the second quarter of 2012) will help reverse some of these market-share losses as they incorporate lower-cost MLC flash media and are based on the ASIC design replacing more costly FPGAs, we would step to the sidelines for now. For one, it is unclear how severe its market share losses will be before the introduction of Gen 4 drives in the second quarter of 2012.
Moreover, its competitors may respond with even steeper price reductions of their lower-performance drives when the Gen 4 is introduced in 2012, and then with the company's fortunes depending on the success of Gen 4, one needs to also figure the substantial execution risk in commercializing Gen 4 over the next three quarters.
Further, with no other event on the horizon prior to the introduction of the Gen 4 drives in the mid-2012, any investment in STEC is probably dead money at best, so the upside is limited while there is still substantial downside risk tied to even further market share losses and execution risks.
Buy OCZ Technology Group (NASDAQ:OCZ): OCZ, like STEC, provides solid state drives (SSDs) used in high-performance storage and server systems. In addition, OCZ provides other high performance components for computing devices and systems, including thermal management solutions, AC/DC switching PSUs and computer gaming solutions. Its shares were down 20% during the week and are up 55.8% YTD. Its shares dropped last week in sympathy with the plunge in STEC shares, a fellow manufacturer of SSDs. However, there are a few important differences between the two companies, as it appears that OCZ maybe further ahead on both the technology curve and also in reducing costs.
OCZ trades at a forward 13 P/E, while earnings are projected to rise from 24c loss in 2010 to 20c profit in 2011 and then rise another 142% year-over-year to 58c in 2012. Analysts have a mean target of $13, with a high of $14.50, well above the current $8 price; and of the seven analysts that cover the company, six rate it at buy/strong buy and one rates it at hold. We would view the current correction in OCZ after the stellar May quarter report almost four weeks ago as an opportunity to buy into this growth story.
Buy Ancestry.com Inc. (NASDAQ:ACOM): ACOM provides family history information via ancestry.com allowing users to research their family histories, build their family trees, collaborate with other subscribers, upload their own records, and publish and share their stories with their families. The foundation of the company's service is a collection of billions of historical records. It has established relationships with national, state and local government archives, historical societies, religious institutions and private collectors of historical content worldwide. Its shares fell 17.5% during the week, and are up 25.7% YTD. The shares plunged 11.4% on Friday after the company reported in-line June quarter revenue and earnings, and guided revenues in-line for the next two quarters, based mainly on a less than stellar guidance on subscriber growth going forward for the remainder of the year.
ACOM trades at a current 45 P/E on a TTM basis and at a forward 22-23 P/E, while earnings are projected to grow at a compounded 40% rate from 76c in 2010 to $1.52 in 2012. The stock is up 150% from its lows after rising three-fold from its IPO in late 2009 to mid-2011, and is currently 25% from its all-time highs in the $45+ range. While subscriber growth was off a bit in the June quarter, the growth is still stellar year-over-year for the last six months, and the plunge last week did correct all of the gains made after the stellar March quarter report three months ago.
We believe that ACOM is still a great long-term growth story, and the current plunge should be viewed as another opportunity to ride this stock northward. However, current momentum is strongly to the downside and the valuation, although cheaper than it was just a week ago, is not compelling enough to be an attractive buy at these levels. We would wait until it dips into the $30-$32 range to make the initial buy, and then buy in stages to take advantage of any further weakness below $30. Wall Street analysts have a mean target of $45 for ACOM, with a high of $54, well above the current $34 price; and of the ten analysts that cover the stock seven have a strong buy and three rate it at buy.
Buy Alcatel-Lucent ADS (ALU): ALU, the telecommunications giant, is the result of a 2006 merger between France-based Alcatel and U.S.-based Lucent Technologies. It operates in over 130 countries worldwide, and is a leading provider of telecommunications equipment and services to fixed line, wireless, and internet service providers. It is also the world leader in ADSL1 equipment. ALU shares were down 22.0% last week and are up 36.8% YTD.
The company reported that in the June 2011 quarter, it swung to a profit of 5c, beating analyst estimates of 2c. Revenue, however, came in under at $5.67 billion versus the $5.73 billion estimate, and the company confirmed that it would meet its fiscal year targets. ALU trades at a forward 7-8 P/E, at the bottom of its historic range, and also at a steep discount when compared to most of its peers, including JDS Uniphase Corp. (JDSU) that trades at a forward 12 P/E, Tellabs Inc. (NASDAQ:TLAB) that trades at a forward 100+ P/E, Numerex Corp. (NASDAQ:NMRX) that trades at a forward 17 P/E, Cisco Systems Inc. (NASDAQ:CSCO) that trades at a forward 10 P/E, and others. The entire sector fell last week due to continuing concerns over the macro-economy and its impacts on enterprise spending as well cuts in government budgets and spending, and also concerns that network investment by telecom service providers may be slowing down.
We believe that while concerns over the economy and carrier spending may be valid, ALU maybe the best value in the sector, trading at a historically low P/E and at a steep discount to its peers, while executing a turnaround and projecting earnings rising from 10c loss in 2010 to 28c profit in 2011 and rising to 51c profit in 2012. The stock continues to trade at lows, down almost 80% from its 2004 high, and is currently in free fall along with the rest of the networking stocks.
As we indicated previously in our coverage of last Thursday's big losers, we would wait for ALU to bottom, and buy in stages so as to take advantage of any further weakness. The stock has firm support in the $3.50s, so the downside appears limited whereas the upside is high in the long-term as the company continues its turnaround, increasing revenues at a modest pace along with rapid earnings growth. It seems that analysts would agree with us, as they have a mean target of $7.26, with a high of $10, well above current $4.01 price; and of the 15 analysts that cover the company, nine rate it at buy/strong buy, four at hold, and one each rate it at underperform and sell.
Sell Juniper Networks Inc. (NYSE:JNPR): JNPR provides secure network infrastructure products and services that enable ISPs and telecommunications service providers to deploy services and applications, and meet the demands resulting from the rapid growth of the internet. The company offers next-generation internet backbone routers that offer service providers increased reliability, performance, scalability, interoperability and flexibility, and reduced complexity and cost compared to current alternatives. Its shares plunged 25.2% last week and are down 36.6% year-to-date (YTD).
We reiterate our earlier sell on JNPR that we issued after market-close on Wednesday. After shedding almost $3.5 billion from its market-cap, JNPR shares may look attractive at first glance, but don't be fooled. The company faces a litany of problems, nay a perfect firestorm or a tsunami: (1) it missed both revenue and earnings estimates in the June quarter and guided lower on both revenue and earnings for the September quarter, (2) it faces a slower and highly uncertain IT spending environment as businesses are delaying spending due to the uncertain macro-economic outlook, (3) U.S. government agencies are cutting budgets, including for IT spending, (4) Japan is still reeling from the aftermath of the March earthquake and tsunami, (5) competition is intensifying from industry stalwarts such as Cisco Systems Inc. (CSCO) and Hewlett-Packard Co. (NYSE:HPQ), and (6) telecom service companies such as AT&T Inc. (NYSE:T) and Verizon Communications (NYSE:VZ) are expected to spend less on capital spending in the second half than they usually do.
JNPR shares meanwhile are trading at a trailing-twelve-month (NYSE:TTM) price-to-earnings ratio (P/E) of 18, well above its bottom P/E in the 13 range. Meanwhile, the company has guided that revenue growth will decelerate to single-digits, and earnings will be lower year-over-year as well as sequentially, for the September 2011 quarter. The company has a legion of strong believers due to its strong market and technology leadership in the networking space, so shares are likely at some point to rebound and try to close the gap from last Wednesday's trading at least half-way sometime in the next few weeks.
We would take advantage of such a rally and sell into it as we believe that the outlook for JNPR is negative to uncertain over the near-term until some of the above mentioned problems are resolved positively. Until then, we would expect the stock to continue its march down towards the teens.
Triquint Semiconductor (TQNT): TQNT manufactures a broad range of high-performance RF, analog and mixed-signal ICs that are incorporated into a variety of communications products, including cellular phones and pagers, fiber optic telecommunications equipment, satellite communications systems, high performance data networking products and aerospace applications. Its shares traded down 29.4% last week and are down 35.7% YTD.
TQNT shares took a beating the latter half of last week after the firm announced that in the June quarter, revenue came in below analyst estimates, and it guided down for the September quarter to $225-$235 million in revenue and 16c-18c in earnings versus analyst estimates of $262.5 million and 25c. The company has blamed weak guidance on the weak economy and its decision to turn its focus from 2G chips to 3G and 4G chips, but many analysts have cited a weak competitive market, including market share intrusions from RF Micro Devices Inc. (RFMD) and Avago Technologies Ltd. (NASDAQ:AVGO), may have also played a role in the weak guidance which has much wider company-specific implications.
However, shares have dropped significantly, down over 50% from $15+ earlier this year. At the closing price of $7.32 on Monday, the stock trades at a forward 9-10 P/E, in the bottom one-third of its historic P/E range, and it has strong support in the $6.50 to $7 range. We would be neither buyers nor sellers here, as shares are most likely to remain range-bound between $6 and $9 in the short-term.
Sell Akamai Technologies Inc. (NASDAQ:AKAM): AKAM is a global provider of services that help enterprises and e-businesses improve the delivery of its content and applications over the internet. Its services include dynamic content and application delivery, application performance technologies, traffic management, and online storage and load balancing. It offers content delivery network (CDN) services and streaming media services in addition to private content delivery. Its solutions enable its customers to operate web transactions anywhere, anytime with cost-effective outsourced infrastructure, and to carry out predictable, scalable, and secure e-business at low costs. Its shares were down 20.3% last week and are down 48.5% YTD.
AKAM shares took a dive on Thursday in response to a disappointing June quarter report, in which the company missed revenue and earnings estimates, and guided down September revenue and earnings to $273-$283 million and 31c-34c versus consensus analyst estimates of $288.7 million and 38c. At issue is its leadership and pricing in the CDN market in light of stiff competition from Level 3 Communication (NASDAQ:LVLT) and Limelight Networks Inc. (NASDAQ:LLNW).
AKAM trades at a forward 13 P/E, in the bottom one-third of its historic P/E range, while earnings are projected to increase at 15% compounded growth rate from $1.43 in 2010 to $1.78 in 2012. We continue to believe that AKAM shares are fairly priced at its closing price of $23.84 on Thursday, and in the light of the just announced disappointing June quarter and September outlook and a general slowing down of revenue and earnings growth, the bias is for AKAM to trade flat to down in the short-term. We would sell out of this stock and look for opportunities elsewhere.
Buy Motricity Inc. (MOTR): MOTR is a provider of mobile data solutions enabling wireless carriers to deliver mobile content and applications to its subscribers and consumers. The company provides a suite of hosted, managed service offerings which enable wireless carriers and enterprises to deliver customized, carrier-branded mobile data services. Its mCore platform delivers a complete solution, including portal, marketplace, connect, search, managed web, mobile campaign management, messaging, billing and settlement. Its shares were down 18% last week and are down 68% YTD.
MOTR trades at a forward P/E of 7, while earnings are projected to increase from the reported 39c in 2010 to a projected 62c in 2011 and 98c in 2012; revenues are projected to rise at 30% clip during the same period. This makes the stock very cheap on a PEG (price/earnings over growth) basis. Meanwhile, the stock has corrected 78% from the $31.95 all-time high set last November, and is back down just below its IPO price last June. Shares have fallen off sharply despite the company reporting 18% revenue growth in 2010 over the prior year and earnings at 39c over the 3c loss the prior year. This is because the company short-fell analyst expectations of stellar growth that were built into the four-fold rally from $7-8 to $32 between September and December 2010.
We continue to believe that MOTR shares now trade at a very attractive valuation and that it is still a solid long-term growth story, making this an attractive buy on a GARP (growth-at-a-reasonable-price) basis. Analysts are also very bullish on the stock, putting a mean price target of $19, with a high of $31, well above the current $7 price; and of the eight analysts covering the company, five rate it a buy/strong buy and three rate it at hold.
STMicroelectronics (NYSE:STM): STM is a Swiss manufacturer of a broad range of ICs and discrete devices used in a wide variety of microelectronic applications, including telecommunications systems, computer systems, consumer products, automotive products and industrial automation and control systems. Guru funds hold only $6 million of stock in this $7 billion company, with all of it bought in the March quarter. STM trades at a forward 8-9 P/E, while earnings are projected to grow at 10% compounded growth rate from 74c in 2010 to 89c in 2012.
Analysts are bullish on the company and have a mean price target is $11, well above the current $8 price; and of the thirteen analysts that currently cover the company, five rate it buy/strong buy, six at hold, and two at underperform/sell.
Table (click to enlarge):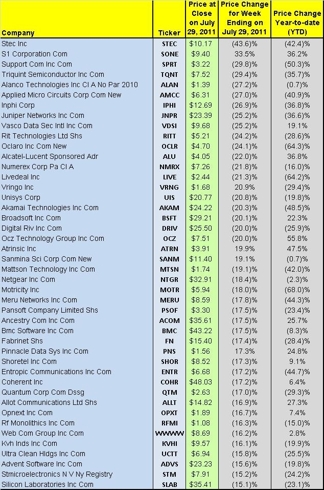 Credit: Historical fundamentals including operating metrics and stock ownership information were derived using SEC filings data, I-Metrix® by Edgar Online®, Zacks Investment Research, Thomson Reuters and Briefing.com. The information and data is believed to be accurate, but no guarantees or representations are made.
Disclosure: I have no positions in any stocks mentioned, and no plans to initiate any positions within the next 72 hours.
Disclaimer: Material presented here is for informational purposes only. Nothing in this article should be taken as a solicitation to purchase or sell securities. Before buying or selling any stock you should do your own research and reach your own conclusion. Further, these are our 'opinions' and we may be wrong. We may have positions in securities mentioned in this article. You should take this into consideration before acting on any advice given in this article. If this makes you uncomfortable, then do not listen to our thoughts and opinions. The contents of this article do not take into consideration your individual investment objectives so consult with your own financial adviser before making an investment decision. Investing includes certain risks including loss of principal.