I believe that on May 5, at the price of $33, silver started the re-accumulation phase it is now in. The silver market consolidated between $33 and $40, and I believe it will now be embarking on its next leg up -- perhaps with a few more pullbacks along the way this time than in the run up to $50. Instead of going parabolic, I think we'll take the measured approach up this time as well. The bubble is over -- but the bull market is beginning.

But with so much money/debt still being created (for example in government markets such as the debt ceiling discussions in the United States) the chances of bubbles continuing to form gets greater and greater. This is pushing us to the conclusion of re-introducing gold into the global monetary system to bring a restorative, rebalancing effect and cure the debt crisis. And so, I'm on the lookout for what might be the next bubble.

I believe it could be the Swiss Franc. The chart below shows FXF (Swiss Franc ETF) against gold and silver since silver started its re-accumulation phase at $33 on May 5. Note how FXF has just passed SLV in terms of returns since then.
Click to enlarge: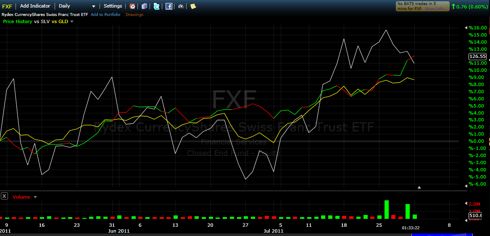 Click to enlarge

The rally and corresponding collapse of silver stemmed from leverage -- or silver purchased with credit. The credit markets tightened and demand for silver, particularly from speculators, collapsed. But with global credit markets still so abundant through the force of global monetary policy, the speculative capital kicked out of silver could find its way to another market -- namely the Swiss Franc. This framework offers us a hypothesis to see how global capital flows are at the moment.

Price action is the most critical factor in letting us know whether we are in a bubble or not. The USDCHF exchange rate is currently at the bottom of a price channel; a break below this channel could set the stage for a parabolic move into a bubble. Conversely, a pull back to the upper trendline of this bearish price channel could be a healthy consolidation of price action, to be followed by the next leg down as the global sovereign debt crisis continues (until restoration via gold occurs --- until the new world order is created).
Click to enlarge: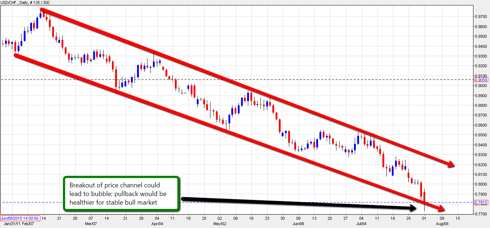 Click to enlarge



Disclosure: I have no positions in any stocks mentioned, and no plans to initiate any positions within the next 72 hours.