The perceived impending bookstores' disappearance may still be remote.
The publishing world has not experienced such shock since Gutenberg's day in the 15th century. PDF files are upending paper books like paper books replaced manuscript vellum scrolls back then.
Are physical books going to be wiped out by the virtual form in today's digital world? This is a metaphysical as well as a multi-billion dollar question.
It is obvious that online book sales and e-books have dealt double bouts to brick and mortar bookstores. However, to pronounce that the bookstore industry is dead is premature. Consumers' habits are hard to change over a short period. People still want to purchase books at neighborhood bookstores for a variety of reasons. For the generations that grow up with e-books and PDF files, that may be a different story, but it is a SLOW process that takes at least a couple of decades. As evidence, Barnes and Noble's (NYSE:BKS) has maintained relatively stable sales and gross margin:
| | | | |
| --- | --- | --- | --- |
| B&N Retail | FY09 | FY10 | FY11 |
| Sales (in $million) | 4,652 | 4,401 | 4,364 |
| Gross Margin | 31.8% | 32.5% | 30.6% |
Even the vanishing Borders didn't see the sales plummet. It was the debt load that crumbled it.
People tend to underestimate the stickiness of consumer habit, and tend to over-project changes brought by new technologies.
Every industry sooner or later has to face the inevitable: disruptive technologies that render the existing companies' establishment helplessly outdated and unprofitable. Even so, it doesn't mean that the "disrupted" industry has to go out of business. There are always ways to adapt. Just like cinemas don't disappear with the proliferation of video rental stores or Netflix (NASDAQ:NFLX) of late, there will always be a market for bookstores, and bookstores certainly can adapt itself into something else in their product and service offerings.
Usually the best investment opportunities arise when incredible pessimism permeates the industry, better still if a major company in the industry has actually gone out of business. The reason why is manifold as Warran Buffett pointed out in the past.
Financials and business of BAMM:
BAMM has about 231 bookstores in 23 states and in the District of Columbia. Most are in shopping malls and high foot traffic shopping strips.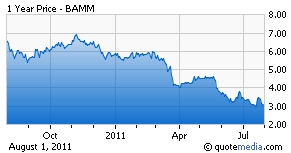 BAMM has a mere market cap of $50 million. No one seems to pay any attention to it. In its latest earnings conference call, no one bothered to ask any questions. I question whether there was any audience due to its tiny market cap and lack of institutional support (a good sign for value investors).
The net tangible book value is approximately $110 million. Its tangible assets include $200 million inventory and $50 million property and equipment. Although the market cap has more than 50% discount over the tangible book value, the tangible book value does not have robustness in reality. We all know that, in retailer liquidation, the entire inventory may be sold at deep discount, and all the store improvements would be a sunken cost. Nonetheless, the low market cap still indicates an attractive valuation even though we cannot use it directly as the true liquidation value.
BAMM had about $20 million as a short-term loan balance from its revolving credit facility. It was used to fund its working capital needs because of its low cash position and dismal sales in 1Q11. Other than that, the company does not carry debt. BAMM usually can prevent this short-term borrowing from showing up at the close of the book at each quarter, but could not last quarter. It demonstrates the thirst for cash last quarter (cash on hand was a mere $4 million). On the other hand, unlike Borders which routinely financed its expansion and working capital from the publishers, it seems BAMM has a conservative financial practice by managing its expansion/debt load carefully. The 10-Q blamed bad weather for the underperformance of 1Q11. I noticed that BAMM is not alone among retailers in the south to report the weather factor. It could be a transient factor, which should be clear from the upcoming earnings of 2Q11.
| | | | | | |
| --- | --- | --- | --- | --- | --- |
| BAMM | 2011 | 2010 | 2009 | 2008 | 2007 |
| Sales ($mil) | 494 | 508 | 515 | 536 | 520 |
| Gross margin | 29.9% | 29.9% | 29.8% | | |
| Net income ($mil) | 8.9 | 13.8 | 10.6 | 16.5 | 19.8 |
| Stores | 231 | 223 | 220 | 208 | 206 |
| Per store sales ($mil) | 2.14 | 2.28 | 2.34 | 2.58 | 2.52 |
| | | | | | |
If we divide the market cap of BAMM by the total number of stores it operates (231), then it equates to $220K per store. Each bookstore has average sales $2.1 million and operating cash flow of $130K. From a valuation standpoint, I'd argue that it is pretty attractive. These are all past numbers and may face significant uncertainty in the future.
In the past three years, the free cash flow has averaged $17 million. Based on that measure, the market price is only three times historic FCF.
One thing I like about the management is the cleanness of the company's financials: no convertibles, no new stock offerings in the past three years, no questionable assets, and no outsized stock option reward. This management seems to be straightforward.
Catalyst
If there is any catalyst, then it is the bankruptcy filing of Borders and the recent liquidation. Reportedly, BAMM is acquiring 30 Borders stores across the country at liquidation. This will make Book-A-Million a #2 national book chain store right after Barnes and Noble. A #2 chain store in the nation for $50 million total market cap? That sounds enticing.
Although the details have yet to emerge, BAMM has likely obtained a bargain from the liquidation of Borders. The book value of inventory of Borders is about $370 million. Assuming BAMM got a good deal on its 30-store purchase, then the inventory may cost BAMM about $12 million (assuming a 40% discount) and the store equipment and lease may be worth $3 million. So the final consideration may be in the ballpark of $15 million. Anything over this may be a sign of over payment. I would wait for the terms to be announced before I want to load another batch of BAMM stocks.
Since BAMM has a credit facility of up to $150 million, the consideration may be paid through this facility in lieu of any new security offering from the company.
The fact that BAMM is very selective in acquiring only 5% of the Borders stores underscores the conservatism of the management. (As of July 27, BAMM has announced that the deal fell through.)
I personally visited one Book-A-Million in Dallas area. The bookstore has an enormous selection of magazines occupying a 130-foot long wall, floor to ceiling. I have never seen so many magazines on display anywhere. The customers were sparse that Saturday. Big sales sign were visible on quite a few shelves. The takeaway: the bookstore is not a booming business. The cost of doing business in a mall alongside Macy's can be high. The bookstore needs new ideas to revive sales. Recently, it joined Barnes and Noble to sell e-Books on the Nook device. It is a positive sign of new thinking in the digital age. However, the actual sales of digital content accounted for only about 5% of total sales; worse, it was declining slightly year over year. The prospects are far from clear for this endeavor, but it is on the tail wind of Nook's capex and marketing.
There are many other ways to boost business.
- Personal/Business printing and book binding;
- Selling more children's books;
- Selling other merchandise: The company already had a steadily increasing percentage (now stood at 22%) of revenues from stuffs other than books;
- Getting more concessions from publishers since their distribution channel is shrinking;
- As a media outlet, actually a bookstore has a lot of power in influencing public opinions. In the past, that power was never leveraged. Future visionary bookstore operators may use this platform to wield influence.
After all, so many great things have happened in bookstores in history. This should be the most intelligent place in a mall.
Conclusion
BAMM is a classic value play: compelling valuation, low risk of going out of business, pervasive pessimism, and desertion by almost everyone.
The risk, however, is still there - namely, cash flow health. BAMM had to rely on borrowing to finance its working capital. If the company can maintain a cash flow as it had in the past, then there is hope that the business will come back to its feet eventually. As that happens, I would like to see BAMM's price coming back to teens.
As a #2 national chain bookstore, BAMM is now entering a new stage. There is still ample time and ample opportunities for it find a reason to stay in business.
It is an irony that in the movie "You've Got Mail," the independent bookstore owned by Frank was forced to close because of the "big book chain store" invaded his little town back in the '90s; now it is the chain store's turn to feel the pain. The world is always changing. There is always a next chapter (which may sometimes be chapter 11).
Disclosure: I am long BAMM.