Regal Entertainment

On July 28, Regal Entertainment Group (NYSE:RGC) reported second quarter 2011 earnings of $0.24 per share handily beating the consensus estimate of $0.19 per share.
On the earnings call Regal's CEO Amy Miles attributed the strong quarter to three main factors:
a healthy second quarter box office;

continued success of premium format films; and

cost structure management.
While some might argue that premium (3D) format films are underperforming given the 40-50% of movie patrons opting for 3D versus 60-70+% last year, the impact of this is more acute for Real D (RDL) while the movie exhibitors benefit from getting patrons in the theatres, be it 3D or 2D.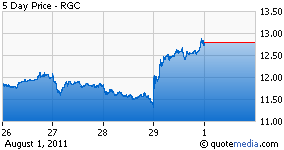 Impressively, Regal generated more than $130 million of free cash flow during the quarter, the second highest quarterly cash flow generation in the last four years.
The stock increased almost 13% on the earnings announcement after having traded down the two trading deals leading into earnings.
At $12.80 per share Regal has a market capitalization of $2.0 billion and an enterprise value of $3.8 billion. Even after the positive stock reaction Regal is trading at only 7.2x trailing EBITDA. With free cash generation of almost $260mm over the past four quarter RGC has a free cash flow yield of almost 13% and, with a quarterly dividend of $0.21 per share, has a dividend yield of 6.6%.
Further, box office receipts in the third quarter have started strong. Box office grosses for the top 12 films over the weekend of July 29-30 were up 25% versus the same weekend last year and through July 28, North American box office revenue for July was up approximately 4% versus 2010. With an emphasis on variable cost containment, increasing box office receipts, a strong movie slate over the balance of the year (see my previous article on the movie exhibition industry), a 6+% dividend yield, strong free cash flow generation, and high short interest that will need to cover as the company continues to perform, Regal is poised to outperform the market.
Carmike Cinemas

Carmike Cinemas (NASDAQ:CKEC) will also benefit from the same dynamics. While Carmike does not pay a dividend, it also generates strong free cash flow, w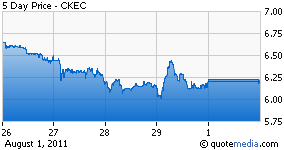 hich is it using to pay down debt. This will lead to a larger component of the value accruing to equity and, once it reaches its leverage target, it can consider returning capital to shareholders. Carmike announces earnings on August 8, and given that it trades at a low EBITDA multiple versus the other movie exhibitors, strong earnings could lead to significant share price appreciation. For more specifics on Carmike see my prior article.