As the market slices up and down, many investors are eyeing income stocks and deep value stocks in an attempt to find a measure of safety, or at least reduced volatility. Some common approaches include looking for stocks with low price-to-sales ratios while simultaneously having high earnings growth and high relative price strength. Here are a few stocks that could soften the potential impact of choppy markets. Interestingly enough, three of the picks came up in the oil and gas industries.
CVR Energy (NYSE:CVI) does not appear to be good value when you consider the price to book value that tripled what it was one year ago. However, if you consider the low price to sales – despite the multiple more than doubling over the last year – this still has good relative value at 0.54 when compared to the market (below 1 is often considered the good value multiple). Earnings have been strong and upgraded over the past couple of months. Still, with an earnings announcement due on August 3, I'd strongly recommend waiting for that announcement first. The downside to waiting? You could miss out on a positive earnings surprise but you still can ride the upwards drift on a value stock with high earnings growth and good price momentum. If you are trying to mitigate risk, I'd suggest giving this one a couple more days with the wait and see approach.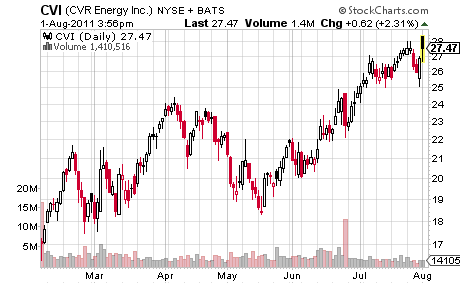 HollyFrontier (NYSE:HFC) is another oil play with price-to-sales at 0.46. Shorting has increased and it now sits somewhere around 12%. The forward P/E ratio is under 9, which is less than half of the trailing P/E. Earnings growth is up and is expected to sit around 25% for the next five years. This gives a low PEG ratio of 0.31. As long as the stock remains above the $75 resistance following the August 5 earnings announcement, I think it's a good buy.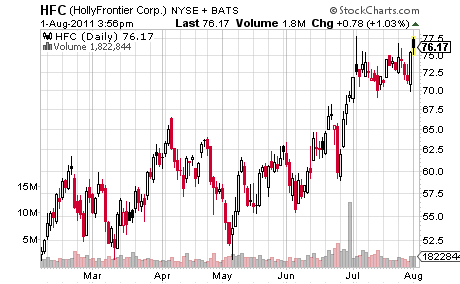 Western Refining (NYSE:WNR) has bolted from $15 in mid-June to over $21 today. It too is expected to announce earnings soon, on August 4. This stock has delivered three out of four negative earnings surprises. Investors hope that this will soon change as they expect 625% earnings growth to be reported this quarter and 2,900% for the year. These high numbers artificially reduce the PEG ratio, but by looking at the price-to-sales of 0.24 and a forward P/E of 7.5, this has some good value to it. Again, this is one that I'd wait to see what earnings has to say before jumping aboard for the next six months.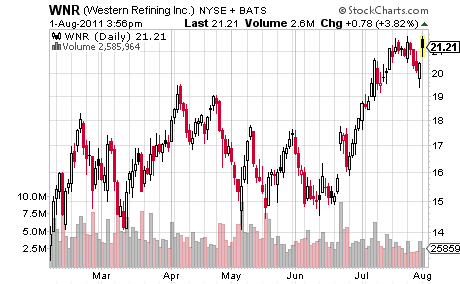 Playing P/S Value with Momentum Timing
Low price-to-sales stocks often outperform their peers in struggling markets. This is likely linked to the flight to value and speaks about the defensive nature that low price-to-sales stocks often reside in. My take on these type of stocks is to buy once earnings come out to lower some risk of negative earnings shock. Then ride it for a minimum three months (up to next earnings) and for no more than one year. As these stocks are factoring in momentum, you should not hang onto them for years at a time, as past winners often reverse following a few years of excess gains.
Disclosure: I have no positions in any stocks mentioned, and no plans to initiate any positions within the next 72 hours.