So much for the expected rally in the markets on Monday. After rocketing up in the first half hour more than 140 Dow points on a debt ceiling agreement, the market then plunged to a loss of 145 on the DJIA in the next few hours; before recovering and ending the day slightly down. The rally killers were a worse than expected ISM report and ongoing turmoil in the European debt markets. The DJIA is now on its longest losing streak in 13 months. The environment is getting increasingly volatile and it might be the time to look for bargains in the defensive sectors of the market. One of those sectors, Healthcare, looks like it has several stocks worth considering based on low valuations and solid growth prospects.
Mckesson Corporation (MCK)
- McKesson Corporation offers medicines, pharmaceutical supplies, and information and care management products and services for the healthcare industry. It operates through two segments, Distribution Solutions and Technology Solutions. The Distribution Solutions segment distributes ethical and proprietary drugs, medical-surgical supplies and equipment, and health and beauty care products in North America. This segment also provides specialty pharmaceutical solutions for biotech and pharmaceutical manufacturers; and sells financial, operational, and clinical solutions for retail, hospital, and long-term care pharmacies, as well as provides consulting, outsourcing, and other services.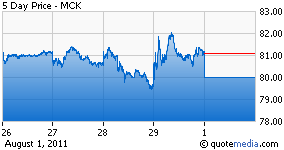 Overview and Price Targets – Mckesson has dropped approximately 8 percent from its highs in Mid May. It may be time to build a position in MCK for the following reasons:
It has easily beat earnings estimates each of the last three quarters and consensus estimates for 2011 and 2012 have been raised significantly over the past three months. MCK is selling at approximately 11.5 times 2012's projected EPS.

Mckesson is selling at a compelling valuation. MCK is going for less than 10 times operating cash flow, .2 times trailing revenue and a five year projected PEG of under 1.

Mckesson has a low beta of .76, an A- rated balance sheet and is projected by S&P to grow earnings by 13% annually over the next three years.

Mckesson revenue growth should benefit greatly by the expanding number of generic drugs coming to market and by the acquisition of US Oncology late last year.

At under $80 a share, it significantly under analysts' price targets. S&P has a price target of $100 on Mckesson. Credit Suisse is at $96 and Deutsche Bank has a price target of $102 on MCK.
Thermo Fisher Scientific (TMO)
- Thermo Fisher Scientific Inc. provides analytical instruments, equipment, reagents and consumables, software, and services for research, manufacture, analysis, discovery, and diagnostics. Its Analytical Technologies segment offers analytical instruments to analyze prepared samples, software interpretation tools, laboratory information management systems, and laboratory automation systems; environmental instruments and integrated systems for environmental monitoring, safety, and security applications; and process instruments, integrated systems, and measurement solutions. It also provides diagnostics products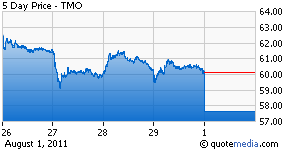 used in healthcare laboratories to prepare and analyze patient samples; and biosciences products comprising reagents and consumables used in life science research, drug discovery, and biopharmaceutical production.
Overview and Price Targets – TMO has given back more than 12 percent of its value since late May. At these levels, Thermo Fisher Scientific looks like a compelling buy:
TMO is selling at the bottom of its five-year valuation range based on P/E, P/S, P/B and P/CF.

Thermo Fisher has raised earnings approximately 16% annually over the past five years and sells for a five year projected PEG of 1. It also raised revenue over 24% on average during the same time period.

TMO has beat earnings estimates each of the last four quarters and consensus estimates have been revised up for both 2011 and 2012 over the last 3 months.

The acquisition of Phadia AB should add 26 to 30 cents a share to earnings in 2012. In addition, it is rapidly expanding in China, which is now its third largest market.

At under $58, price targets on TMO are much higher than its current stock price. S&P has a price target on $82 a share on Thermo Fisher. RW Baird is at $79 and Jefferies has a price target of $68 a share.
CVS Caremark (CVS)
- CVS Caremark Corporation operates as a pharmacy services company in the United States. The company's Pharmacy Services segment provides a range of pharmacy benefit management services, including mail order pharmacy services, specialty pharmacy services, plan design and administration, formulary management, and claims processing; and drug benefits to eligible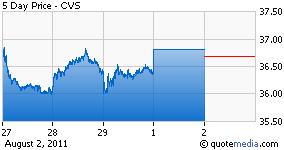 beneficiaries under the Federal Government's Medicare Part D program. This segment primarily serves employers, insurance companies, unions, government employee groups, managed care organizations and other sponsors of health benefit plans, and individuals. As of December 31, 2010, it operated 44 retail specialty pharmacy stores, 18 specialty mail order pharmacies, and 4 mail service pharmacies located in 25 states, Puerto Rico, and the District of Columbia.
Overview and Price Targets – CVS has numerous factors to recommend it:
CVS is selling in the bottom quarter of its five year valuation range based on P/E, P/S, P/B and P/CF.

CVS has raised earnings approximately 14% annually over the past five years and has a projected five year PEG of 1.2 and is priced at 50% of its trailing revenues.

Like Mckesson, CVS should benefit from the significant increase in generic drug offerings in 2012.

CVS sells for a little over 11 times operating cash flow and its strong stock buyback program should add 3-6% to EPS annually.

CVS is a steady grower that is priced under analysts' estimates at under $37 a share. Credit Suisse has a price target of $44 on CVS as does Barclays. JPM Morgan issued a buy recommendation Monday with a price target of $50 on CVS.