Sugar is extracted from sugarcane and sugar beet. Similar to corn, sugar is a seasonal commodity which is mainly affected by the weather, crop cycles, inventories and overall economical situation in the producing countries. Another factor that affects the global sugar prices is the demand from the biggest countries that traditionally consume sugar (like India).
Since January 2009, when benchmark prices for raw sugar – the ICE Futures US New York sugar contract – were about 12 cents/pound. From there, they rose to 30 cents/pound in early 2010 and slumped to 15 cents/pound in May 2010. At the beginning of 2011 the world sugar prices beat all records for the last 30 years. On February 2 the historic record of $0.3608 per pound of sugar was traded at commodity exchange ICE Futures US. They fell back to 20 cents/pound, but have been moving back up since April.
With such a volatile history, all eyes right now are on where sugar prices might be headed. This has not come as a surprise, as the reason for the price increases during the past three years was due to supply shortages, caused by various factors on the supply end, in the world market for sweet white. Right now, everything depends on Brazil's main sugar producing centre-south region. But, according to data from Unica, the Brazilian sugarcane association, the country is recording almost 25% lower levels of cane and sugar production compared to last year.
If this rate of decline continues through the 2011-2012 season the current, relatively small, global surplus of 7 million tonnes could become much tighter by the end of the 2012. However, the rise of the world's sugar prices is to be capped at 33-34 cents per pound as this would cause other world producers of sweet white to produce over their production obligations. Therefore, we expect spot Sugar price to face a decline from 34cents/pound (current spot 31cents/pound) at mid Q3 2011, to 21-23cents/pound by the end of Q3 2011.
But, this drop may be quickly reversed as we anticipate a downwards revision of Brazilian yield and crop estimates, less than expected Thai exports, lower release of sugar beet from ethanol production, bullish market sentiment reaching an extreme, managed money longs reaching a high (contrarian) level and managed money short contracts at low levels. According to a questionnaire, held by Bloomberg agency, the absolute majority of analytics and brokers are expecting a decline of prices on raw sugar and refined sugar.
Please find attached the median, forward, and spot vs median spot forecasts in the chart below:
click on images to enlarge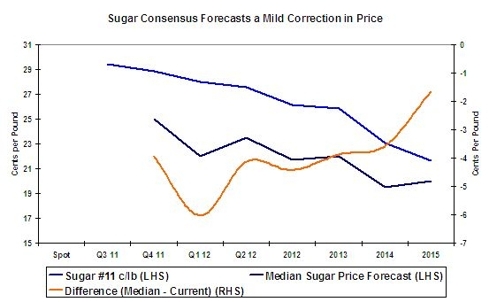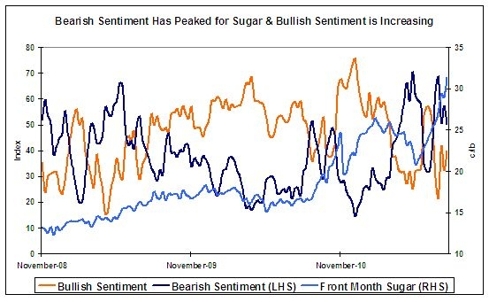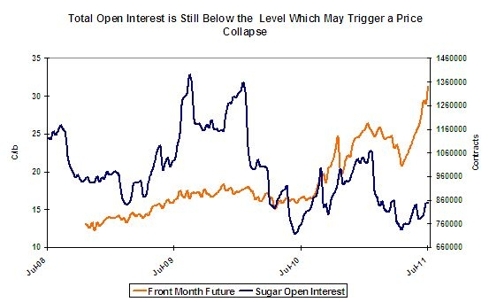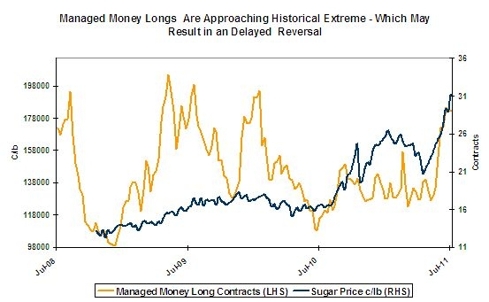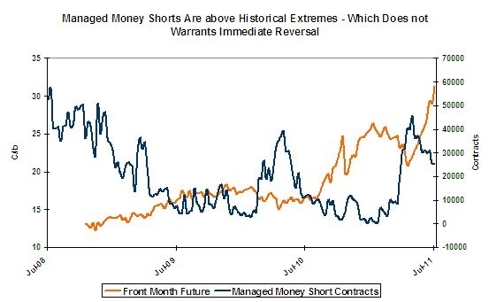 Investment Opinion on Shorting Sugar
Support Level of Sugar Price: There are long-term concerns about Brazil's production levels. Right now it costs at least 18 cents/pound to produce sugar in Brazil. According to Raizen – the company created from the merger of Cosan's sugar and ethanol assets, and Shell's fuel distribution operations in Brazil – international sugar prices need to rise to, and remain at, at 25-26 cents/pound to incentivise the kind of investment necessary to expand production and build new sugar mills in Brazil. If we want to avoid the perennial swing from surplus to deficit and back again in the international sugar market, we must – paradoxically – hope that prices remain in a 25-30 cents range for years to come.
Any information about news of Brazil can burst the market. On July 14 there appeared information that sugar production in Brazil will be lower than initially forecast, namely, 38.5 million tons against the planned 40 million tons, sugar price immediately rose by 24%.
How to Play Sugar Short:
This is a list of all of the Sugar ETFs traded in the USA. Potential investment vehicles can either be short sugar ETF (The iPath Dow Jones-AIG Sugar Total Return Sub-Index ETN (NYSEARCA:SGG)) or long inverse ETF (SSUG.LSE).

The ETFs Short Sugar Exchange-Traded Commodity (ETC) is intended to change daily by the inverse of the daily percentage change in the DJ-AIG Sugar Sub-Index. Therefore if the DJ-AIG Sugar Sub-Index falls (or rises) by 1% in a day, the ETF Short Sugar will rise (or fall) by 1%. ETF Sugar (LON:SUGA) is designed to track the DJ-AIG Sugar Sub-Index and pays a capitalised interest return which cumulates daily. The Sub-Index is an "excess return" index and the interest component combines to give a total return investment.
However most of these ETFs use front month future strategy and contracts are rolled over on expiry. Since the forward curve is backwarded, shorting SGG, SUGA or SGAR will face a negative roll yield. A long position in an inverse ETF likely will face a similar position. Assuming that there will be no change in collateral yield until Q2 2012, spot yield needs to dominate (>6%) the roll yield (-6% till Q2 2012) for the investment strategy to yield positive result. Only way to benefit from the effect of a downward sloping forward curve is to short physical sugar.
For SSUG, Key facts are as below:
Inception date: September '06

Management fee: 0.49% p.a.

Currency: USD

Minimum investment: One security

Type of security: secured, undated, zero-coupon note

Taxes: No stamp duty or SDRT

Index: DJ-AIG Sugar Sub-IndexSM

Exchange:

London

Stock Exchange

Exchange code: SUGA

Bloomberg code:

SUGA LN

Equity

Reuters code: SUGA.L

SEDOL: B15KY65

ISIN: GB00B15KY658
Positives for Sugar Price:
Tight Inventory Position in India: In the last two years India has seen disruptive weather. India, the second largest producer of sugarcane, saw its 2010 sugar production devastated by the failure of the monsoon in 2009. Production slumped way below its domestic consumption of about 24 million tonnes/year. India managed local demand by relying on it's stockpiles – but this wiped out the country's sugar export capacity.
Australian Outlook: Meanwhile, La Niña brought the worst floods ever to Queensland early this year. Australia's 2011-2012 sugar output will likely suffer as a consequence, but it will still have around 1.5 million tonnes available for export.
China Outlook: The greatest enigma remains China, which has recently had to supplement its own sugar (beet and cane) production with imports. The Guangdong Sugar Association forecasts a supply-demand deficit of 3 million tonnes during 2010-2011. The Chinese authorities have been drip-feeding state sugar reserves onto the local market, but it's a closely guarded secret as to how much is left. Private buyers are only entitled to 30% of China's annual import quota of 1.945 million tonnes, and the government shies away from imports whenever international prices rise. In Q1 2011, when international prices hit a 30-year high, China imported a mere 79,000 tonnes, compared to record imports of almost 1.8 million tonnes in 2010. The area allocated to planting cane/beet in China is rising, although probably not fast enough to keep up with demand.
Brazilian Outlook: Last season (2010-2011) the centre-south region of Brazil produced 33.6 million tonnes of sugar, according to Conab the Brazilian government's crop supply agency, and cane production, slightly more than 560 million tonnes. In May this year, Conab projected total cane output from the centre-south for 2011-2012 would be a record 573.1 million tonnes, with sugar output of 35.9 million tonnes. But on 16 June the Brazilian crop analysts Datagro, taking note of the lower output so far this season, put the total cane crush at 536 million tonnes, and sugar production at 33.7 million tonnes
So, what is the objective image of the current crop of sugarcane in Brazil?
Increasing sugar plantations. This year the country has increased the areas for sugarcane plantations.

Unica's forecast: According to the data of Brazilian Sugarcane Industry Association Unica, crop in central and southern states of the country has decreased by 25% in comparison with the equal period last year:

Unica's initial forecast of crop amounted to 568.5 million tons. However, according to the latest data of the experts in

Macquarie

investment bank, the crop is unlikely to reach even 540 million tons. Analytics of Datagro consulting company agree with them; their forecasts are even more pessimistic – only 536 million tons, which will be the lowest point for the last 10 years;

Increased demand in the country. During last two weeks of June in

Brazil

the cost of non-refined sugar, the stake of which amounts to two thirds of sweet production consumption in the country, has increased by 3.8%.
Nevertheless, at the end of May the volumes of the export of Brazilian sugar (2.37 million tons) have already exceeded the figures of the equal period last year by 6.8%. Sugar production at the end of May (4.7 million tons) is lower than one year ago. However, last year harvest started much earlier than this year. According to the forecast of International Sugar Organization, due to the shortage of supply from Brazil, the world's surplus will be cut by 1 million tons. In addition to a reduced output, Brazilian cane production is also allocated to manufacture ethanol biofuel, depending on relative demand and prices.
Negatives for Sugar Price
Indian Crop Outlook: Long-range weather forecasts expect an average monsoon this year – so India could produce enough to leave a small surplus of sugar in the 2011-2012 season, perhaps as much as 1.5 million tonnes. Sugar prices are deeply political in India, and the federal government, which has been facing severe food inflation, tightly regulates the industry. But encouraged by the prospect of a good monsoon in 2011, sugar export controls have been relaxed. The government announced in June they would permit a total of 1 million tonnes for export. On that day, the New York futures' price dropped by almost 6%.
Thailand & SE Asia Crop: Thailand's brush with La Niña earlier in the season also brought heavy rainfall, but the timing helped produce massive sugarcane crops, totalling around 80 million tonnes for 2011-2012, and an export availability of 5.4 million tonnes of sugar. Thailand, being last year's second largest exporter in terms of volume, has rapidly raised sugar production. Instead of the expected production of 6.9 million tons of sugar, it will produce 10 million tons uphill.
Indonesia, meanwhile, has set itself the goal of self-sufficiency in sugar by 2014. But, with domestic consumption at around 4.5 million tonnes, and current production just 2.5 million tonnes, that's an ambitious target.
Sugar Supply Outlook in ROW:
Indian exporters of sugar are expecting that, after a good crop the government will raise the limit of sugar export from the present 0.5 million tons to 1.5 million tons.
This year Russia and Ukraine have increased the areas for sugar beet planting. So far the weather conditions are favourable, and these countries are expecting record harvests and corresponding volumes of sugar production, which will fully cover their domestic needs. Due to favourable weather conditions, experts have generally raised the expectations of this year's sugar production in the majority of main countries-sugar producers (Russia, Ukraine, and China included). The increase by 8.4%, in comparison with the previous year, is expected to be up to 182.2 million tons.
Sugar demand worldwide. Sugar consumption in the world is shortening, and experts do not expect the growth of demand for the sweet production either this, or the next marketing year. Thus, this year the world demand for sugar has dropped by 1.5%. Consequently, the world market supply will exceed the demand by more than 10 million tons.
Taking into consideration the fact that sugar deficit has lately been observed at the world market (25 million tons), then the increased sugar production will act against rising prices on this production. Excellent crops of sugarcane and sugar beet will not only drag sugar price down this year, but also enable an increase in the transit stocks of sugar, which in turn shall stabilize sugar price in the nearest future.
Ethanol Effect: On June 16, 2011, a 73-27 vote in the U.S. Senate passed a bill that would effectively terminate both a tariff and a tax break for ethanol production. Ethanol subsidies have been recently debated in Congress as well as out in the presidential campaigns.
A federal subsidy gave ethanol producers a 45 cent credit for every gallon of ethanol mixed with gasoline. The subsidy, which was slated to end in 2010, was extended another year by a Congressional vote. But the 73-27 Senate vote authorized a proposal to eliminate this credit, as well as assign a 54-cent-per-gallon tariff to imported ethanol. This will free up sugar for export, which may be slightly negative for the market.
Market Structure:
The main sugar producers worldwide are:
Brazil

, whose stake in the world sugar production amounts to 23.7%; (33.4 million Tons)

India

(16.56%); (23.3 million tons)

European Union (9.38%) (13 million tons)

China

(3 million tons)

Thailand

(7.4 million tons)

US (6.4 million tons)

This trinity of leaders is followed by

China

,

Thailand

,

USA

,

Mexico

,

Russia

,

Australia

, and

Pakistan

.

All other countries of the world jointly produce almost as much sugar as

Brazil

– 23.07%.
At the same time, the stake of Brazil in sugar export worldwide amounts to almost one half. As a result, world prices to a great extent depend on the crop of sugarcane in Brazil.
Disclosure: I have no positions in any stocks mentioned, and no plans to initiate any positions within the next 72 hours.