I track 2,686 stocks in my database of stocks, and First Cash Financial (NASDAQ:
FCFS
) is currently ranked number one and has been ranked in the top 10 for months. It should be noted that Green Mountain Coffee (NASDAQ:
GMCR
) was sitting at the top of the perch last week. Green Mountain has also been in my top 10 for months. Green Mountain is also one of the best stocks in the market at the current time.
However, let's take a look at why First Cash receives the coveted number one ranking right now. My proprietary grading system takes into account value, momentum, and safety. I wrote an in-depth article on the
value vs. momentum
debate recently, where I pointed out that I like both value and momentum. It has been my experience that too many so-called value stocks seemingly dripping with "margin of safety" and "rock-bottom" valuation ratios turn out to be big, fat value traps. It has also been my experience that playing the "high-stakes" momentum game can lead to disastrous results when valuation is thrown out the window.
What's wrong with combining stocks that have had superior performance along with valuation ratios that still make sense? Throw in a dose of safety for good measure, and I have proven to myself over and over again that we are now zeroing in on the best stocks in the market at the current time.
First Cash Financial is a publicly traded pawnshop stock. Market cap is $1.3 billion and the company is headquartered in Arlington, Texas. I recently
interviewed
CEO Rick Wessel right after the company reported earnings on my daily radio show, "Positively Wall St."
First Cash is a consumer/finance stock that I believe is appropriate for more aggressive investors. Here is a screen shot from my app Best Stocks Now with some basic information about the stock:
[Click all to enlarge]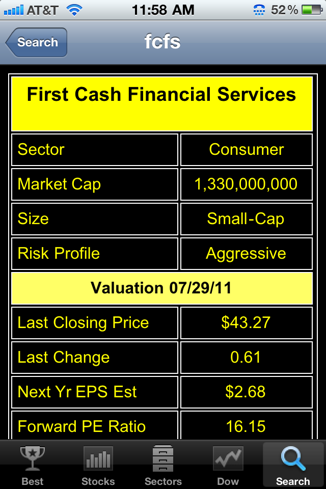 Let's first look at the performance of the stock and see how it stacks up against all of the other stocks in the market. The stock has handily outperformed the market by a wide margin over the last one, three, and 12 months, as well as three, five, and 10 years. It's pretty hard to argue with that performance. Here is a screenshot from my Best Stocks Now app that illustrates the point beautifully: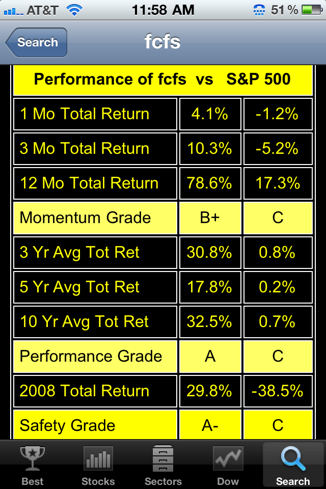 On a short term basis (12 months or less), the stock scores a relative performance grade of B+ against 2,686 other stocks. On a long term basis (one to 10 years), the stock scores a relative performance grade of A against that same group of competitors. I think that the numbers clearly show that the stock is one of the best performers in the market over the short and long term at the current time. In my 18 years as a professional money manager and research analyst, it has been my experience that numbers don't lie. In fact, when I see someone talking about a stock on TV, whether it be James Cramer or anybody else, the first thing I do is put the symbol into my app and look at the stock's track record. I find that many times, the story being told on TV does not even come close to matching the numbers on my app.
We learned back in 2000 that just buying stocks because of their performance can end up not well. Homebuyers learned this same lesson back in 2006. Performance is a good thing, but let's combine it with a heavy dose of value. With next year EPS estimates of $2.68, First Cash is currently trading at 16.15 times forward earnings.
The consensus five-year average growth rate by the analyst's community is currently 19.5%.
The stock is therefore currently trading at a discount to its growth rate.
Now let's compute a five-year valuation and project the upside potential that that this stock currently has. Let's begin with the 2012 EPS estimate of $2.68 and project it out at a 19.5% pace over the next five years.
2012: $2.68
2013: $3.20
2014: $3.83
2015: $4.57
2016: $5.47
If the analysts that cover the company are close to being right, the company will be earning $5.47 per share five years from now. Now the question is what earnings multiple does the stock deserve at that point in time? Consider that, over the last four quarters, the stock's PE ratio has ranged between 13 and 21. The current PE ratio of the stock is at the high end of 21 and the forward PE is 16.2. Over the last 10 years, the stock's PE ratio has ranged between 7.6 and 24.6 and has averaged 15.0.
I am currently using multiple of 16.5 on those projected earnings five years from now. Therefore, the five-year target price looks like this: $5.47 X 16.5=$90.33.
Using this valuation method gives the stock a whopping 108% upside potential over the next five years. This earns a value grade of "A" for the stock at the current time. I personally like to buy stocks that have 100% or more upside potential over the next five years.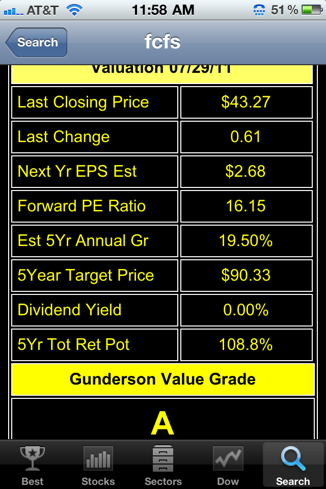 Lastly, let's look at the relative safety of the stock. When the S & P was down during the 2008 crisis by 38.8%, First Cash Financial was up 29.8%. How could this be? I think that when one use a little bit of logic, it is easy to come to the conclusion that when the banks shut down the loans, folks had to look elsewhere for alternative forms of financing. First Cash Financial is one of the rare companies that is actually benefitting from today's economic malaise.
In addition to this, 60% of First Cash's business revolves around gold. With gold now over $1,600 per ounce and hitting new all-time highs, folks are rushing to trade in their gold for badly needed cash. Now I ask the following question: Does it not seem like a reasonable assessment that the conditions that have benefitted First Cash so much as of late should last for quite a while? I think that is a reasonable assumption to make. For these reasons, I currently have a safety grade of A- for the stock.
Let's put it another way: Would you rather own Bank of America (NYSE:
BAC
) or First Cash Financial? By the way, Bank of America was down a gut-wrenching 63.1% in the year 2008. I get nauseated every time I hear a so-called pure value investor making a case for Bank of America. Here is a quick snapshot of the performance of one of the worst stocks in the market right now: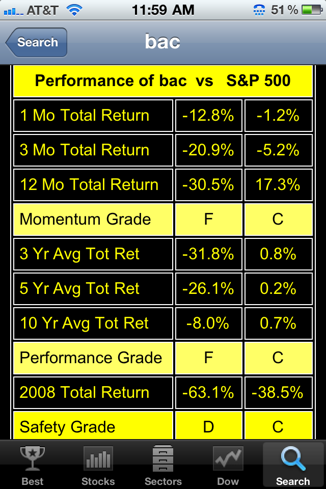 I agree with the cheap value of Bank of America. In fact, I have a 92% upside potential calculation for BAC over the next five years: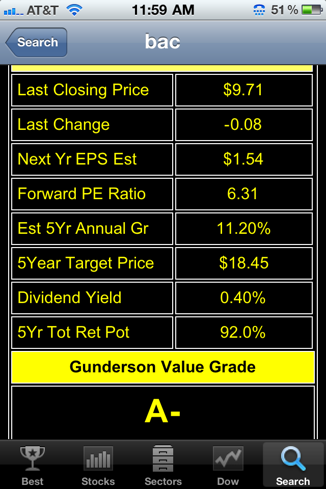 As I stated earlier, I like to combine good performance with good value. I also like to throw in a pinch of safety. Bank of America fails miserably in the performance and safety measures. When I apply my proprietary performance, value, and safety grade to BAC, I come up with a C grade and a stock that ranks 1,833 out of 2,686 stocks. Isn't that good information to be armed with?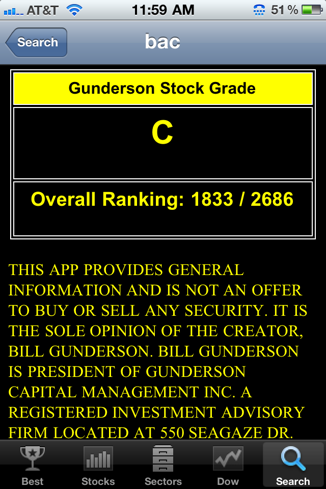 Now the good news: When I apply my proprietary grading formula to First Cash Financial, my system comes up with an A grade and a stock that is ranked number one out of 2,686 stocks, as already noted. It seems to me that a company is well positioned to continue to flourish in this current tough economic environment.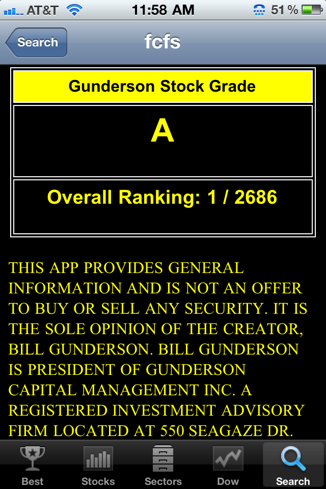 Disclosure:
I am long
FCFS
.