After exploding out of the gate, the Dow Jones has sold off on manufacturing data. Gold continues to rally as the United States has heard a deal has been reached, but the vote on a bill has not yet been seen. Given the current intra-day pullback, we're watching certain stocks that we liked last week.
Option Trade: Starbucks (NASDAQ:SBUX)
I'm watching Starbucks today for several reasons.
The company beat earnings and Starbucks tends to rally WoW after a beat in earnings.

The stock received two recent upgrades on July 29. DA Davison upgraded SBUX to $44 from $38, and UBS upgraded it to $47 from $41.

Technically, a daily chart is showing two consecutive days of buying in the stock last week after earnings, which signifies increased institutional ownership, which implies confidence that the stock will continue higher, if not at least trend sideways.

SBUX guidance was very optimistic with statements such as, "New stores are performing well ahead of expectations" and "our business in Japan continues to recover nicely ahead of plan."
[Click all to enlarge]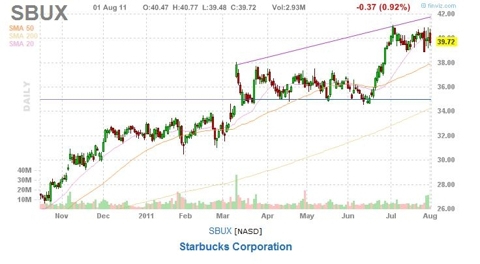 Currently there are two ways to play Starbucks depending on your risk level and time horizon.
Bullish: Buy Jan '42 strike calls for 2.10-2.15 (looking to sell for a 25-50% gain).
Neutral to Bullish: Sell Aug 37/36 vertical put spread for 0.12.
Max Return: 13.63%
Breakeven Point: 36.88
Probability that spread will expire worthless: 84.39%
Option Trade: Changyou.com (NASDAQ:CYOU)
Wow, what a quarter. Changyou reported Q2 EPS of $1.04 vs $0.93 and reveue $105M vs 98.9M which exceeded the high end of street estimates. Today the company is being rewarded by getting sold off +14%. Historically this is the performance of CYOU stock on a one week-over-week basis after earnings.
July 27, 2009: 41.65 – 36.75 = -11.76%
Oct. 26, 2009: 34.96 – 30.13 = -13.81%
Feb. 1, 2010: 33.59 -32.97 = -1.84%
Apr. 26, 2010: 35.23 – 32.80 = -6.89%
July 26, 2010: 26.65 – 28.60 = 7.3%
Oct. 25, 2010: 32.40- 33.97 = 4.84%
Jan. 27, 2011: 32.20 – 37.07 = 15.12%
Apr. 25, 2011: 39.78 – 45.32 = 13.92%
For the past four quarters, Chanyou has rallied considerably after earnings. I do not expect CYOU to trade near $50/share next Monday, but I do expect the stock to bounce from here provided the debt ceiling passes. Technically, the $44-45 level should be very strong support.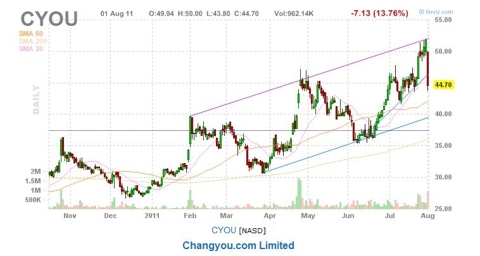 Suggested trade:
Entry: 45.06
Stop Loss: 43.71 (3%)
Price Target: Sell ½ at 45.96
Price Target 2: Sell ½ at 46.86
Disclosure: I am long SBUX.